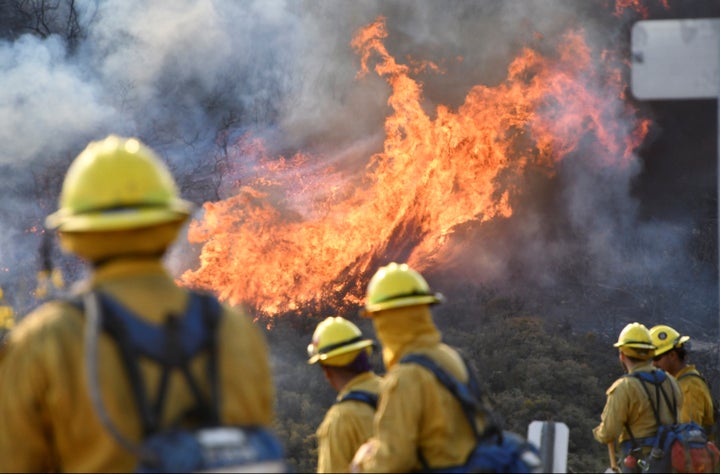 California's state firefighting agency is within days of spending more to fight fires in a single year than ever before, and the fiscal year still has six months to go.
As of Friday, the California Department of Forestry and Fire Protection, known as Cal Fire, had spent just over $600 million battling a spate of wildfires across the state, including nearly $89 million to fight the ongoing Thomas fire in Southern California's Ventura County. That's far more than the $426.8 million budgeted for the 2017-2018 fiscal year and just approaching the previous record set in fiscal 2015 of $608 million.
"It's very much a big deal, and keep in mind that we're only halfway through the fiscal year," Chief Scott McLean, a spokesman for Cal Fire, told HuffPost.
Those statistics, while bleak, represent what wildfire and state government officials have been warning about for years: Record-breaking wildfires are the new normal, and they're an expensive hellhound to tame. 
"The fires we're having, years ago our captains would talk about these happening once in a career," Janet Upton, the deputy director of Cal Fire and a 31-year veteran of the agency, said in a phone call. "We've all had a dozen once-in-a-career fires."
That couldn't be closer to the truth this year.
California has been battling a scourge of historically large and historically damaging fires over the past three months. In October, the Northern California firestorm killed more than 40 people, destroyed or damaged 14,000 homes and caused $3 billion in insured losses. At times, parts of the blaze spread in a matter of hours and trapped people in their homes. It went on to become the deadliest in California's history.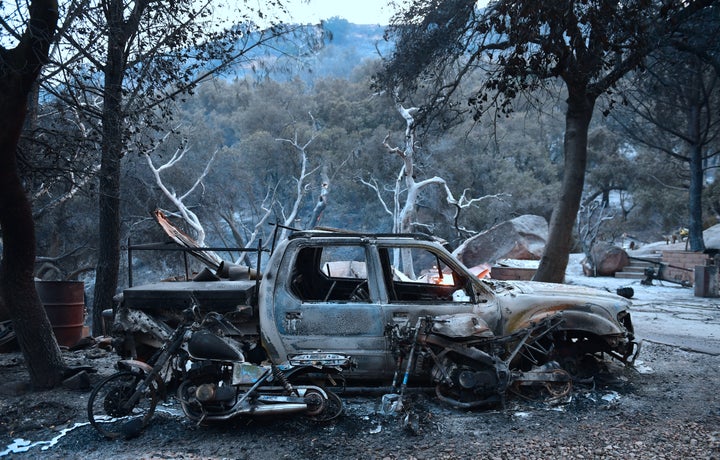 This month, nearly 9,000 firefighters were tasked with battling six major fires simultaneously that burned hundreds of thousands of acres, prompted widespread evacuations and stretched state and federal agencies to their limits. The Thomas fire, which grew to 252,500 acres Friday and remained just 35 percent contained, isn't expected to be fully under control until early January.
Such efforts have certainly made a dent in the state's coffers, but officials have moved to quell any fears that firefighters will run out of funds anytime soon.
"The state will always have the money it needs to get to the resources to protect the lives and property in California," Upton said, noting the state can apply for federal grants to help offset the cost of natural disasters. "There's a system in place for whenever we exceed the initial budget."
But Upton stressed that the agency's job is getting harder each year.
California Gov. Jerry Brown has warned that what the state has seen this year could very well become a common occurrence and told a state Senate committee in July that climate change has California in its crosshairs.
"This could be something that happens every year or every few years," he said during a news conference last weekend, according to the Los Angeles Times. "We're about to have a firefighting Christmas."
Upton said an event like the Thomas fire and the blazes in Northern California earlier this year demonstrated the world-class firefighting capabilities of the state. But, she said, shattering fire records is history no one wants to make.
"The fire service is a family, and it is built on reciprocity. It doesn't matter what color your patch or what color your engine," Upton said. But in times like these, she said, "it's bittersweet."
REAL LIFE. REAL NEWS. REAL VOICES.
Help us tell more of the stories that matter from voices that too often remain unheard.