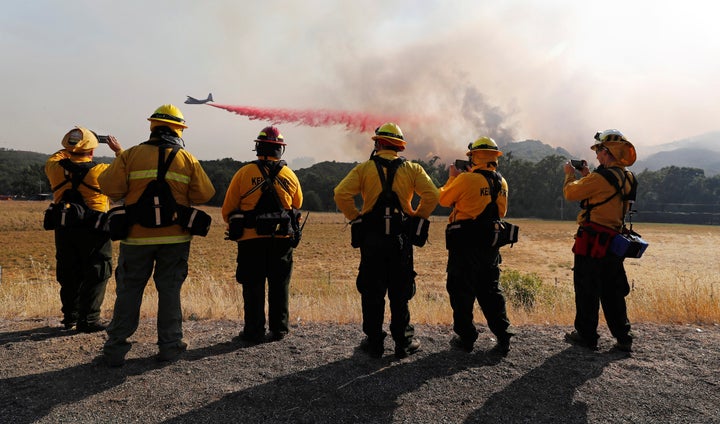 California fire officials swung back at President Donald Trump after he tweeted over the weekend that the state's devastating wildfires have been exacerbated by a water shortage resulting from "bad environmental laws."
Scott McLean, deputy chief of the California Department of Forestry and Fire Protection, told HuffPost on Monday that his state has "plenty of water to fight these wildfires." He noted the lakes near the Carr and Mendocino Complex fires.
What's driving these raging infernos, McLean said, is a crisis that Trump has in the past dismissed as "bullshit" and a Chinese hoax.
"It is our changing climate that is leading to more severe and destructive fires," McLean said.
In a Sunday tweet, Trump had pointed his finger at environmental protections and, possibly, a lack of logging. The fires, he said, are "being magnified" because California has "diverted" a "massive amount" of water to the Pacific Ocean.
The president was seemingly echoing some language from a longstanding argument between California's farmers and environmentalists over how the state's water resources should best be shared.
About two weeks ago, Rep. Jeff Denham hosted Interior Secretary Ryan Zinke in his Central Valley district to push the farmers' side. At a press conference, Denham said one of the goals was to show Zinke "the devastation that can happen if you push all of our water out to the ocean."
"It will dry up agriculture. It will dry up our communities," Denham said.
Trump also seems to have taken a page out of the Montana Republican playbook. Last year, Zinke and Agriculture Secretary Sonny Perdue joined members of Montana's Republican congressional delegation for an on-site briefing about a large wildfire south of Missoula. The overwhelming message from those politicians was that wildfires were being driven not by drought or climate change, but by forest mismanagement resulting from lawsuits by "environmental extremists."
Trump took another whack Monday at the idea that California is wasting water on environmental concerns.
Zinke, too, appears open to the idea that environmentalists are to blame for California's fiery summer. In his own post Monday, the interior secretary made no mention of the role scientists say climate change is playing in California, instead focusing on the need to remove dead and dying timber.
"We must be able to actively manage our forests and not face frivolous litigation when we try to remove these fuels," he wrote.
During his tenure at Interior, Zinke has met extensively with Montana native David Spady, a longtime conservative operative in California. In 2014, Spady produced a documentary film about California's water issues, which he blamed on "radical environmentalists" and Washington bureaucrats who push "utopian environmental ideals."
In June 2015, then-Montana Rep. Zinke introduced a bill to limit what he described as "predatory lawsuits funded by out-of-state special-interest groups" against timber projects on U.S. Forest Service land.
This year, catastrophic fires in California have already killed seven people, including a 33-year-old firefighter and a 36-year-old heavy-equipment operator. Over the weekend, the Mendocino Complex Fire, near Clear Lake, doubled in size to well over 250,000 acres. It is now the second largest wildfire in California history.
Cal Fire Division Chief Chris Anthony, who has been working on the Carr Fire since July 24, told HuffPost on Monday that he struggles to find the words to describe the explosive fire conditions across the state.
"It is clear to me that firefighters are on the front lines of climate change," he said.
The story has been updated with comment from Cal Fire Division Chief Chris Anthony.
Popular in the Community