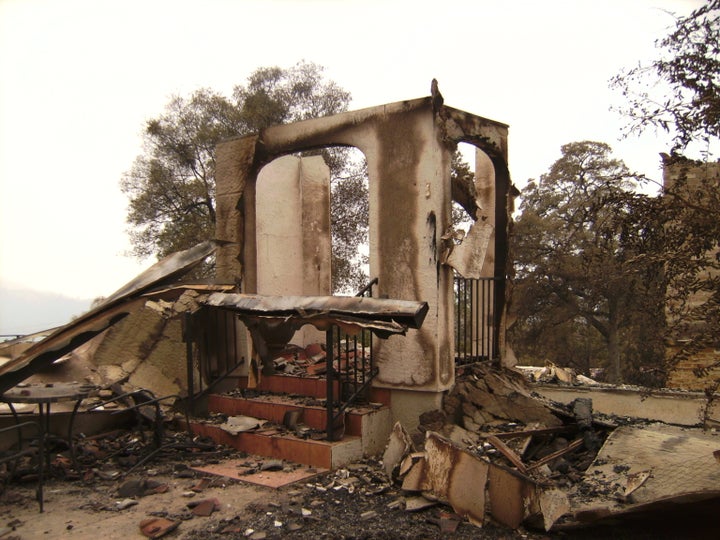 The devastating wildfires that ripped through Northern California are now largely contained -- but that's little solace for the thousands of people who've lost everything they own. 
Kim Dougherty of Calaveras County described what remained of her Mokelumne Hill home last week as "just ash and rubble." She said the brick fireplace was still standing, "but as far as the structure goes, there was nothing left, not one wall."
Dougherty's home, which she shared with her husband Jim, is one of more than 470 houses and at least 340 other buildings destroyed by the Butte Fire that ravaged more than 70,000 acres of Calaveras and Amador counties after the blaze started on Sept. 9. It is now 95 percent contained, according to Cal Fire. The simultaneous Valley Fire in Lake County, which began spreading three days later, has destroyed at least 1,280 homes and about 675 other structures and is now 97 percent contained.
The day the Butte Fire took hold, Dougherty was home with her husband watching it burn on the other side of the Calaveras River Canyon. Suddenly, the flames jumped across the canyon and began burning in her neighbor's yard.
"I was watching it and just couldn't believe my eyes," she said. "It happened less than 100 yards, maybe 50 yards, from where we were standing."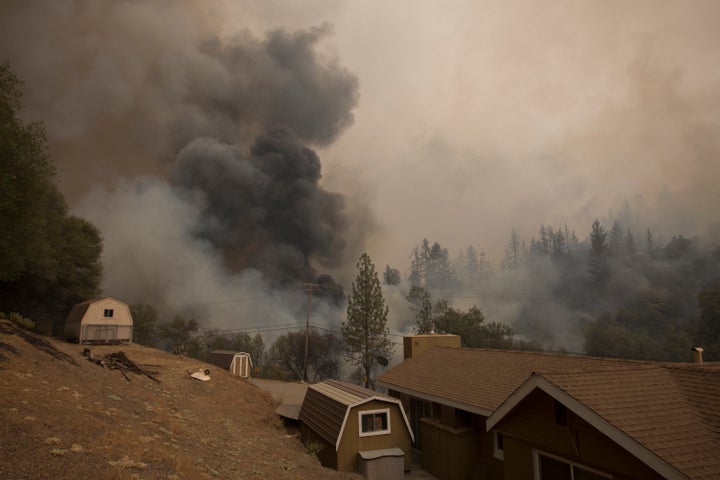 That's when Dougherty realized she had "less than a minute" to get out -- just enough time to collect a few valuables: important files, checkbooks and a hamper full of clothes. 
"As we were getting in our vehicle in our driveway, a helicopter came and almost landed on our heads, saying 'Evacuate now'," she said. "But we didn't need to be told, we knew." 
The couple stayed in a motel that night and grappled with the likelihood that their home was no longer standing.
"We pretty much knew when we left, [even though] we didn't see it burn," she said. "That night I thought, there's only a slight chance that our home may have been spared."
When Dougherty and her husband returned to their property a few days later and learned that all six homes in their housing development had burned to the ground, she could hardly wrap her head around it.
"Your mind sort of rejects something that is so not natural," she said. "It's hard to imagine the enormity of it because you don't even realize that your favorite tool, a screwdriver you've carried with you for the last 40 years, is gone. I don't have my favorite mixing bowl that was handed down to me."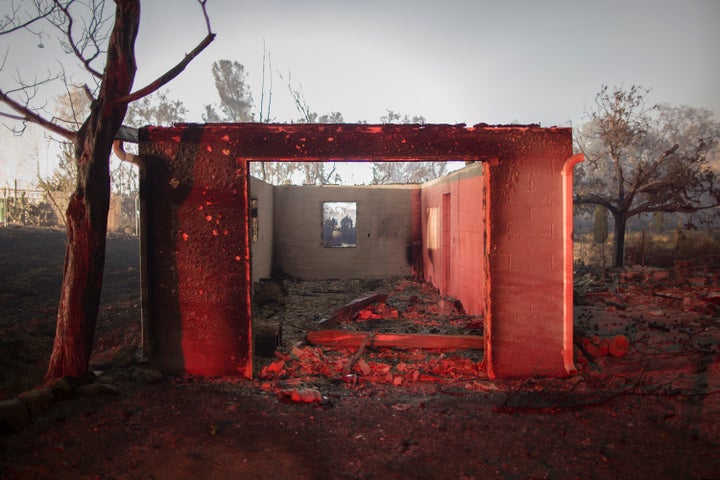 Dougherty said the brain goes into survival mode in such a dire situation.
"There's so much to take in that it just filters out everything except for the immediate, like 'What do we do? How do we get dinner?'" she said. 
They're now in a rental home in the area that accommodates their two dogs with its yard and secure fence -- an absolute must, Dougherty said. Others in the county are relying on shelters like Friends of Calaveras Animal Services, which has taken in dogs, cats, snakes, horses and long-horn steers. 
Dougherty said such assistance and support from the community has been "incredible, over-the-top helpful," and the one positive thing to come from this tragedy. Examples of immense generosity have continued to make headlines. 
When Allison Hargrave-Barnard, the owner of wedding dress shop Starlet Bridal in Santa Rosa, found out that her customer Rachel Lemon had lost her Middletown home in the Valley Fire, she told her she wouldn't charge for the dress and convinced every wedding vendor she could think of to pitch in too.
"I went into the back room," Hargrave-Barnard told the Santa Rosa Press Democrat, "and I just started calling everybody I knew in the wedding industry."
Every vendor she called said they'd donate to Lemon's wedding.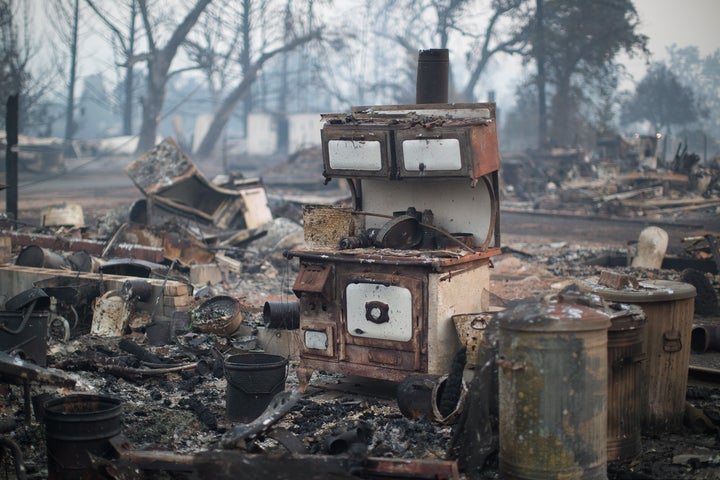 Vacation spots, like the R Ranch resort in Napa County and the shuttered Konocti Harbor Resort in Kelseyville, have volunteered to offer temporary housing.
"We've received an overwhelming amount of donations," R Ranch owner Brad Miracle told Good Day Sacramento. "The community has really pulled together and helped out a lot."
Dougherty says she feels lucky to have secured a rental home and is leaning toward rebuilding, even though it's hard to shake fears of facing another devastating wildfire in an area so prone to them.
"It certainly crosses your mind, absolutely it does," she said. "But we love the place."
PHOTO GALLERY
California Wildfires
Calling all HuffPost superfans!
Sign up for membership to become a founding member and help shape HuffPost's next chapter