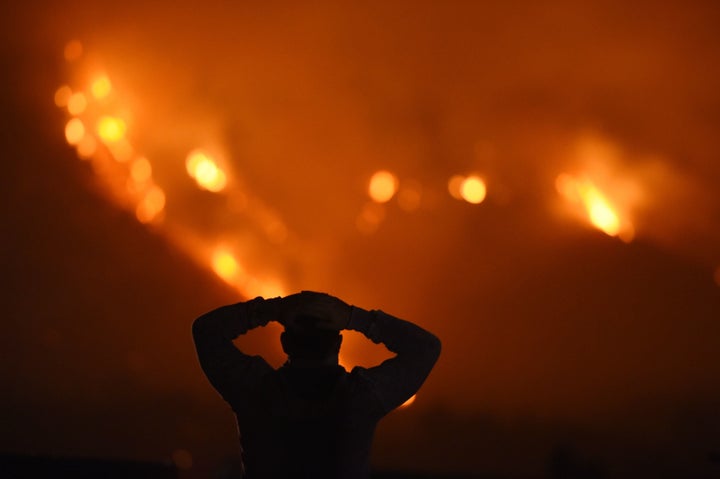 Two Southern California lawmakers said Wednesday that they would introduce several pieces of legislation to improve emergency response, hopefully before the next major wildfire destroys thousands of acres in the fire-prone state.
The announcement from state Sen. Hannah-Beth Jackson and Assemblymember Monique Limón, both Democrats representing Santa Barbara, follows a series of destructive blazes that hit California last year. The Thomas fire, which burned more than 270,000 acres in Santa Barbara and Ventura counties, was the largest recorded blaze in state history.
Jackson and Limón aim to address the shortcomings of an emergency alert system meant to forewarn residents of an approaching fire. The lawmakers also seek to improve emergency communications with non-English-speaking residents and to reduce the wildfire risk as new developments are built.
With climate change exacerbating extreme weather patterns in California ― including the kind of high temperatures and long periods of drought that create ideal conditions for wildfires ― Jackson said in a statement that the state must fortify its emergency alert system.
"Recent California wildfires have driven home how important it is that we have a way to notify people quickly and effectively, so they can leave burning neighborhoods, check in on loved ones, and make the best choices for their safety at any hour of the day or night," Jackson said.
The state senator plans to push a measure to give individual counties the ability to automatically enroll local residents in an emergency notification program that can focus on smaller areas. That would address two flaws in the state's current network of public warning systems.
Right now, many of those systems require residents to opt in, meaning they don't receive the alerts if they haven't signed up for them. This was among the problems identified after the deadly Northern California fires in October, which killed 44 people. Multiple survivors of those 21 blazes later said they felt they were inadequately warned. 
The federal Wireless Emergency Alert system ― which state officials used to send alerts to some 8 million smartphones when the Southern California fires erupted in December ― doesn't require residents to opt in. But it also isn't designed to target specific neighborhoods that may be more at risk than others.
When the fires began in Northern California in early October, officials in Sonoma County — where over half of the fatalities occurred — decided not to deploy the WEA system. Because the alerts couldn't be targeted to particular neighborhoods, officials said they were worried about setting off widespread panic and prompting mass evacuations by people who weren't in immediate danger.
Another bill, which Limón plans to introduce, would require that all communications sent out by state and county emergency services be made available in not just the first but the second most spoken language in that area. Language barriers can undermine emergency efforts, the assemblymember said in a release.
"In a dynamic emergency like the Thomas Fire, timing is everything," Limón said. "Real time translated emergency information is essential to alleviate confusion and ensure the safety of everyone."
A third bill, authored by Jackson, would make it easier for the California Department of Forestry and Fire Protection, known as Cal Fire, to weigh in on local development plans. The agency's expertise could help lower the risk of wildfires to new houses and neighborhoods.
"Wildfires can strike anywhere in the state," Cal Fire deputy chief Scott McLean told HuffPost in December. "It's not 'if,' it's basically 'when.' And it's not gonna stop."
Calling all HuffPost superfans!
Sign up for membership to become a founding member and help shape HuffPost's next chapter