SAN FRANCISCO ― As thousands of Northern California residents who evacuated last week amid wildfires begin to return home, the state's U.S. senators want answers to why wireless emergency alerts failed during the deadly blazes.
When the fires began Oct. 8, officials in Sonoma County — where 23 of the 42 fatalities confirmed so far occurred — decided not to deploy the Wireless Emergency Alert system, the same system officials use to send Amber Alerts on missing children and other official advisories. Officials said they didn't want to prompt widespread panic or mass evacuations by people who weren't in immediate danger, since the alerts aren't targeted to specific neighborhoods.
"It would cause unnecessary evacuations and delays for emergency vehicles reaching people in areas in need," Sonoma County spokeswoman Jennifer Larocque told The Mercury News last week. "In order not to slow down response to people actually in need of help, we chose not to send the notice."
Napa County, meanwhile, doesn't have access to the WEA system, a county spokeswoman said. According to The Washington Post, 65 percent of counties nationwide do not currently have authorization to send advisories via WEA.
Now Democratic Sens. Dianne Feinstein and Kamala Harris are asking why the emergency alert system failed so many people in danger's path.
In a letter sent Tuesday to Federal Communications Commission Chairman Ajit Pai, Feinstein and Harris raised multiple concerns over the warning system and its limits. Among their chief complaints is that the lack of geotargeting is potentially putting lives at risk.
"In a crisis like this, receiving a timely emergency alert on your mobile phone can be the difference between life and death," the letter says. "Families may have mere minutes to evacuate."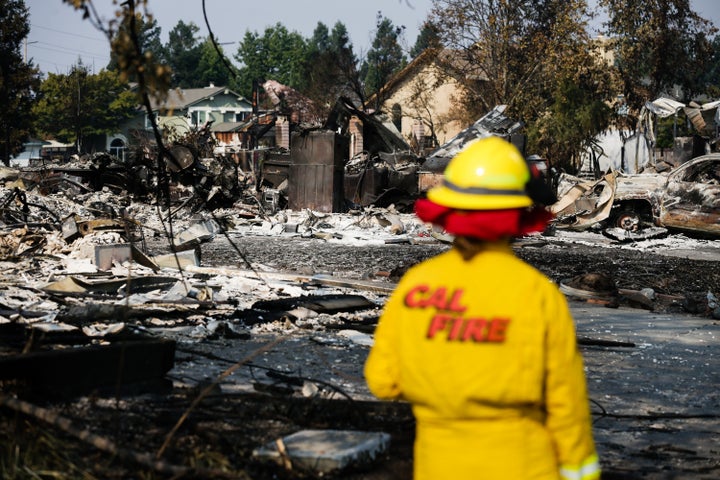 The senators questioned the FCC on the status of a proposed rule that would require cell service providers to enable more exact geotargeting for emergency alerts. They also asked if the FCC had consulted officials in Northern California and other regions recently affected by natural disasters on how these alerts can best serve their communities.
"These emergency services are caught in a bind between notifying individuals in imminent danger and risking mass panic," the senators wrote. "As a result, these services are compelled to rely on emergency messaging.
Harris and Feinstein asked Pai to respond by Oct. 24.
Napa and Sonoma counties both deployed Nixle, an emergency alert system that distributes information via text message based on users' ZIP Codes. However, that system requires users to opt in, meaning if someone living near the fire hadn't already signed up to receive the alerts, they wouldn't receive them. And in parts of Napa and Sonoma counties, cell towers suffered fire damage, knocking out service for many.
"We cannot afford to rely on one form of communication to reach people in an emergency. Because the multiple fires quickly burned phone towers and poles throughout the county, we knew phone service was impacted," Napa County public information officer Kristi Jourdan wrote in an email.
Because of that damage, some residents were reached via "reverse 911" calls that told them to evacuate, and officials went door-to-door in some neighborhoods to notify residents of the approaching fires.
There's also the question of how to continuously update residents throughout a disaster, as fire conditions changed hour to hour in Northern California. For those updates, many residents relied on local media, including newspapers and radio, as well as dispatches from neighbors in community Facebook groups.
But those channels also had limits. Because the fires spanned several counties, the availability of accurate and current information varied from place to place. In Napa County, for example, officials held daily morning briefings that were streamed on Facebook as well as on local radio, and that information was widely distributed by news organizations. But farther north, in largely rural Mendocino County, information was sparse, with few outlets covering updates in those communities.
With fires still burning in parts of Napa and Sonoma, officials in both counties have yet to fully assess the initial emergency response to the blazes and how procedures could be improved.
But some answers may be found in neighboring Lake County, which has been hit hard by destructive wildfires over the last several years.
When the Sulphur Fire sparked there early Monday morning, county officials decided to send a WEA message to every county resident at 2 a.m. No fire fatalities have been reported in Lake County.
REAL LIFE. REAL NEWS. REAL VOICES.
Help us tell more of the stories that matter from voices that too often remain unheard.
BEFORE YOU GO
PHOTO GALLERY
California Wildfires From Above