THOUSAND OAKS, Calif. — If it wasn't for a late-night phone call from one of her former students, Sandy Wahl might have missed the order to evacuate.
As the rest of Agoura Hills residents were preparing to flee the Woolsey fire Thursday night, the 76-year-old music teacher and her partner, Ron Shroyer, 87, were making popcorn and getting ready to find a Christmas-y movie on TV. She knew the wildfire was burning nearby, but she had lived in her home for over 30 years and never had to evacuate before.
After the phone call, Wahl panicked. She grabbed her purse, her flute and a bag of important paperwork. She rushed to get her two small dogs, one of whom is blind — and one who was hiding under the bed — into their harnesses. When they finally piled into their Subaru Outback, Wahl and Shroyer realized they didn't know where they were escaping to  — or even where exactly the fires were.
Four days later, Wahl and Shroyer were among more than 150,000 California residents who have been displaced by fires raging across the state. Even in a drought-ridden region under near-constant threat of burning down — just last year, a wildfire burned over 280,000 acres in Ventura and Santa Barbara counties — the speed, intensity and unpredictability with which the flames spread took Southern Californians by surprise.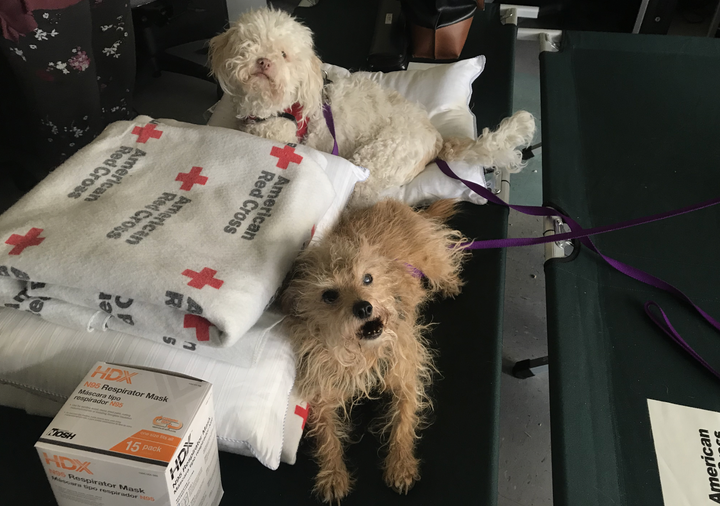 In the midst of the chaos, so much of evading the rapidly spreading flames depends on chance. On Thursday, Wahl's landline was disconnected and her computer was turned off because she was doing work on her house — causing her to miss evacuation notices. She learned days later that the fire burned some of the homes on her cul-de-sac but left her house unscathed. As of Monday evening, the Woolsey fire had killed two people and destroyed 435 structures, had burned more than 90,000 acres and was only 30 percent contained. Mandatory evacuations remained in place in parts of Los Angeles and Ventura counties. A separate fire raging in Northern California has killed at least 42 people, making it the deadliest in the state's history.
Many of the displaced in Los Angeles who don't have friends or family nearby are stranded in makeshift shelters operated by the Red Cross and other volunteers that have been set up in schools and community centers throughout the region.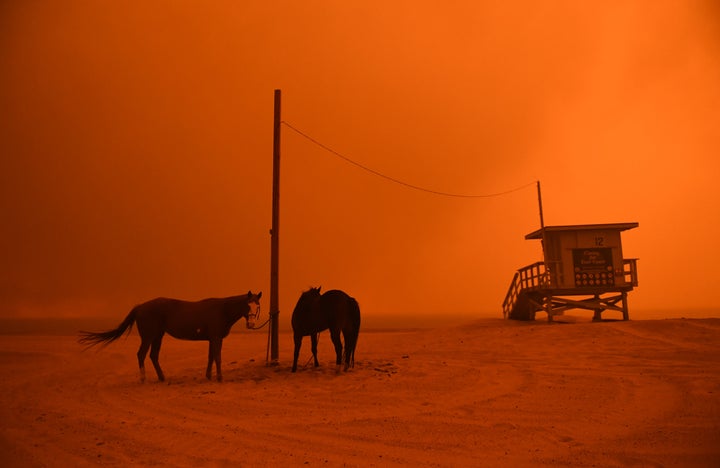 Wahl's roommate at the shelter at the Thousands Oaks Teen Center, 68-year-old Faye Rosenberg, was too shocked to think straight when she arrived Friday. She hadn't unpacked from a trip to New York, where she attended a memorial service for her sister, and she was worried about her two cats, one of which has a kidney disease.
But she was quickly overwhelmed by the care she — and her cats —  received.
Local residents whose homes had been spared and staffers at the teen center — where families of victims of a mass shooting had gathered the day before the fire — helped Red Cross volunteers house hundreds of evacuees. They provided food, cots, blankets, nurses and mental health workers. Rosenberg became friendly with Wahl and Shroyer, who crammed into a small room they shared with their pets and two guinea pigs. When volunteers noticed Rosenberg wasn't eating because she keeps kosher, the Red Cross found her tofu, fruit and uncooked vegetables.
In Calabasas, about 15 miles east of the teen center, locals poured into the shelter at Pierce College offering their time, supplies and even their homes. The college, which has an equestrian center, attracted displaced pets from all over the area. In the check-in area, a tortoise clawed at the door to its crate, feet away from a napping pug and a French bulldog. Volunteers near the parking lot collected pet food, crates and leashes.
By Monday afternoon, evacuees were getting antsy to go back home — or at least make a quick visit at their house to change clothes and pick up items they forgot to bring. The air was still smoky, but the skies looked clearer than they had over the weekend. Los Angeles Fire Department officials rotated through evacuation sites to provide updates, maps and websites and to urge people to stay in place. Smoldering hills and strong winds could cause unexpected flare-ups in areas where the flames had died down, Los Angeles Fire Department Capt. Branden Silverman warned.
In Northern California, firefighters continued battling the Camp fire, which is only 30 percent contained and has already demolished over 6,000 homes. The fire destroyed the town of Paradise, where 200 people are still missing.
REAL LIFE. REAL NEWS. REAL VOICES.
Help us tell more of the stories that matter from voices that too often remain unheard.