It's 2 p.m. on a Wednesday afternoon and Fernando Gomez doesn't know where he and his 1-year-old daughter will sleep tonight.
For the past eight months, the 24-year-old resident of Santa Rosa, California, and his daughter have been sleeping on friends' couches or in his car. In early October, relief was finally on the way. With the help of a local homeless advocacy organization, a landlord had agreed to rent Gomez his studio apartment. All Gomez had left to do was set a move-in date. But then the wildfires hit.
For Sonoma County's sizable homeless community, the wildfires have exacerbated an already dire situation. The fires have shrunk the region's slim stock of available housing. And the large number of people who lost their homes in the fires and who are now seeking housing in the area has made it dramatically more difficult for those already homeless to secure a roof over their heads.
When Gomez checked in about his new apartment just days after the fires, the landlord said it had been given to someone else. The landlord told him that he decided to rent it out to a fire victim, who was willing to pay more for it.
"I don't have anywhere to go," Gomez told HuffPost in tears over the phone on Wednesday. He and his daughter had left the emergency evacuation center where they had gone after the fires, and they will probably once again end up sleeping in his car. "I don't have a lot of people in my corner who could help out in this kind of situation," he said.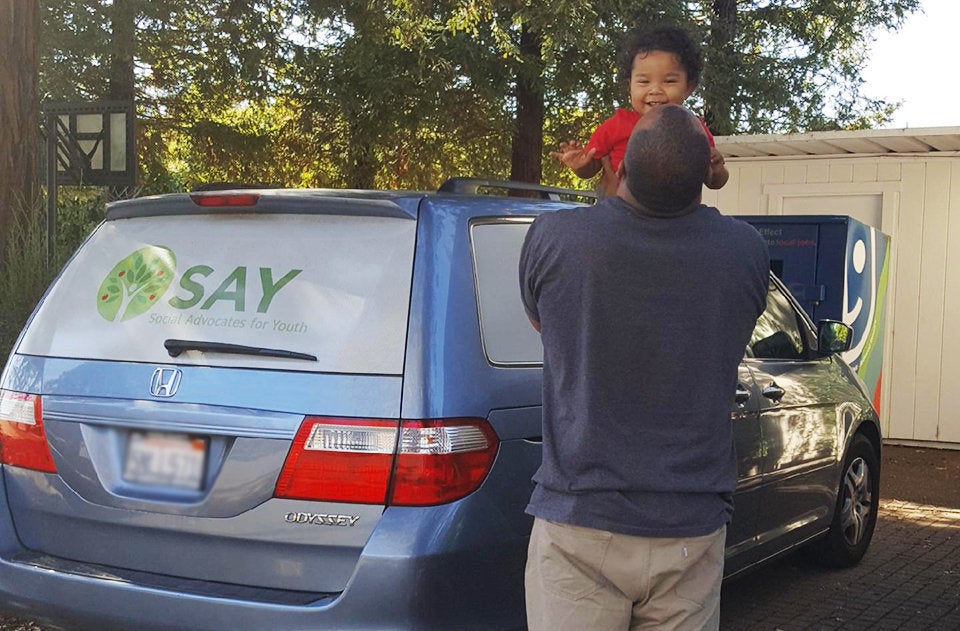 Overwhelmed with the enormous needs of fire evacuees in the past weeks, officials in Santa Rosa and the larger Sonoma County are only now turning their attention to the impact of the fires on those who were previously homeless. Meanwhile, homeless residents and their advocates were left wondering if the community that has rallied around those who just lost their homes in the tragedy will also do so for those who didn't have one before and who may have an even harder time getting one now.
"Before the fire there wasn't a lot of light being cast on our homeless situation," Gomez said. "I feel like it's getting a lot of media attention because of those displaced [by the fires], and I just want people to realize: There were a lot of people displaced before that."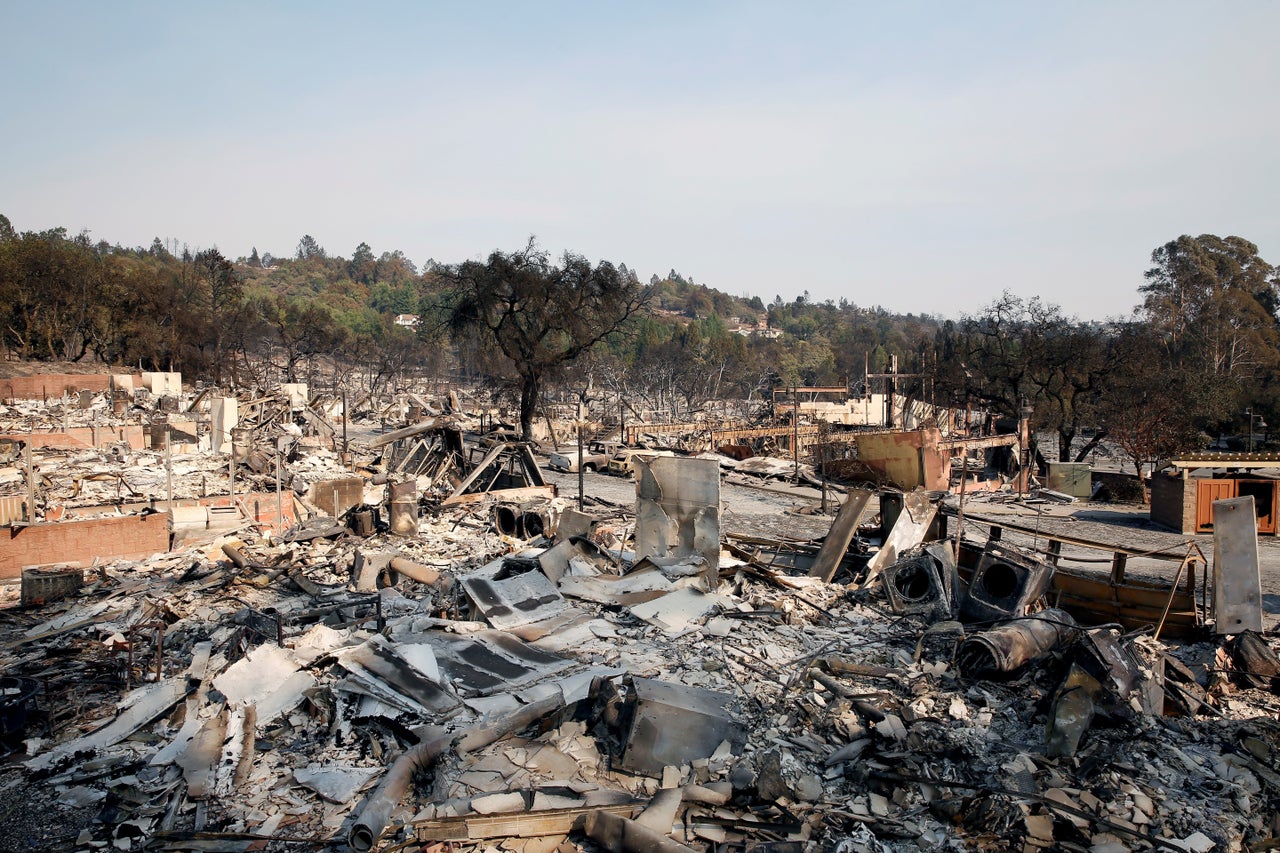 Sonoma County is known around the world for its pleasant climate, sprawling vineyards, fine hotels and wine tasting tours. But the area has long battled a far lesser known problem. With close to 3,000 people homeless in 2017, the county's homelessness rate is more than three times the national average.
The challenges facing the homeless community of Santa Rosa after the fires are as diverse as the community itself. Some of the local homeless had long lived in encampments near the woods and were left without belongings when the forests went up in flames. Others were families or teens who had been couch-surfing at friends' homes, but found there wasn't any room left for them as people took in others displaced by the disaster.
Overall the biggest challenge for this community has been the same as it always was ― how to escape homelessness by getting into affordable housing. Before the fires, there was already a dire need for more resources, advocates said ― from more shelter beds to more service providers to more affordable units. Last month's disaster, however, has made housing harder than ever to come by.
The fires wiped out about 3,000 Santa Rosa homes, or 5 percent of the city's housing stock. With only a 1 percent rental vacancy rate before the disaster, the city's rental market was already tight. But the losses have driven up rental prices and competition to secure a place. While county officials have vowed to go after price gouging, prices seem to have gone up anyway. One initial analysis by rental site Zillow for The Guardian, found rental listings from last week were 36 percent more expensive than those for the same time last month, before the fires.
"If landlords look at an application for a family who has been renting a house for $3,000 a month for three years, and one from a homeless person, guess whose application is going in the trash?"
In addition to higher prices, homeless residents face a particular challenge in the post-fire housing market. They now find themselves competing for housing with newly displaced families, many of whom are looking to rent nearby as their homes get repaired or rebuilt, said Catholic Charities of Santa Rosa director of shelter Jennielynn Holmes.
Those who just lost their homes are often more attractive to landlords than the homeless community, Holmes said. The recently displaced tend to have more financial resources, have recent history as a renter or homeowner, and may even have insurance companies paying a reliable ― and often higher ― rent.
While homeless residents can often get help in accessing rentals from homeless services ― whether agencies speak on their behalf to property owners or even help them to pay rent ― at the end of the day, landlords will simply choose whichever candidate they think is most likely to pay rent, said Holmes.
"If landlords look at an application for a family who has been renting a house for $3,000 a month for three years, and one from a homeless person, guess whose application is going in the trash? It's business," said Terry Jenkins, a 62-year-old homeless resident of one of the Catholic Charities' shelters in Santa Rosa. "The [homeless] people here have no chance at all of getting rentals now."
Shelby Harris, communications manager at Santa Rosa homeless youth organization Social Advocates for Youth, said that some rental associations have told her organization that they are currently only accepting applications from people impacted by the fires.
"It's not unwarranted, but now the question for S.A.Y. and organizations like us is how we can serve all people in need and not just those who have access to more resources," Harris said. "We know how much safe housing matters - it's just unfortunate that we are now serving a population that has even less resources to pull from," she added.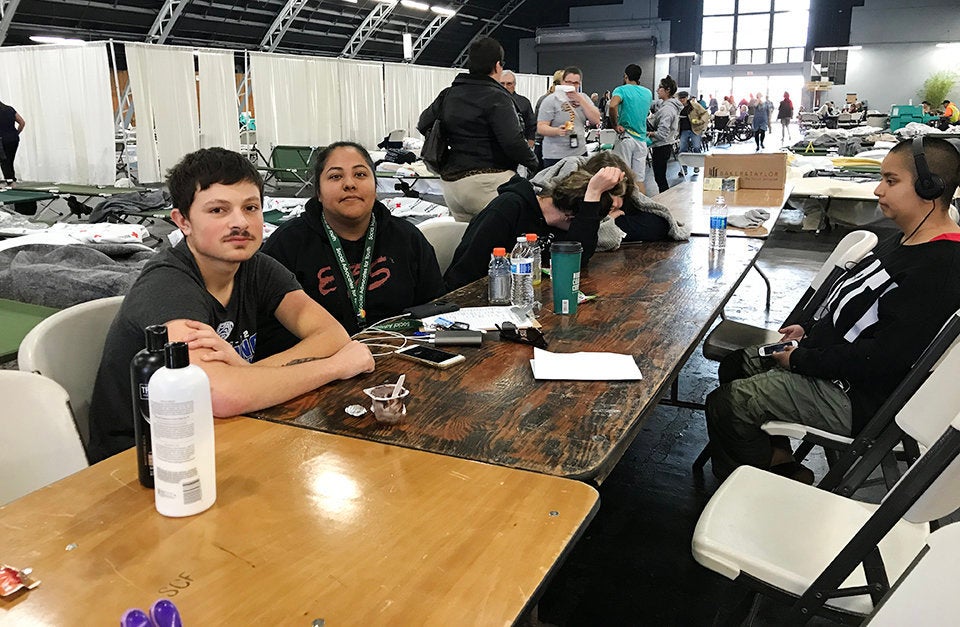 Some advocates are concerned that yet another wave of homelessness will hit Santa Rosa in the months to come and exacerbate the problem. It is still unclear just how many of those who lost their homes in the fires will be joining the ranks of the long-term homeless in the area. In addition, lower-income people in the area may get pushed out of the rental market as evacuees with higher incomes enter it.
"Frankly there just aren't places to go," Jeff Gilman, director of local homeless services group Redwood Gospel Mission, told HuffPost on Tuesday. "The further down the economic ladder you go, the fewer opportunities you have. The barriers will be greater than we had before the fires, and we don't know how long that will last. This sets us back years."
"I keep seeing in the news everybody coming together for the homeless from the Sonoma fires. I wish they would come together like that for the current homeless."
Government officials in Sonoma County and the City of Santa Rosa are aware that the challenges facing homeless residents are more daunting than ever. But in Santa Rosa, any additional resources the city has gotten since the wildfires have gone to those displaced by the disaster. The County of Sonoma doesn't have "any concrete plans" to help the previously homeless yet, said Margaret Van Vliet, executive director of Sonoma County's community development commission.
But city and county officials expressed hope that their community's experience of living through the fires will create awareness about the challenges the chronically homeless face.
Van Vliet herself only returned to her own apartment earlier this week, after couch surfing for weeks as a result of the fires. She thinks there is a new "sense of urgency" around homelessness in Sonoma, as many residents have now experienced it firsthand, even if only temporarily.
"It just raises consciousness of what it's like not to have a stable home," Van Vliet told HuffPost on Tuesday. "If we're savvy, we can tap into that goodwill for our [homeless] population as well."
County officials plan to come together in the coming weeks to think of more solutions for those who were already homeless before the fires.
"The K-Mart burned down ― should we put some housing on that site?" Van Vliet mused.
"We are serving a very vulnerable, but very invisible population."
What homeless groups are seeking now more than ever is funding, Harris from S.A.Y. said. Her group has already seen funding from government contracts vastly reduced over the past year. She suspects cuts have partly been due to city and state agencies being more conservative with financing, as they anticipate possible federal budget cuts from the Trump administration.
Meanwhile, homeless groups are looking to the local community to lend a hand, whether by donating, volunteering, or dropping off much-needed new clothes.
"We are asking everyday people who may not have a large capacity but have large hearts, to help kids who don't have many people in their lives," Harris said. "We are serving a very vulnerable, but very invisible population."
Homeless residents are hoping that some of the compassion people have shown to those who lost homes in the fire will be extended to those who didn't have homes in the first place, and likely still won't for a long time.
"I keep seeing in the news everybody coming together for the homeless from the Sonoma fires," Gomez told HuffPost. "I wish they would come together like that for the current homeless."
Before You Go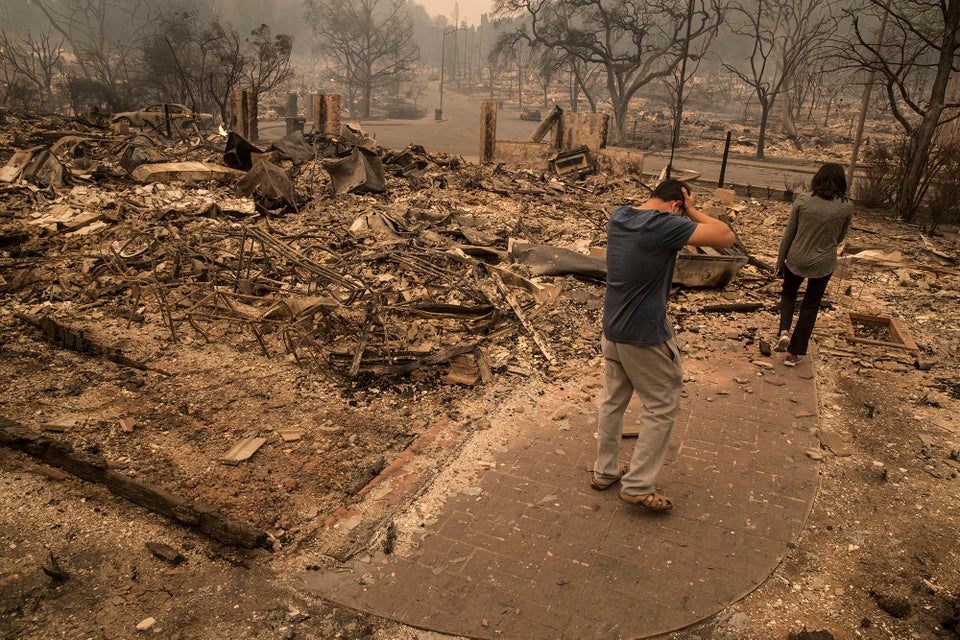 Apocalyptic Aftermath Of California Wildfires
Popular in the Community