'Everything That We Had Is Still There In The Soil'
It's been a year since California's deadliest fire burned down Mellissa Edney's house in Santa Rosa ― and she still wakes up in the middle of the night remembering things her family lost.
On the day the fires hit, Oct. 9, 2017, Mellissa woke up at 1:45 am. It was unusually warm in the house, the power had gone out and she smelled smoke. She shook her husband David awake: "Something's wrong," she said. David glanced at his phone to find a message from a friend, another law enforcement officer: "Are you guys okay?" He rushed to the bedroom window, opened the shade and could see nothing. It was pitch black with smoke. "We need to go now," he said.
Mellissa ran to grab their 16-month-old daughter Charlotte out of bed. David went to the garage and opened the door. Embers were flying by. They loaded up the car with their two dogs, their cat, two rabbits and a few items they thought to grab ― a laptop, some toiletries ― and drove off.
David, a deputy sheriff for Sonoma County, drove to a local police department he knew was safe a few miles away. The moment they got inside the station, they could hear the radios going off. David turned to Melissa: "I love you, and I have to go to work." He then got in a car with another officer and drove into the night to evacuate houses in the fires' path for the next 14 hours.
Partway through the shift, around 6 a.m., David was able to drive back toward their house to see what was left. Around four blocks away, he knew: Where rows and rows of houses used to stand, he could now see straight through to their property. There was nothing but ashes.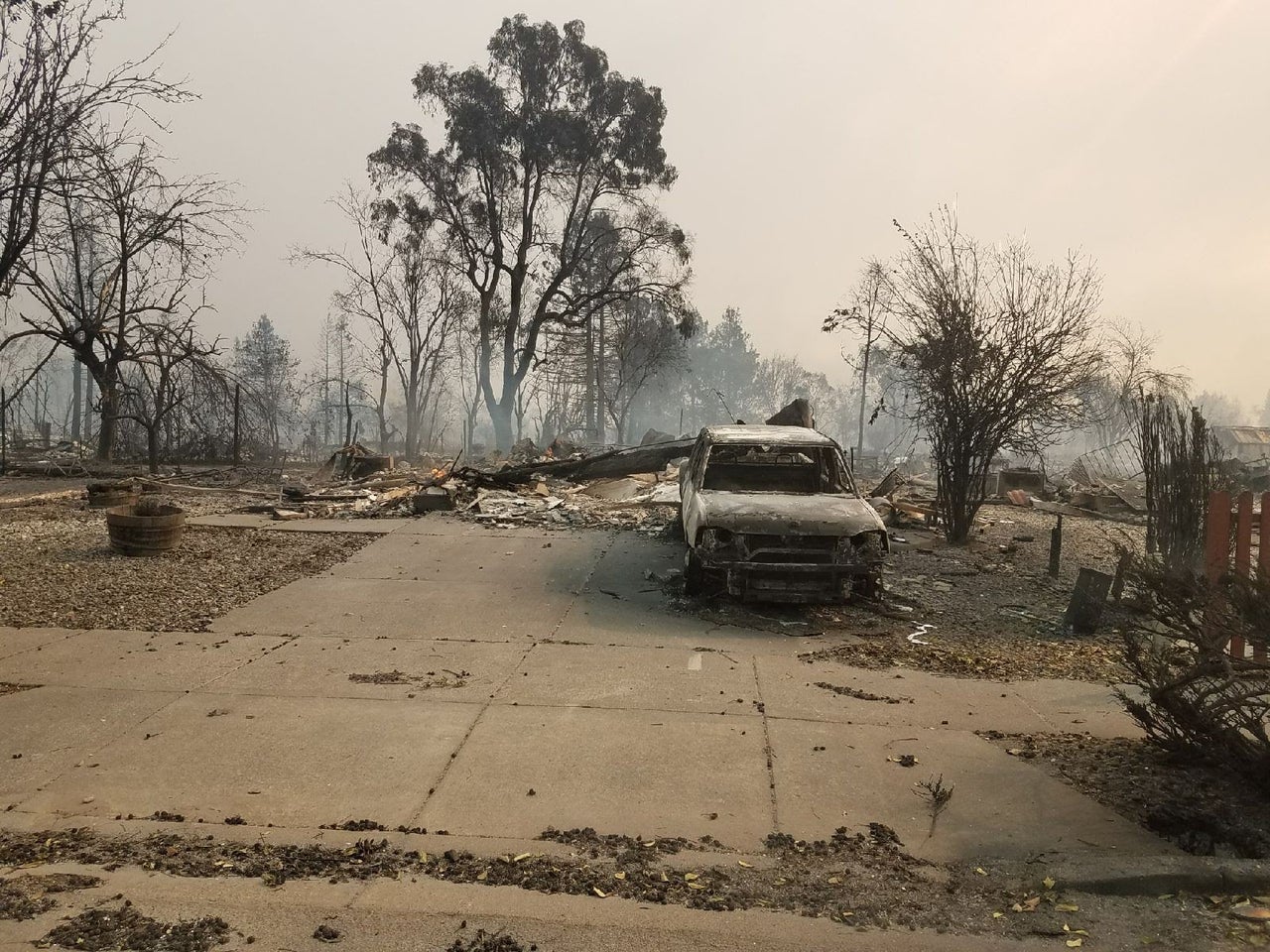 The Edneys got lucky. An old neighbor who lived next to their former apartment said they had a condo for them to stay in ― and they've been there ever since.
The first week after the blaze was the worst. Mellissa couldn't stop thinking of everything they'd lost. The Edneys had just moved into the house about 18 months before the fires. After Mellissa had gotten pregnant, they wanted a home to raise their kids in. Now she'd wake up, and it would hit her again: The teddy bear she'd had since she was three years old. The first diamond necklace her boyfriend had given her when she was 16. Photos of family members who had passed away. They were all gone.
They'd never thought it could happen to them. It became hard to talk to anyone who hadn't been through it. People kept saying: At least you made it out, objects can be replaced. But they didn't know ― the grief and the helplessness of losing everything.
Now the Edneys had to decide whether to rebuild in the same place or leave. They both grew up in the area, so they wanted to stay. And frankly, it was all they could afford. After the fires, Santa Rosa's already tight housing market was made even tighter as 3,000 houses had burned down. Now the price of another home like theirs had skyrocketed. They could barely afford to live in their neighborhood to begin with ― rebuilding felt like the most viable option.
Building on the same lot was definitely scary. Mellissa wasn't sure if she could handle the emotions of going back to the same place where they had lost everything.
"Our land is basically a burial ground of everything that's important to us, so leaving that area felt, I don't know... disloyal," Mellissa said in August. "Everything that we had there is still there in the soil."
"Our land is basically a burial ground of everything that's important to us."
Then there was the insurance money. They were lucky they even had any. But getting the company to reimburse them enough to cover rebuilding turned into a monthslong battle. They came close to suing. But eventually, the money came through.
The thought of another fire hitting the area gave them pause. Just this August, the parents of Mellissa's friend lost their home in the deadly Carr fire, a four hours' drive away. Mellissa was heartbroken. It triggered some tough memories. But what were the odds of it happening again?
They've started construction and are now a few months away from being able to move back in. They'd hoped it would be ready by November ― Mellissa is eight months pregnant, and their new baby is due then.
It's the thought of raising their two kids in their new home that keeps Mellissa going these days.
"For the first time in a long time, there's hope," she said.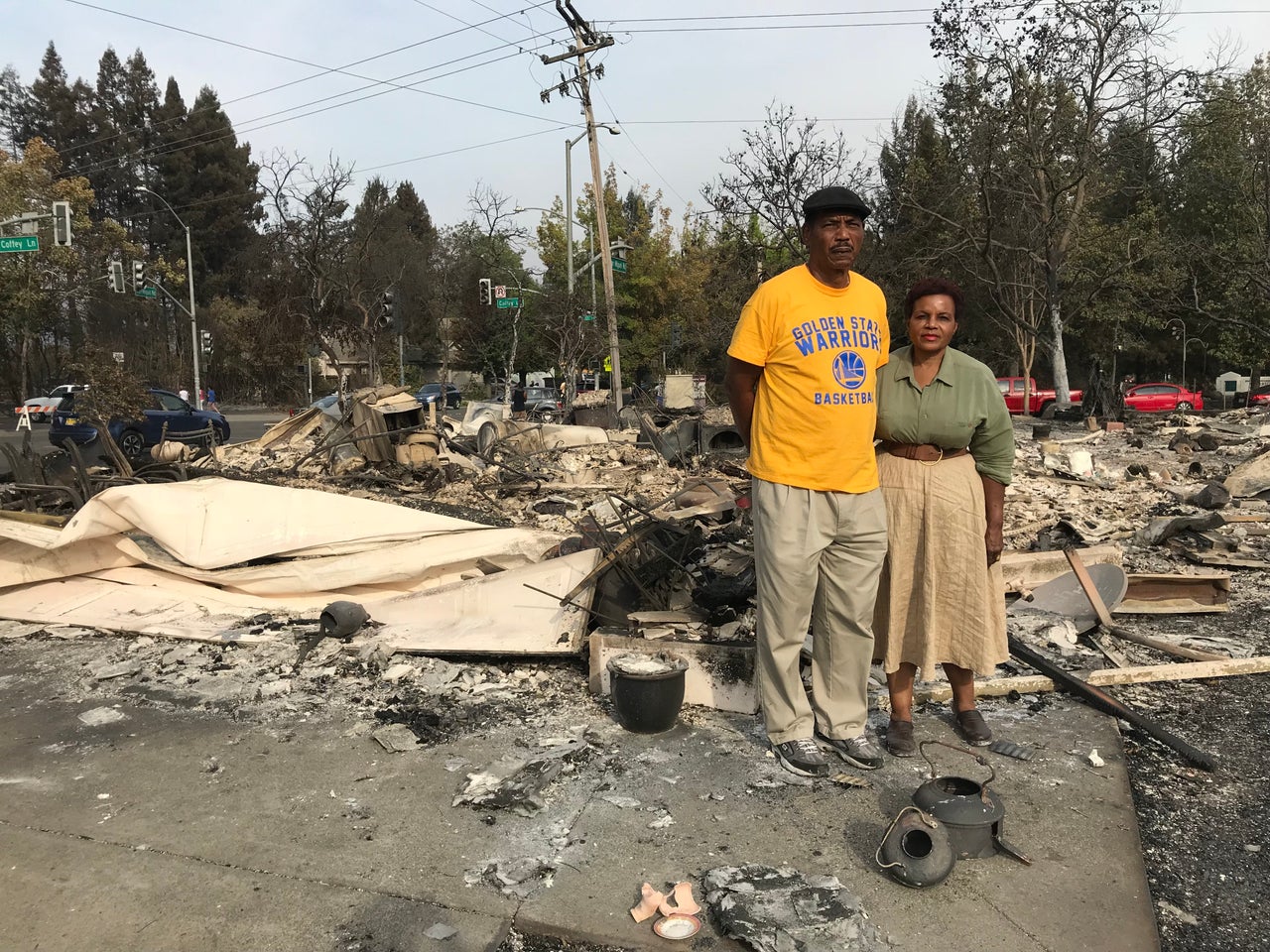 'I Still Dream That I'm In The Same House'
Marion and Lloid Heim also lost their home in last year's wildfire. The couple, aged 68 and 71, had planned to live out their retirement years in Santa Rosa. Now they're moving into a new place in Nevada ― an area that the Heims, who'd lived in California for over four decades, had never even been to before.
Marion loved that house. They had moved in just a year before the October 2017 fires. When she first saw it, it reminded her of "Little House on the Prairie." It felt like home.
But the night of the fire, they almost died there. A neighbor came knocking on their door in the middle of the night to warn them that the fires were closing in and that they had to go. If it weren't for that neighbor, Marion suspects they wouldn't have made it out. The Heims grabbed their keys and a few items, and then they fled in their car. Once on the road, they couldn't find a hotel with any vacancies amid the mass evacuations. Marion thought of Mary and Joseph, traveling from place to place, finding no room. They finally got an opening over an hour away at a hotel in Concord.
The next day, Marion and Lloid drove back to their neighborhood of Coffey Park to see what had happened to their home. They found only ashes.
"Everything that we have is charcoal," Marion told HuffPost that day, as she stood on the pile of grey ash and rubble where her house used to stand. "How fast your life can just… go away."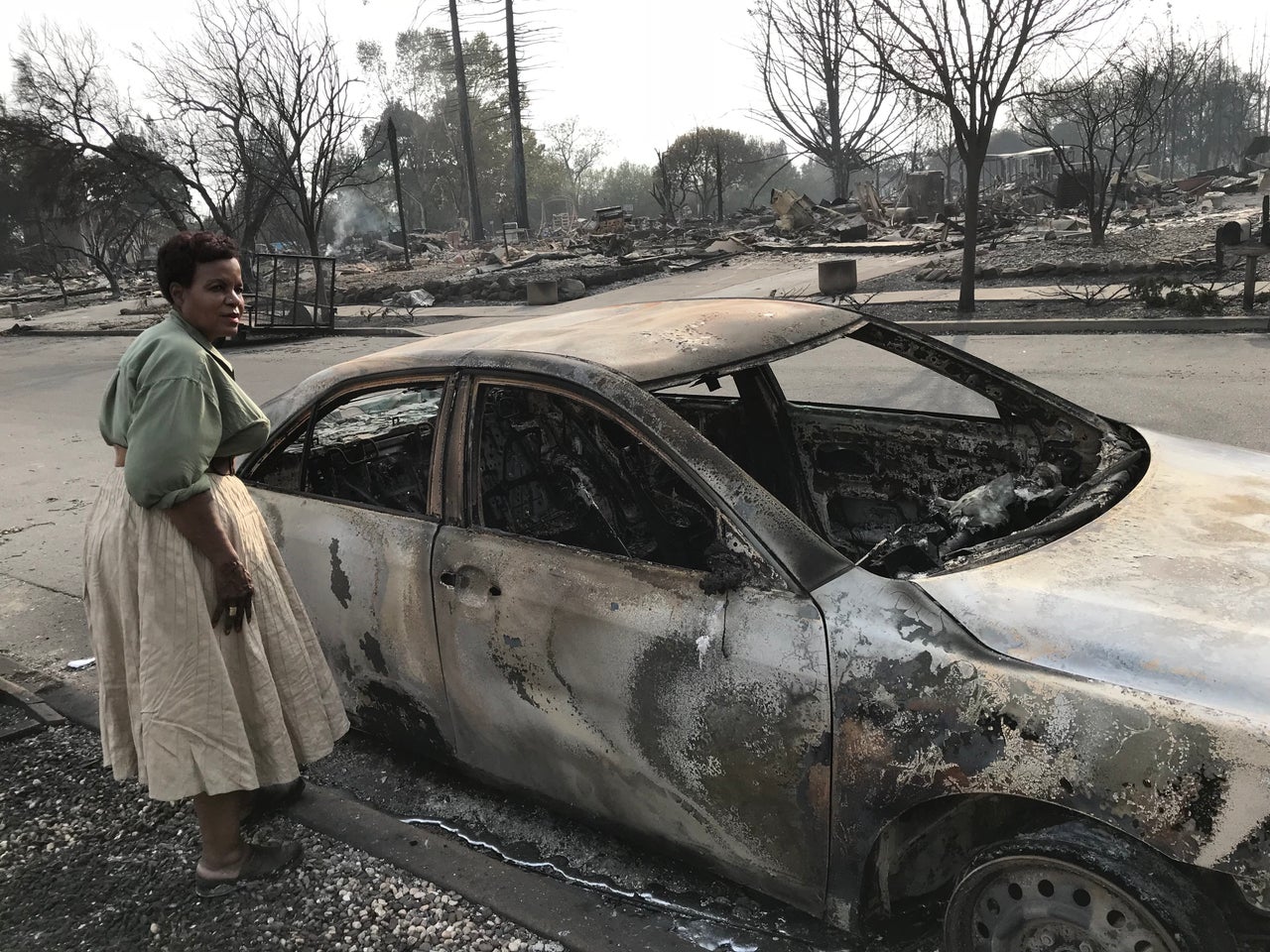 A friend quickly offered up their house in Truckee, a three hours' drive north near the Nevada border. They ended up staying over two months. That's when the toll of the fires really sank in.
Marion would wake up in the mornings, and it would hit her all over again: Everything was gone.
She'd be getting ready and decide to put on a certain dress, and then catch herself ― "Oh, what am I talking about, I don't have any of that anymore."
Most of the items they'd lost in the fire could be replaced. But some of their most prized possessions ― the photos of their two kids growing up, of their own childhoods ― were lost forever.
One of the toughest questions they faced was whether to rebuild in the same spot or leave.
"Everything that we have is charcoal."
Money was tight. The Heims had both retired in the last few years ― Marion from a career in nursing and Lloid from a job as a toll worker on San Francisco's Golden Gate Bridge. They had never expected to lose everything or be forced to start again from scratch.
The Heims, fortunately, had homeowner's insurance ― more than many of the fire's survivors could say ― and it would cover enough to build a new house. But in the wake of the blaze, housing prices had shot up around Santa Rosa. What's more, before even getting a permit to rebuild on their lot, there would be a slew of additional costs ― soil testing, new blueprints.
So, the Heims started to look around Reno, where they had moved into a rental shortly after leaving their friend's place in nearby Truckee. The area had grown on them. It was a change from the San Francisco Bay Area they had known for most of their lives. It was a desert, for one, with fewer flowers, less green dotting the landscape. But Marion found the surrounding mountains healing.
They finally decided on Reno. It was cheaper there, and the people seemed friendly.
They knew there existed the possibility of another fire hitting their new place. It was the desert after all. In August, they could smell the smoke from the deadly Carr fire in Redding, California ― about a three hours' drive away. It triggered some tough memories. But Marion figured Nevada firemen were used to fires, and they would be fast to respond. They couldn't face another disaster.
"I still dream that I'm in the same house," Marion said that month, referring to her Santa Rosa home.
"God didn't bring us this far to Reno just to leave us," she added.
Their new one-story home is expected to complete construction in the next few weeks. They'll be moving in almost exactly a year after the fires hit. Marion sees it as a good omen.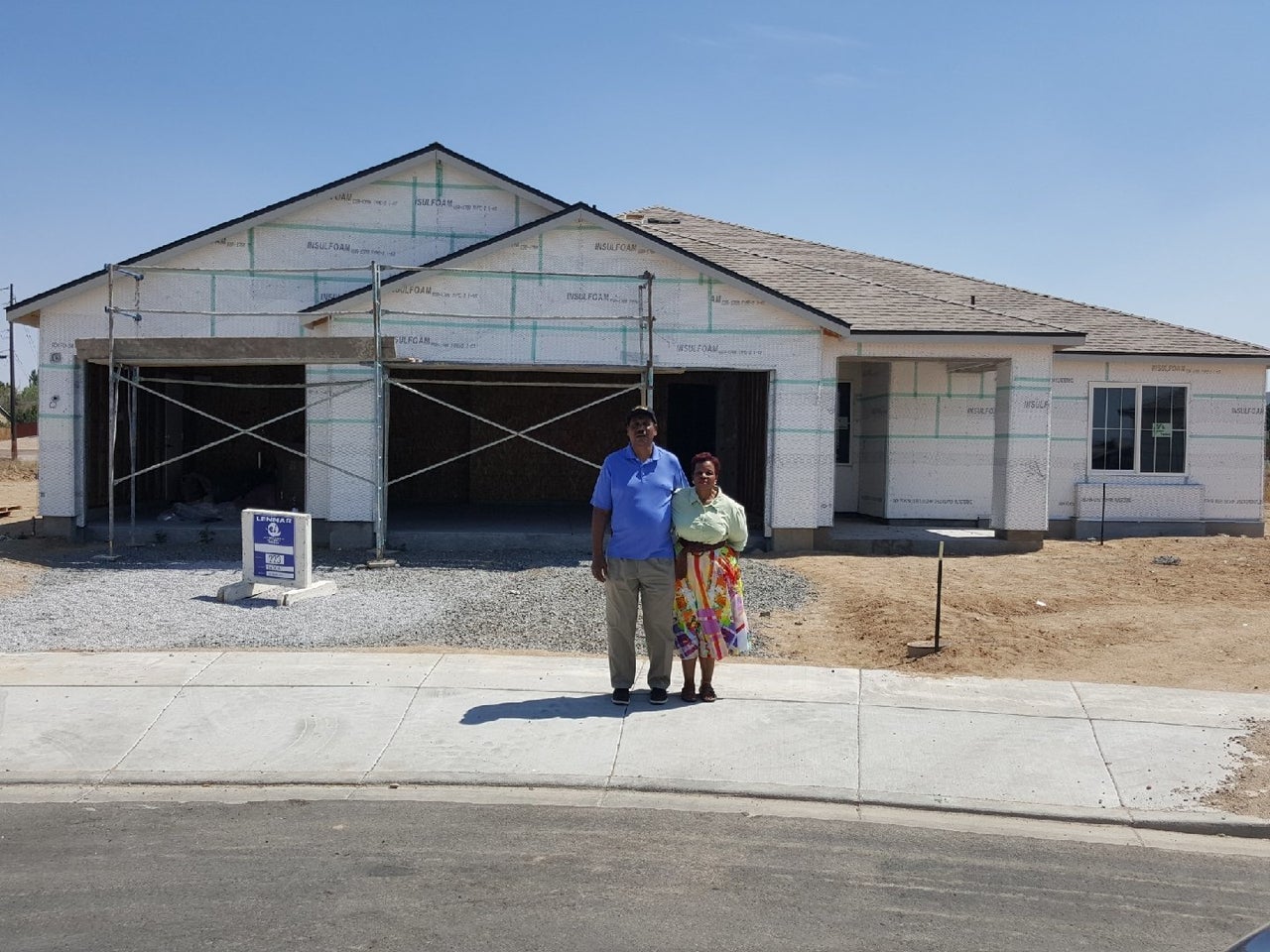 Popular in the Community