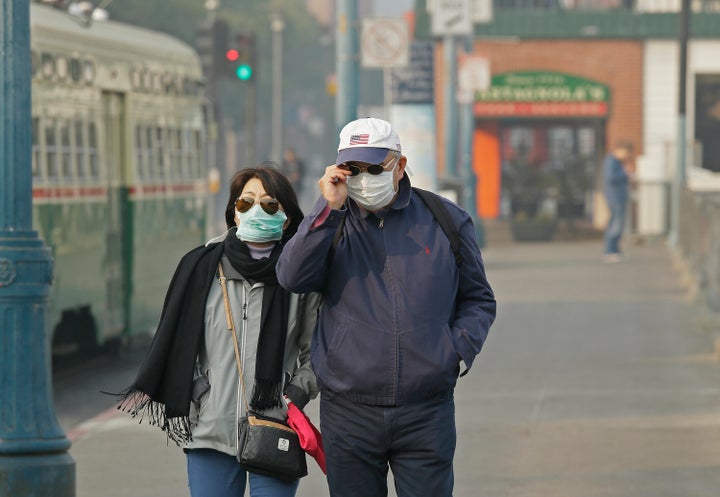 Cassandra Williams has gotten very little sleep in the last couple of weeks. As smoke from the Northern California wildfires wends its way south, she and J Redwoods have been completely occupied with purchasing and distributing air masks to the Bay Area's most marginalized residents. The two head up Mask Oakland, a community-driven disaster relief effort focused on distributing these masks.
Born out of the 2017 Northern California Firestorm — a complex of 250 wildfires that burned at least 245,000 acres ― Mask Oakland is one of a number of community-led organizations emerging in response to the lack of official action on air quality problems.
"When we go out, we are distributing masks to homeless encampments," Williams told HuffPost. "Our foundation has been always getting them out to as many unhoused people as we possibly can."
But Mask Oakland has also "branched out to assist other marginalized groups and other vulnerable communities," she said.
For almost two weeks, toxic smoke from the fire raging in Butte County ―now both the deadliest and most destructive wildfire in California's history ― has reached the San Francisco Bay Area, home to seven million people. Satellite images showed gigantic plumes of smoke billowing from the blazes, and it didn't take long for much of this smoke to settle ominously over densely populated cities like Oakland, San Francisco and San Jose.
The thick haze shrouding the Bay Area has produced air quality indices surpassing 200 ― a level designated as "very unhealthy" by the Environmental Protection Agency and on a par with notably polluted cities like Delhi and Beijing.
For homeless people, the problem is particularly stark. "People living outside are already exposed to pollution and smog at a much higher rate than the average person," said Williams. "But imagine adding on top of that an air quality index of 200-plus and no escape."
The Bay Area's housing shortage has hit epidemic proportions over the last few years, and municipalities have not been able to provide adequate services for those pushed out onto the streets. San Francisco alone is home to around 7,500 homeless people, for whom remaining indoors or purchasing costly masks is often not possible.
Authorities have also not been able to adequately address the current air quality crisis.
During the 2017 Northern California Firestorm, Williams and Redwoods bought and distributed 4,000 N95 air masks. At the time, it seemed like a lot. But it turned out to be nothing compared to what they have accomplished in the last two weeks.
Since the Camp fire started on Nov. 8, Mask Oakland said it has collected and distributed more than 85,000 masks. Most were purchased through wholesale suppliers with money donated directly by individuals. Those masks have made a huge difference for thousands of people. But they're still just fulfilling a fraction of the overall need.
"Just to keep up with this last week of constantly awful air quality, since the masks are disposable, we would need something like 500,000 masks," Williams said. "So, our numbers are big — and they're bigger than any other entity right now by far ― but they're still only a drop in the bucket for the actual need that exists in this area."
Williams and Redwoods distribute a lot of masks themselves, but they have also partnered with a team of volunteers and other organizations to spread their reach.
Dale Smith is an organizer with the San Francisco chapter of the Democratic Socialists of America, one of the groups partnering with Mask Oakland. His organization has distributed thousands of masks both from their offices in San Francisco and through mobile distribution.
"We definitely scaled up our mask distribution thanks to Mask Oakland," Smith told HuffPost. "We wouldn't have been able to find the amount of masks that we were able to distribute without them."
Much of the labor around mask distribution is being done by groups that have a great deal of experience working among the most marginalized communities in the Bay Area. This is true of Williams and Redwoods as well.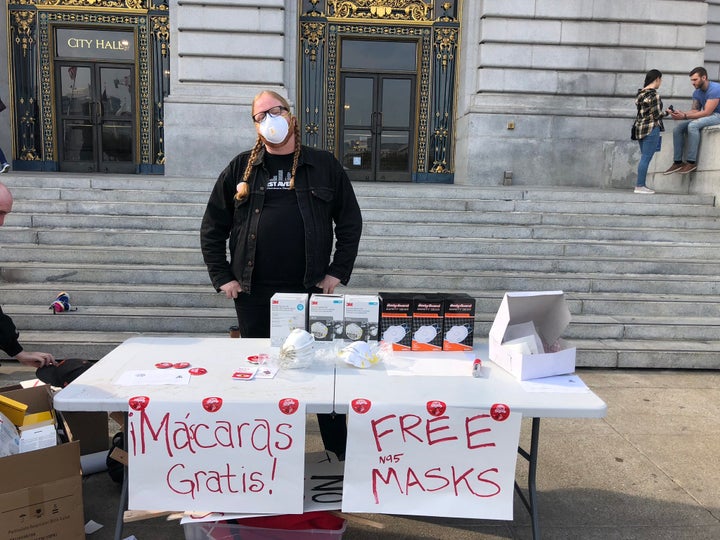 "I'm trans and disabled," Redwoods said. "Life is not easy when the smoke lifts for pretty much any of the people who volunteer for Mask Oakland."
Williams is no stranger to systemic adversity either. "I've been houseless myself too," she said. "But grateful that I had a network of people to keep me under a roof."
Last year, the farm where Williams worked was burned down in the Northern California Firestorm. She was left unemployed and in a precarious state — a condition familiar to many of Mask Oakland's volunteers.
Their own experiences have left Williams and Redwoods with an acute awareness of the housing and homelessness problems in the Bay Area. It's this awareness that has prompted them, despite their own difficulties, to devote so much time and energy to helping vulnerable people.
"I've been part of the climate and environmental justice movement since at least 2008," Redwoods said. "So I have an understanding of the invisible impact of pollution on the body. There are thousands of people stuck outside in horrendous conditions all over California. If you have capacity to help those with less, you must."
The kinds of grassroots, community-based efforts organized by Mask Oakland and others will likely continue to play a crucial role in addressing people's needs as wildfires and other disasters unfold globally. But those efforts can only go so far. State, county and municipal agencies could be doing much more to address the impact of poor air quality on the Bay Area's unhoused population. San Francisco is the richest metropolitan area in the U.S. and yet the city's Department of Homelessness and Supportive Housing has distributed only around 1,600 masks.
As well as working to raise awareness about the need for air masks in the Bay Area, the San Francisco chapter of the Democratic Socialists of America has also been a loud voice demanding more action from the city.
"We're out here filling the gap and doing more than the city is doing — and possibly could do — because they're just not prepared to deal with this stuff," said Smith. "I do electoral work too, but at the end of the day, it's going to take regular people working together to solve issues."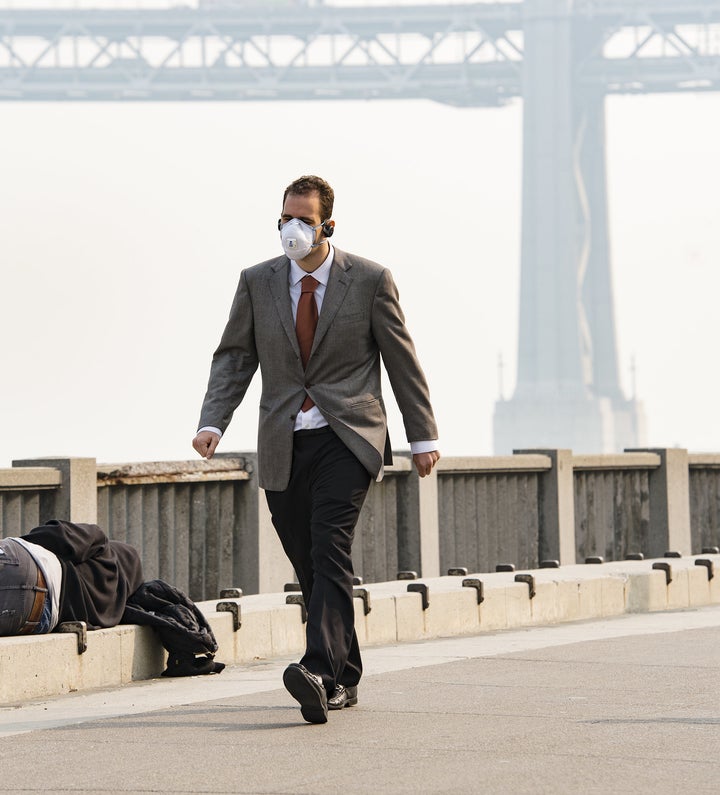 Randolph Quezada, a spokesman for San Francisco's homeless services department, told HuffPost, "Ensuring the health and safety of people experiencing homelessness has been and will continue to be our focus." In addition to the masks, he said that 700 bottles of water have been distributed and 75 additional mats ― essentially places to sleep ― have been added to the shelter system.
That's nowhere near enough, activists say. "There is no excuse for why a group of largely disabled and marginalized volunteers are providing all of this unpaid labor," Williams said. "The city and the county have got the money. Why don't they at least purchase the masks and let our amazing network of volunteers and our collaborative efforts help to get them out to the people?"
With rain in the forecast this week, helping to douse the Camp fire with water and push much of the smoke out of the Bay Area, it's looking like air quality will improve. But with wildfires predicted to keep burning longer, faster, and hotter in California, the need for disaster preparedness and municipal accountability is greater than ever.
For more content and to be part of the "This New World" community, follow our Facebook page.
HuffPost's "This New World" series is funded by Partners for a New Economy and the Kendeda Fund. All content is editorially independent, with no influence or input from the foundations. If you have an idea or tip for the editorial series, send an email to thisnewworld@huffpost.com