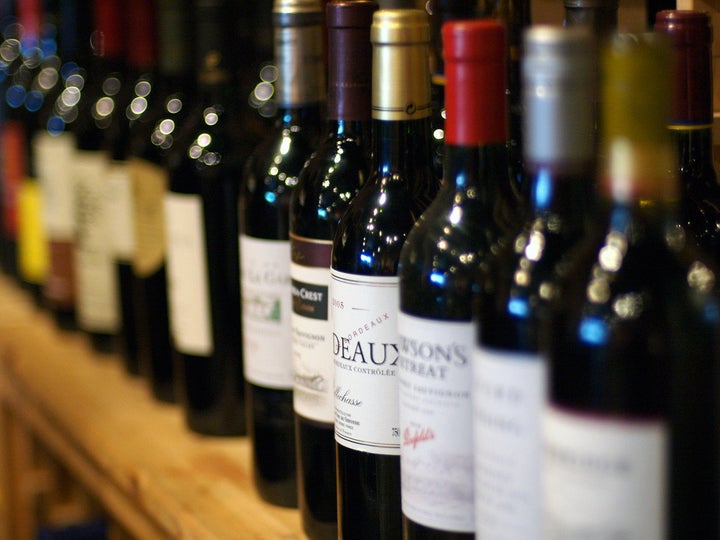 In Pursuit of Balance Tasting in San Francisco
It's an exciting time to be following the wine industry in California. Things are changing. The dominance of big, fruit-forward, super-ripe wines is starting to fade. The diversity of wine styles available to the consumer is growing.
There will still be plenty of ripe, intense, fruit-forward wines, I'm sure, for those that prefer that style. There will still be oaky, buttery Chardonnays too. Other styles, however, are coming to the fore. This includes lower alcohol, higher acid, more minerally wines that winemakers are striving for by picking earlier, growing in cooler locations, and using less new oak, among other things.
Some have been doggedly going for this style for decades. That includes wineries like Calera, Arcadian and Mount Eden, the Santa Cruz Mountains producer I wrote about in last week's post.
Others have dramatically changed their winemaking style in just the past several years. That includes winemakers like Wells Guthrie at Copain, Jamie Kutch of Kutch Wines, and Pax Mahle, formerly of Pax who is now making wine under the Wind Gap label.
There are also brand new winemakers on the scene who started making wine under their own labels in the last several years determined to make the kind of wines they enjoyed drinking -- more classically European styled, food-friendly wines. The ranks of these winemakers include Gavin Chanin (Chanin Wine Company), John Raytek (Ceritas) and Justin Willett (Tyler Winery).
The efforts of many of these winemakers were highlighted at a recent event in San Francisco called "In Pursuit of Balance." This was the second year for this event, organized by Rajat Parr, noted sommelier and now a winemaker himself under the Sandhi label, and Jasmine Hirsch, of Sonoma Coast's Hirsch Vineyards.
The stated purpose of the event was "to promote dialogue around the meaning and relevance of balance in California Pinot Noir and Chardonnay." Wines and winemakers or other representatives from a total of 29 wineries that make Chardonnay and/or Pinot Noir from grapes from California and/or Oregon were on hand, including several that I've named above.
There I mentioned some of the winegrowing and winemaking factors that influence the ultimate style of the finished wine. These include choices as to where to grow or from where to source the grapes -- cooler locations like the Sonoma Coast and Anderson Valley can yield higher acid, more minerally wines.
The clones of Pinot Noir planted also make a big difference -- with the Dijon clones from France that have been widely planted in California tending not to ripen as well or have as long a "hang time" in many California climates as so-called "heritage" clones, budwood taken from vines that have done well in California for years, like the Calera and Mount Eden clones.
Cooler weather conditions in the past few years have also aided the efforts of winemakers going for this lower alcohol, less ripe style. While 2008 and 2009 were somewhat cooler years, 2010 and 2011 were both significantly cooler, producing lower yields than usual.
Canopy management, which includes various types of trellising and strategic pruning and leaf pulling, is also being used to ensure that grape bunches ripen more evenly and slowly than was the case in the past.
The choice of fermentation vessel -- oak or more neutral vessels like stainless steel tanks -- as well as whether and what type of oak is used for aging the wine, plays a big role in determining the wine's style, especially with a more neutral grape like Chardonnay.
Many winemakers in California, especially those in the balance movement, are relying more on indigenous yeasts -- i.e., the yeast that exists in the winemaking environment, and to a limited extent, in the field--to take care of the fermentation of the grape into wine instead of adding various types of commercial yeast, which was formerly common in this state. The yeast used also affects the ultimate flavors and sometimes even texture of the wine.
Besides all the winegrowing and winemaking choices, other developments have helped in recent years to expand the market for wines with higher acidities, minerality and balance. A couple of wine critics are usually cited as giving high scores to super ripe, power-packed California wines: Robert Parker, owner of the Wine Advocate, and James Laube of Wine Spectator. As of this year, however, Parker is no longer reviewing California wines, having turned that duty over to Antonio Galloni. And other critics who favor less ripe styles, like the Burghound's Allen Meadows, have also become influential regarding California Pinot Noir.
Sommeliers and natural wine bars have also played a major role in promoting lighter, more natural and more balanced styles of wine. It's very appropriate, then, that Michael Mina sommelier Rajat Parr is one of the founders and organizers of the "In Pursuit of Balance" event.
The producers responsible for the wines that most impressed me at this event -- truly elegant Chardonnays with vibrant acidity and complex, minerally Pinot Noirs -- were Ceritas, Chanin, Cobb, Evening Land, Hirsch, Lioco, Miura, Mount Eden, Peay, Sandhi, Soliste, Tyler and Wind Gap. Time did not permit me to taste the wines of two other favorites at this event who make excellent wines in the same style: Copain and Littorai.
California has been blessed for several years now with many excellent Pinot Noirs in a variety of styles, and the great wines I tasted at this event show that those of us who love minerally, lower alcohol, refined Pinots will continue to have lots to choose from in the coming years.
What particularly excited me as I left this event was the number of excellent Chardonnays I'd tasted, true alternatives to the oaky, buttery Chardonnays that predominated just five years ago.
While the "ABC" (anything but Chardonnay) movement made sense back when there were few alternatives to the then prevailing style, the Chardonnays from these producers give us reason to rejoice that Chardonnay in California is alive and well.
I'm very wary of dogmatism in wine, as I am in life in general. What is wonderful to me about the balance movement and other new developments is that they're making the world of wine in California more diverse, with more and better choices for every palate.
For my complete report, with tasting notes on all the wines I tasted and more background on many of the producers, see my full blog post here.
Popular in the Community