There is a proposed piece of legislation in California for the deployment of lots of small wireless cell antennas, and this is also happening simultaneously in other states, Congress and at the FCC. And, wouldn't you know it; those who benefit the most from these state and federal gifts are AT&T et al., the companies who are also funding and engineering these campaigns. In fact, these state bills appear to be based on 'model legislation' that was created by the Wireless Infrastructure Association, WIA and by ALEC, the American Legislative Exchange Counsel.
"In California, Sen. Ben Hueso (D-San Diego) introduced a bill that would specifically exempt small cells from local zoning review. Sen. Hueso's bill states 'the impact on local interests from individual small wireless facilities will be sufficiently minor and that such deployments should be a permitted use statewide and should not be subject to discretionary zoning review'."
AT&T: A Little Help from Their Friends
And here is a picture of the main sponsor, State Senator Ben Hueso, holding a check for $25,000 that is from AT&T and it goes to a group in his district, San Diego, California.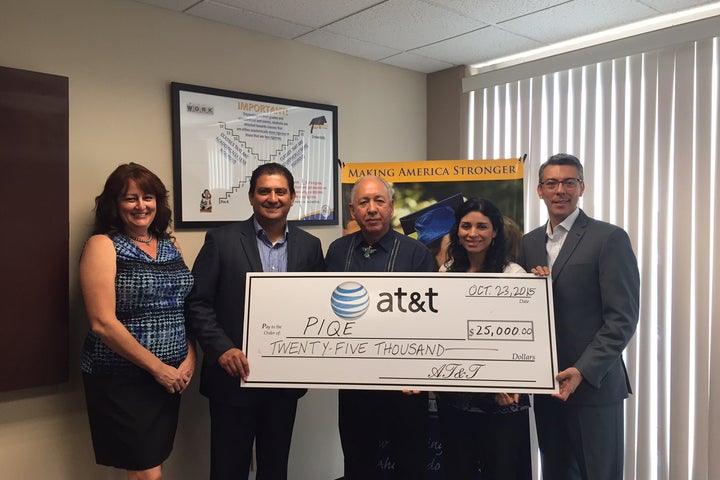 (Parent Institute for Quality Education received a $25,000 check from AT&T. Regional Vice President of External Affairs Ignacio De La Torre and Area Manager of External Affairs Christine Moore along with California State Senator Ben Hueso (second from the left), made the presentation on Oct. 23, 2015.)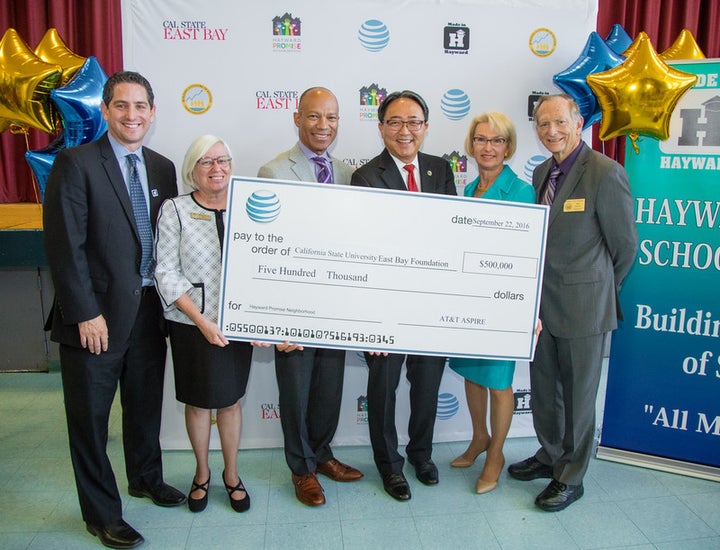 "'Digital literacy is critical not only to California's economy, but to the personal and professional development of all Californians,' said California State Senator Ben Hueso. 'AT&T is educating all walks of life through its Digital You technology training workshops. I am excited to be part of this event and see our residents learn the skills, knowledge and principles of computer devices and networks that will help them successfully navigate through the digital world'."
These foundation grants have been traditionally given to make the politicians look good in their districts and, in exchange, when the companies want them to place legislation into the hopper, and they are in a strategic position to make that happen, they are rewarded.
This foundation funding is on top of the campaign financing that also occurs. This is a partial list of Bill Quirk's campaign contributions from AT&T, Verizon et al.

While the projects may be valid, important or even needed in the community, and the politicians may even believe that their constituents would benefit if these laws go through, there is always a catch. In this case, AT&T, which controls the state utilities of 21 states, never bothered to properly upgrade the state of California or any other state. And because the politicians are getting money from various financial buckets, they are not going to call for investigations and audits that should have been done, but weren't.
There Is a Massive Campaign Underway to Let the Companies Do What They Want. Period.
We've written about the FCC's current path of destruction, with the goal to eliminate all regulations or obligations on the communications companies, such as shutting down Net Neutrality rules. In the wireless regulatory space, this is no different. For example, one of the FCC's current proceedings is to get rid of most of the wireless zoning laws or not require any environmental studies.
"2. Updating Our Approach to the NHPA and NEPA
"17. Many wireless providers have raised concerns about the Commission's environmental and historic preservation review processes because, they say, these reviews increase the costs of deployment and pose lengthy and often unnecessary delays, particularly for small facility deployments."
"20. Some argue that NEPA compliance imposes extraordinarily high costs on wireless providers and results in significant delays. The Commission seeks comment on the costs and relative benefits of the Commission's NEPA rules. What are the costs associated with NEPA compliance, other than costs associated with historic preservation review? How do the costs of NEPA compliance for tower construction compare to such costs for small facilities, and what specific benefits does the review confer?"
The Bill Was Written by the Industry, for the Industry.
In reading through the California bill, it was clear that it had elements from other state bills, as well as the proposed Congressional bills and matching the FCC's proposal. And in tracking this down, we came across a group, bragging that they previously wrote state-based wireless bills as "model legislation".
"Wireless Infrastructure Association has developed model legislation that encourages collocation on existing facilities and provides municipalities guidelines on how to effectively develop their own wireless siting ordinances. The legislation balances municipalities' concerns about the aesthetic and safety impacts of wireless facilities with citizens' demand for ubiquitous wireless communications. This model legislation, provided complimentary, has been endorsed by both the National Conference of State Legislatures (NCSL) and the American Legislative Exchange Council (ALEC). View WIA's model legislation.
WIA's model legislation has been used as a guide in developing wireless facilities legislation in the following states:
California CAL. GOV'T CODE § 65850.6 (2006) Requires cities and counties to approve an application for a collocation on a wireless telecommunications facility through administrative approval. Further, the Bill narrowly tailors the actions a locality can take as conditions for approval of permits for the construction of a wireless facility—for example a locality cannot require an escrow deposit for removal of a facility."
Notice that this bill became law in 2006. Between the ALEC proposed resolutions and model legislation and the WIA, (as well as the proposed FCC and Congressional bills) it is clear that AT&T and Verizon have been and continue to drive the agenda as the companies are members of both WIA as well as ALEC.
AT&T's entire U-verse was a bait-and-switch that uses the copper wires that were in place as part of the state utility and they can be decades old. The fiber optic cables go to a 'node' that can be ½ mile away from the home. As we uncovered in Boston, while Verizon claimed it is rolling out FiOS and fiber to the home in the city, the truth is that they are using whatever fiber they put in to do wireless. In fact, in suburban communities in Massachusetts that didn't get upgraded, they are starting to offer wireless instead of either maintaining the existing wires or upgrading the networks.
Wireless is not a substitute for fiber. Remove the hype about "5G" wireless and you have nothing more than a plan to remove regulations and push for more expensive services, priced by the gig, with data caps and slower speeds.
California's Fiber Optic Plan that Failed.
And, of course, no one knows the history of fiber optic services (or the lack thereof) in California. Pacific Bell, (now AT&T California), claimed that they would have 5.5 million homes passed by the year 2000 and spend $16 billion dollars. This is a page from the Pacific Telesis 1994 Fact Book. As you can see, San Diego was supposed to have been upgraded starting in 1994. Customers paid rate increases to upgrade and replace the copper state utility wires while now-AT&T took billions in tax deductions to make this happen. There were never any refunds when the company dropped their plans soon after they got their 'deregulation' to make more money.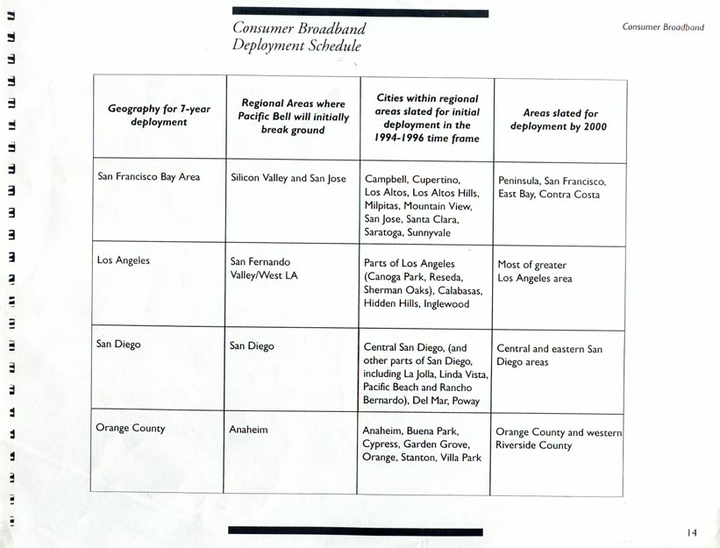 And the following is a time line of what actually happened in San Diego, as told by the San Diego Tribune in 1997. Notice that the company kept offering wireless as a substitute for the networks they never created. The article, however, left out some major points. State regulations were changed to give the companies more profits that were supposed to be used for construction, and the company took major tax deductions. Furthermore, the state never went back to do a full analysis of what happened to their fiber optic future, much less demand refunds.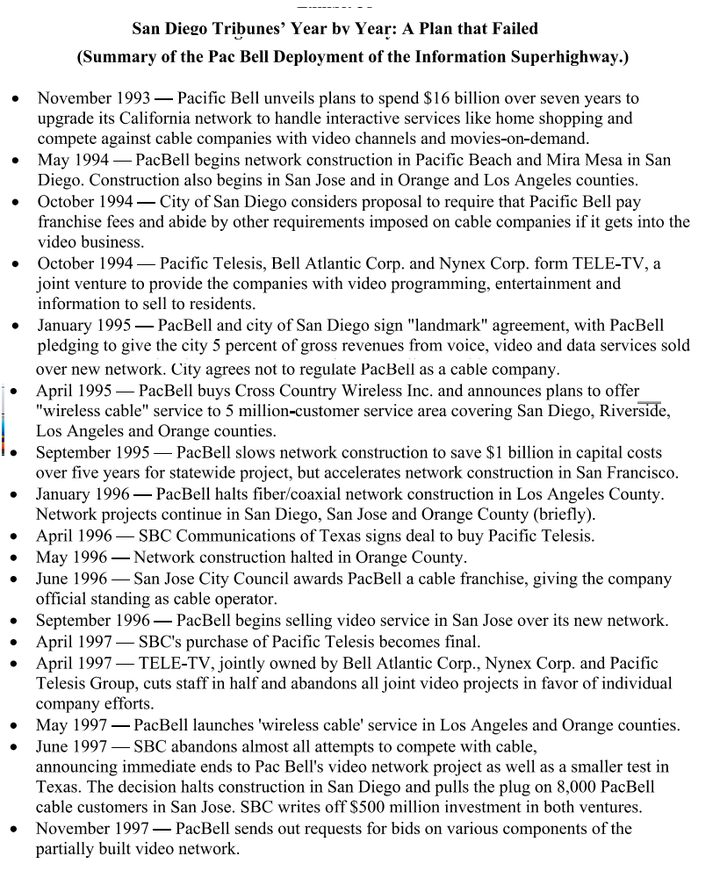 Do you want a wireless cell site aimed at your home instead of a fiber optic wire?
Finally, who knows what the impacts are of placing lots of small wireless cell sites outside someone's window or aimed at their school? With zero oversight and zero consideration, who knows what recourse anyone will have, if any?
How comfortable would you be if this antenna was outside your kid's bedroom window? (Source: RCRWireless)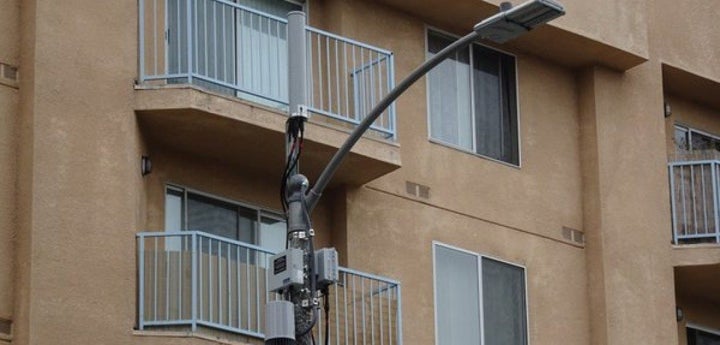 These bills are nothing more than a cover up of what was never built but paid for—a fiber optic future.
Related
Popular in the Community