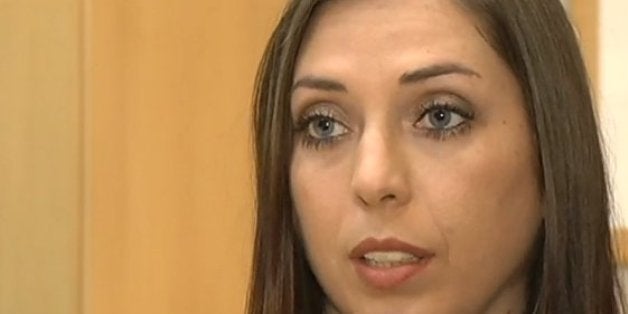 A police report says officers "guided" her to the ground, but surveillance videos show a different side of the story.
A California woman has filed a federal civil rights lawsuit against Bay Area Rapid Transit, saying a transit police officer forcefully slammed her to the ground after she was arrested, breaking bones in her face and rendering her unconscious. Graphic video (below) shows her lying in a pool of her own blood.
Megan Sheehan, who suffered severe injuries after her arrest on St. Patrick's Day 2014, claims in her suit that police used excessive force while she was in custody, ABC affiliate station KGO reported. In an interview with the outlet, Sheehan, who works as a bartender and model, admitted she was drunk, belligerent and deserved to be arrested. But she said she didn't deserve to have her face broken.
"I should never have gotten that drunk, but there are ways to detain someone and not break their face," Sheehan said. "I don't believe that they should have broken four bones in my face and knocked out some of my teeth."
Sheehan told the station that it took a long time to recover from her injuries and that the emotional scars from the altercation remain.
Sheehan initially filed suit against BART last year, seeking unspecified damages. After seeing new video footage of her booking, her attorneys are seeking to sue the city of Oakland and an Oakland Police officer as well, one lawyer told The Huffington Post.
"[At first] we had no idea how many people beat her up," said Lizabeth de Vries, a partner at the Scott Law Firm, which is representing Sheehan.

Police body camera footage obtained by Sheehan's lawyers last week and broadcast by KGO shows a transit officer, Nolan Pianta, and an Oakland Police officer, Michael Stolzman, slamming Sheehan to the ground at Santa Rita Jail in Dublin, California. The lawyers knew that several Oakland Police officers were in the booking area when Sheehan was hurt, de Vries said, but they didn't know that one of them participated in the bloody takedown until they saw the new video.
A motion to amend the lawsuit, filed last week, seeks to add Stolzman and the Oakland Police Department as defendants, according to documents obtained by HuffPost. A hearing on the matter is scheduled for May 28, de Vries said.
Sheehan was arrested at the Lake Merritt BART station in Oakland on March 17, 2014, following a drunken altercation with police. BART officers said she became argumentative and punched and kicked them as they arrested her, according to SFGate.
Police body camera video of the incident shows Sheehan arguing with police and struggling as they attempt to take her into custody.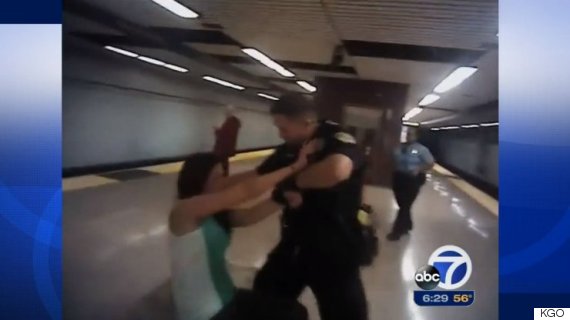 Sheehan struggles with police at Lake Merritt BART station, March 17, 2014.
Sheehan was taken to Santa Rita Jail and booked on charges of resisting arrest, battery on a police officer and public intoxication, SFGate reported. Here's what happened next, according to SFGate:
While in the booking area, her handcuffs were removed so that she could remove her jewelry ... Sheehan "inexplicably" began looking through her purse and refused [Officer Nolan] Pianta's instructions to stop doing so, BART police said. Pianta put her in an "arm bar control hold to gain compliance," but she continued to resist and tried to punch the officer, who then "guided" her to the ground with the assistance of Oakland police, who were also present, agency officials said.
But in security video and police body camera footage, the officers appear to throw Sheehan to the ground face-first while restraining her arms.
In the video, bystanders groan in reaction when Sheehan hits the ground. Cops called nurses to the scene as Sheehan lay unmoving next to a pool of blood. She had to be hospitalized for her injuries, her attorney told KGO.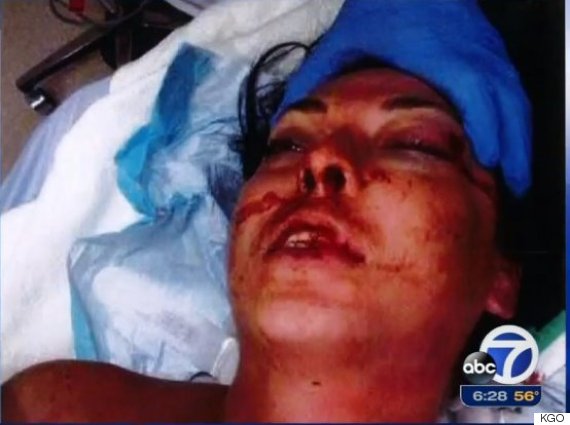 Megan Sheehan at the hospital the day after she sustained injuries while in police custody.
John Scott, an attorney who is also representing Sheehan, told KGO that the cops had gotten frustrated with Sheehan's antics and wanted to punish her.
"She was uncooperative," Scott said. "She was intoxicated. And I believe she had to be taught a lesson. In police jargon, she flunked the attitude test."
"I'm vaguely familiar with the incident, but I've been instructed not to comment because it's under litigation," Lt. Paul Kwon of the BART Police told The Huffington Post.
The police department denied fault in its response to Sheehan's suit and said she was partly to blame for any possible injuries, SFGate reported.
This story has been updated to include comments from Sheehan's attorneys.
Calling all HuffPost superfans!
Sign up for membership to become a founding member and help shape HuffPost's next chapter
BEFORE YOU GO
PHOTO GALLERY
Police Brutality Incidents