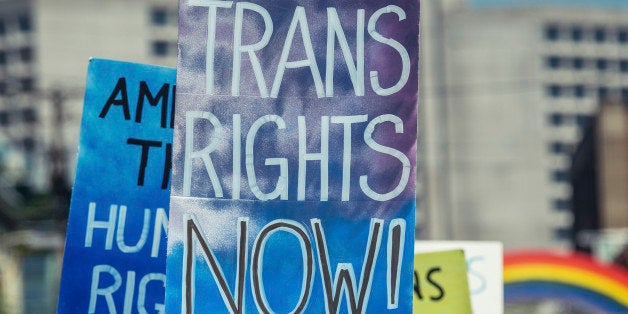 For years, battles over transgender rights have been fought relatively quietly in state legislatures, the boardrooms of LGBT and progressive non-profit organizations and on the streets of America. Now, thanks to the nationwide backlash against the stubborn, absurd rancor of North Carolina Gov. Pat McCory and Republican lawmakers proudly promoting their anti-transgender law HB2--which the Williams Institute estimates will cost the state $5 billion a year in lost revenue--transgender rights have become part of the current zeitgeist. The battle reached a new zenith on Monday, May 9 when U.S. Attorney General Loretta Lynch delivered a stunningly empathetic speech in announcing the federal government's intention to sue North Carolina for violating federal civil rights laws.
"[N]o matter how isolated or scared you may feel today, the Department of Justice and the entire Obama Administration wants you to know that we see you; we stand with you; and we will do everything we can to protect you going forward," Lynch said. "Please know that history is on your side. This country was founded on a promise of equal rights for all, and we have always managed to move closer to that promise, little by little, one day at a time. It may not be easy - but we'll get there together."
It is a sentiment Equality California has long embraced, sometimes at the consternation of members. But not only is the state lobbying group working now on two transgender bills that just passed the Assembly and are headed to the state Senate, Equality California has endeavored to enact transgender protections since 2003 when then-Assemblymember Mark Leno resurrected a 2001 bill sponsored by out Assemblymember Jackie Goldberg to "prohibit discrimination in housing and employment based on gender stereotypes and to extend the protections of existing anti-discrimination laws to transsexual and transgender individuals."
In opposing the Leno bill, the Orange County-based Traditional Values Coalition, infamous for their vile anti-LGBT diatribes, contended that "transgendered school teachers and employees could have a detrimental effect on a student's natural gender identity. This bill seeks to challenge the norms of society through the force of law."
Transgender protections were explicitly strengthened again in 2011 when Equality California and the Transgender Law Center worked with out Assemblymember Toni Atkins on AB 887, which specifically added "gender identity" and "gender expression" to the California Fair Employment and Housing Act. As the author explained:
"[N]early 70% of transgender Californians have reportedly experienced discrimination or harassment at work. Supporters contend that this bill will help ensure that the law is better understood. They note that by clarifying the law as this bill proposes may increase the likelihood that employers, housing authorities, schools, and others who bear the responsibility of ensuring that the laws are enforced will be better prepared to prevent discrimination and respond more quickly and effectively when incidents of discrimination do occur."
Opposition came from the Sacramento-based Capitol Resource Family Impact, in association with the Capitol Resource Institute, which contended the bill is "yet another attempt to further create gender confusion in society by loosely defining and altering a person's natural sex through the codification of gender identity and expression as a protected class."
The religious right-funded, explicitly anti-LGBT Capitol Resource Institute also freaked out and lead the charge against another LGBT coalition-sponsored bill--AB 1266, the School Success and Opportunity Act--authored by out Assemblymember Tom Ammiano. After much angst and hard lobbying efforts, the historic bill was signed by Gov. Jerry Brown on Aug. 14, 2013.
"The new law builds on a national movement to end discriminatory practices and ensure transgender youth have the same opportunity to succeed as other students. Massachusetts and Colorado have statewide policies in line with AB 1266, and the Colorado and Maine state human rights commissions have held that state law requires schools to respect students' gender identity. Additionally, many school districts across the country have adopted policies that ensure no student is left out, including the Los Angeles Unified School District, the nation's second largest school district," the coalition said in a joint press release.
Shannon Minter, the transgender Legal Director for the National Center for Lesbian Rights said: "By signing AB 1266, [Gov. Brown] has made that commitment real for transgender students, who will now have the same opportunities to participate and to succeed as other students."
It is out of this that the so called "bathroom bills" were born. The anti-transgender wave was first tested out in Arizona in June 2013 as right wing conservatives lead by the Christian advocacy group Alliance Defense Fund (now the Alliance Defending Freedom), tried to find what messages worked. That didn't work out. But then California passed their transgender student access bill and another chance arose. On Aug. 23, 2013, Karen England, head of the Capitol Resources Institute, announced the launch of the Privacy for All Students Coalition, formed to put a referendum on the California ballot "to give voters the right to decide whether to accept legislation that gives students the ability to utilize intimate school facilities such as showers, rest rooms and locker rooms based on their so-called gender identity and not their actual sex. The legislation also allows students to participate on formerly sex-segregated school sports and athletics teams based on gender identity. AB 1266 was signed into law on August 12th and is the only legislation of its kind ever enacted in America."
The coalition included Capitol Resource Institute, Pacific Justice Institute, Faith and Public Policy, Calvary Chapel Chino Hills, and ActRight, "a national clearinghouse for conservative activists headed by Brian S. Brown," otherwise known as the president of the National Organization for Marriage (NOM).
"The bill is so poorly crafted that a student need not ever have demonstrated any identification with the opposite gender before showing up demanding access to intimate school facilities reserved for members of the opposite sex. I have no doubt that people across the ideological spectrum, of all faiths, backgrounds and beliefs will oppose this extreme legislation," Brown said.
In fact, the anti-transgender coalition was in large part a regrouping of the people and organizations that opposed Prop 8 in 2008, including NOM Political Director Frank Schubert. And to come full circle, ADF represented Prop 8 proponents ProtectMarriage.com in the federal Prop 8 case. In fact, Liberty Counsel founder Mat Staver was annoyed at the poor job ADF did in the federal trial--even though Liberty Counsel lost in their fight against same sex marriage in the Massachusetts courts in 2004.
Privacy For All Students failed to qualify for an initiative that year but instead of choosing another battle, the group doubled down, launching "Privacy For All" in 2015. They failed again.
But both ADF and Liberty Counsel found a banner they could fly and the spate of challenges in 17 states to anti-discrimination laws that included transgender protections began--often boiling down to the so-called "bathroom bills" for quick media consumption, even though there were no reported incidents of the criminal behavior the bills were supposed to thwart.
While governors and mayors and the leaders of more than 200 major businesses have signed the Human Rights Campaign's letter demanding that NC Gov. Pat McCrory and state lawmakers repeal HB2. And Charlotte Mayor Jennifer Roberts told LGBT supporters on Wednesday that she has no intention of backing away from the city's equal rights ordinance, that prompted the outrageous reaction from the NC General Assembly.
Meanwhile in California, the state legislature is poised to make transgender history again. On Monday, May 9, two Equality California-sponsored bills moved through the state Assembly that are intended to raise eyebrows when signed into law.
AB 1887, authored by out Assemblymember Evan Low (D-Campbell), goes beyond any other state or city-authorized travel ban so far. The bill would prohibit state-funded or state-sponsored travel to any state--not just North Carolina and the also egregious Mississippi--that voids or repeals an existing state or local anti-LGBT non-discrimination law or has enacted a law that authorizes or requires discrimination against same-sex couples or their families. And the travel ban addresses not only future anti-LGBT legislative action but is retroactive to June 26, 2015. AB 1887, which is co-sponsored by NCLR, was approved by a vote of 54-21.
"AB 1887 sends a clear message that we do not tolerate discrimination in California or anywhere beyond our borders," Low said in a press release. "Just as we strive to be a state that provides equal opportunity for all, we should not be spending our tax dollars in states that allow discrimination on the basis of religion. We are stronger by being inclusive."
"Californians have made it clear that they do not support discrimination. AB 1887 uses the clout of the nation's most populous state -- and largest state government -- to make sure that California tax dollars do not go to finance discrimination out of state,' said Equality California Executive Director Rick Zbur.
The other bill, AB 1732, authored by Assemblymember Phil Ting (D-San Francisco) and co-sponsored by Equality California, the Transgender Law Center and California NOW, would enact the most progressive statewide restroom access policy in the nation. It would require all single-occupancy restrooms in businesses, government buildings and places of public accommodation to be available to everyone. And compliance is easy: just change the sign on the restroom door. AB 1732 passed by 55-19.
"Nothing is more important than our civil rights and we just sent a powerful message to the nation. We don't legislate hate in California," said Ting. "Our actions show that there are simple, safe, and respectful choices to ensure that everyone's rights are protected."
"AB 1732 is far from controversial -- in fact, it is a common-sense bill that means shorter lines for all of us wherever single-stall restrooms are present," said Zbur. "We are proud that as states like North Carolina and Mississippi quite literally shut the bathroom door in the face of the transgender and gender non-conforming community, California leaders are heading in the direction of greater inclusion, instead."
Both bills have moved to the California Senate and the authors are expected to make their formal committee presentations in the next few weeks.
But right now, the transgender community--indeed, the LGBT community nationwide--is bearing witness to an historic and unprecedented commitment from the Obama administration to support transgender rights. In addition to the Attorney General's speech and lawsuit against North Carolina, the New York Times reported late Thursday that the departments of Justice and Education will issue a sweeping decree "telling every public school district in the country to allow transgender students to use the bathrooms that match their gender identity." The decree has no force of law behind it, but threatens federal action if violated.
Never one to miss an opportunity for publicity, Privacy For All's Karen England issued a statement complaining about the Obama administration's directive. "Is it ever appropriate for a biological male to be exposed to a female against her will? Is it ever appropriate for a female to be forced to expose herself to a biological male against her will? If you answer no to either or both of those questions, you cannot support this federal decree," England said in a Friday email to supporters.
In fact, the federal decree is just catching up with California law. And now the Golden State is going further with the entire state of California, through their elected representatives, working through the legislative process with Equality California, the National Center for Lesbian Rights and the Transgender Law Center to ensure that LGB-and-T people have the full equality and rights to citizenship they deserve here and nationwide.
Calling all HuffPost superfans!
Sign up for membership to become a founding member and help shape HuffPost's next chapter