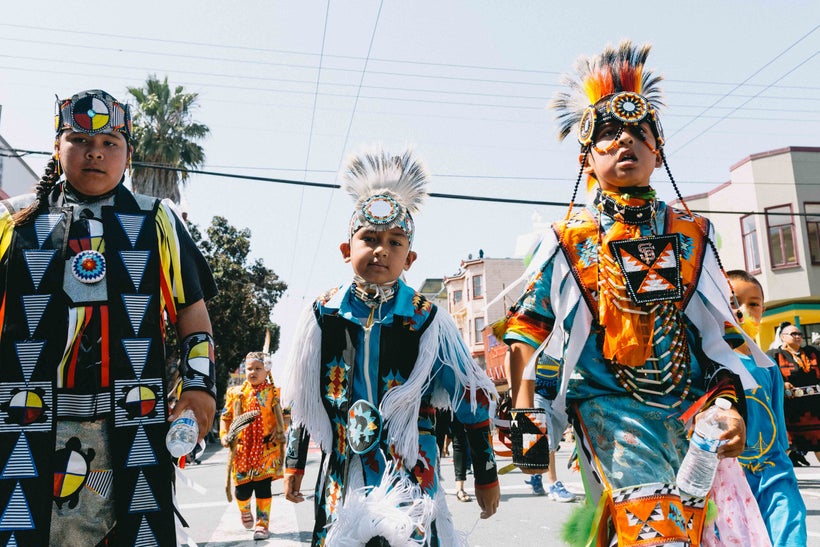 What is it about a festival or carnival that brings people together from all walks of life, like no other way? It's the sights, the sounds, the food, the dancing in the streets, in one big grand party, parade ambiance.
In San Francisco's sun-drenched, preeminent, Latin Quarter of the Mission District, now in its 39th year, Carnaval San Francisco returns, celebrating Latin American and Caribbean arts and traditions.
Conceived 39 years ago by a group of local musicians, artists and residents eager to bring the spirit of Latin American and Caribbean culture to San Francisco, Carnaval San Francisco has grown to become the largest annual multicultural celebration in California.
Carnaval San Francisco is supported by Brava! For Women in the Arts and San Francisco Grants for the Arts.
In America's "culture capital" of San Francisco, weekend events occur from May through October, but perhaps, none as grand as Carnaval San Francisco. Like the Cariocas in Rio, San Franciscans and visitors from throughout the world descend upon the city's vibrant, multi-cultured Mission District. Over Memorial Day weekend, San Francisco comes to life for an enormous two-day festival and grand parade, pulsating with dancing, drumming, live music, brilliant costumes, delicious food, and artistry from Brazil, Mexico, Bolivia, Colombia, Trinidad, Tobago, Puerto Rico, Cuba, Nicaragua, Panama, Peru, Guatemala, Africa, Chile, Haiti and more – mostly created by Mission District residents and Bay Area artists. The event draws a crowd of more than 400,000 attendees each year.
America's most tolerant and innovative is built on acceptance of all of humanity.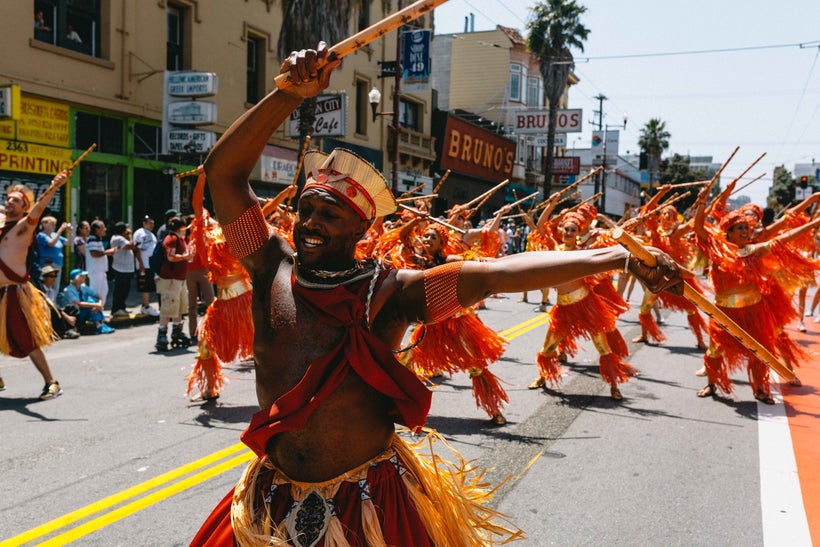 This year's theme builds upon the city's lack of prejudice and acceptance for all. "El Corazon de San Pancho -- The Heart of San Francisco," pays homage to San Francisco's enduring legacy as a place that has always opened its heart to people from around the world. San Francisco has proudly opened its arms to political refugees seeking sanctuary, to life changing movements and activism brought on by hippies, beatniks and free thinkers that brought us the 'Summer of Love' counter-culture movement. The city that united the LGBT community to the world proudly accepts all takers.
Perhaps, Carnaval San Francisco's co-founder and artistic director Roberto Hernandez says it best: "San Franciscans built a city that values belonging, diversity, community-building, and multicultural arts. The 'heart' of this city is the value we place on culture, community and empathy toward one another."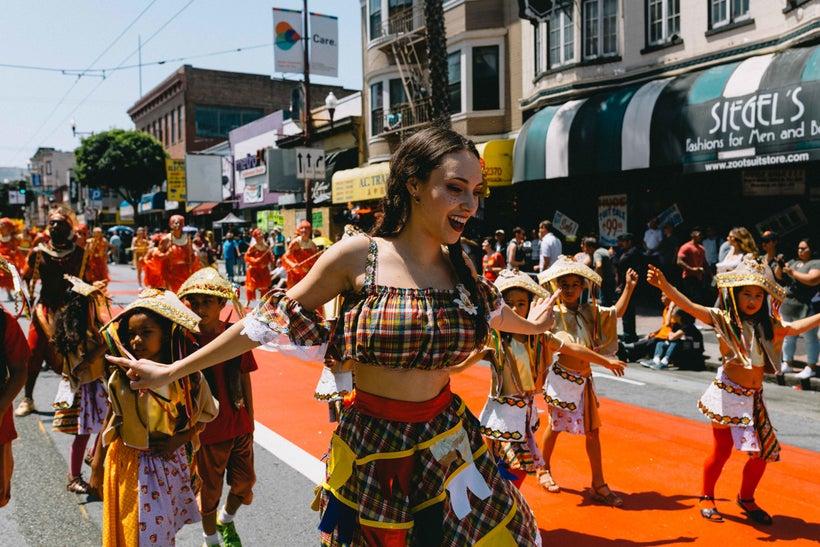 Festival: Saturday and Sunday, May 27 and 28 from 10 a.m. to 6 p.m.
Grand Parade: Sunday, May 28 at 9:30 a.m.
San Francisco's Mission District on Harrison Street between 16th and 24th Streets.
A rich assortment of scrumptious local street food, lively music, exotic costume dancers, arts, crafts and other fun activities; live entertainment on several stages for people of all ages to enjoy.
The Grand Parade on Sunday, May 28, begins at 9:30 a.m. with a brilliant procession of contingents, most of which feature beautifully adorned floats depicting rich multicultural themes and performers who engage and entertain the crowds. Brazilian-style escola samba schools with up to 300 members dance through the streets in fantastic feathered headdresses or sweeping Bahia skirts, while Caribbean contingents perform the music and dance of the Bahamas, Cuba, Jamaica, Puerto Rico and Trinidad. Other parade groups include Mexican Aztec performers, traditional African drummers, Polynesian dancers, Japanese drummers, giant puppets and folkloric groups representing Guatemala, Honduras and Bolivia.
The Grand Parade starts at the corner of 24th and Bryant streets, proceeding west to Mission Street, then heads north on Mission Street to 17th Street, turning east on 17th to its culmination at South Van Ness.
Admission and Information
Admission to the festival and parade is FREE. Grandstand seating for the parade, located on Mission Street between 21st and 22nd streets, is available for purchase online at Carnaval San Francisco.
Calling all HuffPost superfans!
Sign up for membership to become a founding member and help shape HuffPost's next chapter
This post was published on the now-closed HuffPost Contributor platform. Contributors control their own work and posted freely to our site. If you need to flag this entry as abusive,
send us an email
.