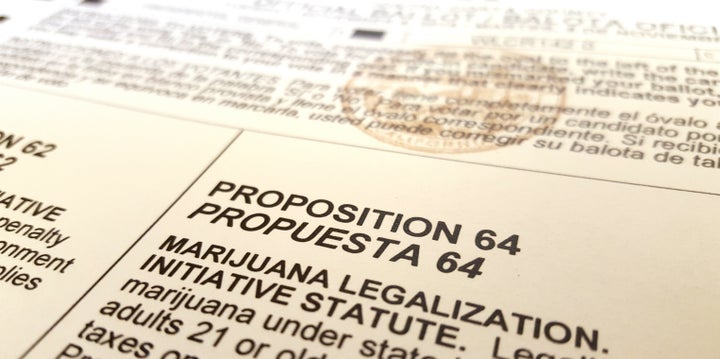 I am what you call a policy wonk. I work to end the war on drugs and dismantle the criminal justice system through polices based on health and human rights. The best days in this work are when you pass a policy or law. It's a feeling that reignites your passion for this work that can often be spiritually draining. For me, though, there is no greater joy than witnessing that policy save and change lives.
In 2011, my friends and I turned 21. We were excited about finally being able to go into bars, traveling, and all the wonders of finally being 21. This was an exceptional year for all my friends – except my friend Vincent. Shortly after his 21st birthday, Vincent was arrested for possession with intent to sell marijuana because it was packaged in a certain way.
At the time of his arrest, his offense was considered a felony and the penalties were very punitive. He was ultimately convicted and sentenced to serve time in LA County's Men's Central Jail, and placed on three years' probation.
After being released, Vincent tried his best to reenter society and obtain meaningful employment, but was met by barriers that were nearly impossible to overcome. He earned certificates in solar panel insulation and design, but was unable to work in the field because of his marijuana conviction. That conviction prevented him from getting meaningful employment leaving him unable to support himself.
Unable to earn enough to pay for his probation fees, housing and food, Vincent ended up homeless, hungry, and barely surviving. Because he could no longer afford to pay for his probation fees he stopped checking in, causing a warrant to be issued for his arrest. For years, he lived with this warrant on his back driving him to, as he called it, "live under a rock."
Yesterday, I witnessed his life change because of a policy that I helped pass, Proposition 64, the Adult Use of Marijuana Act.
In the state of California, there are 4,800 barriers that exist for someone who has a felony on their criminal record. Close to a million people in California qualify for Prop. 64 relief. As of March 30, 2017, 2,515 Californians have applied or petitioned the courts to have their marijuana convictions reduced or dismissed off their criminal records, and hundreds have been released from county jails across the state.
By reducing and removing these offenses from people's records, Prop. 64 removes thousands of barriers that prevent people from reentering society after incarceration, obtaining employment, and getting a second shot at life.
For the past six years, my friend Vincent lived in what he called a "hole." The trauma of incarceration and homelessness made Vincent distrustful of everyone, including people close to him. It took me months of conversation to convince Vincent to go to court. After several more calls and messages, I was able to convince him to go to court and apply for Prop. 64 relief. Within minutes of being in front of a judge, Vincent no longer had a felony on his record and had his probation terminated.
After having his marijuana felony reduced Vincent said, "When I heard the judge say that I was okay, and then walking out free felt like a dream. It felt like it really didn't happen, but it did. It was surprising to know that there's actually a chance for people like me to get a second chance to succeed and continue with they were doing before the conviction, like having a life."
He is excited about the opportunity to work in the solar panel field, getting housing, and enjoying life. The opportunities for him are endless now. Vincent will apply to get his marijuana case expunged in July, erasing the scarlet letter society places on those who are impacted by the criminal justice system.
Prop. 64 gave my friend a second chance at life.
For more information on how to reduce or remove your marijuana offense please visit www.myprop64.org.
Eunisses Hernandez is a policy coordinator at the Drug Policy Alliance.
Popular in the Community