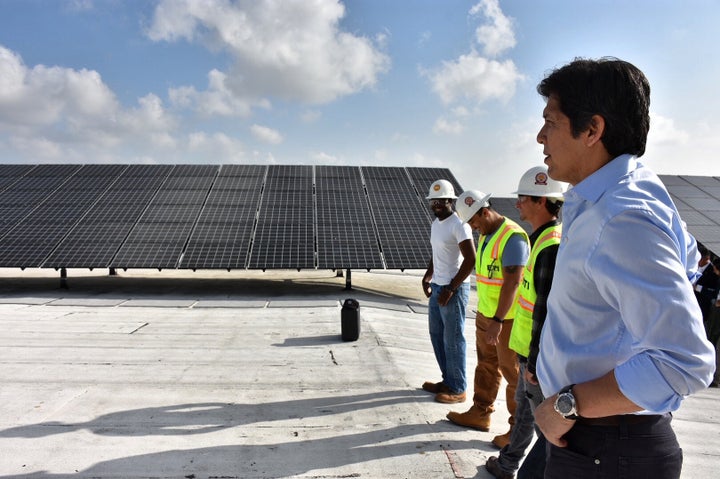 California continues to pass the most ambitious laws in the world to expand clean energy and combat climate change. This summer, in the midst of unprecedented chaos and dysfunction in Washington, California lawmakers stepped up with a bipartisan solution to one of the most pressing challenges facing our state, this nation, and the world.
Cap and trade is an important tool in California's climate policy portfolio. It sends a price signal to industries to reduce their carbon pollution, while generating billions of dollars in revenue for investments in clean transportation and direct pollution reduction. However, it's hardly the only weapon in our climate arsenal, and California simply cannot meet our world-leading greenhouse gas reduction goals with cap and trade alone.
In fact, the challenge before us is a case study in market failures ― to suggest that market-based policies on their own will solve this existential challenge is naïve, at best. That's why California's comprehensive suite of climate policies, including our mandates to generate clean energy, improve energy efficiency, and reduce vehicle tailpipe emissions, strikes a necessary balance between market-based and direct regulations.
As California edges out the United Kingdom to become the fifth largest economy in the world, with the state unemployment rate at historic lows, sound budgeting and a robust social safety net, we've proven that strong climate and clean air policies can go hand-in-hand with economic growth.
Thanks to policies mandating clean energy development, California's electric grid is one of the least carbon-intensive in the world. We've turned clean energy into a pillar of our economy that now employs over half a million Californians ― ten times the number of Americans employed in the coal industry.
Clean, renewable energy is also now cheaper than fossil fuels on a straight dollar-for-dollar basis in many parts of America. That's why "red" states like Texas, Oklahoma, and Iowa are quietly spending more on zero-carbon wind energy than ever before. Clean energy isn't just good for the planet; it's good for consumers' monthly utility bills and for the economy.
Setting a target of 100 percent clean, renewable energy, as my Senate Bill 100 will do if signed into law, means that California will continue to be the world's clean energy superpower.
Other policies promoting energy and fuel efficiency are also major tools driving both innovation and pollution reductions. Our decades-long commitment to energy efficiency, which began with Jerry Brown's first stint as Governor, has not only kept our state's electricity consumption flat despite a steadily rising population, it has kept Californians' energy-spending among the lowest in the nation. These programs create local jobs, incentivize massive private-sector investment, and are a big reason why California remains America's capital of innovation.
Most importantly, policies that directly reduce pollution are our most effective tools to improve public health and quality of life in the most disproportionately impacted communities. California is home to six of the ten most polluted cities in America for ozone and particle pollution, according to the American Lung Association. The families sick from breathing dirty air surely would not consider California's air quality regulations "superfluous".
We need all of these tools to be able to reduce pollution, drive technological innovation, create jobs and expand economic growth, all while keeping costs stable for consumers and businesses. Taken together, they provide a comprehensive platform for clean energy and climate policy that can serve as a golden standard and a beacon of hope for the rest of the planet until common sense returns to the White House.
Popular in the Community