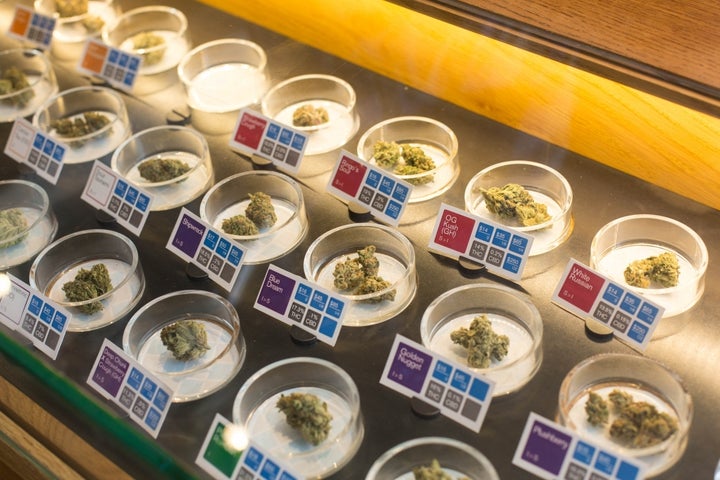 In two weeks, California voters will decide on Proposition 64, or the Adult Use of Marijuana Act (AUMA). If passed, AUMA will regulate and tax the commercial sale and cultivation of marijuana and allow adults 21 and over to purchase, possess, and grow it.
But this initiative isn't just about access to marijuana. Prop. 64 makes substantial changes to criminal penalties including removing all felonies related to marijuana offenses with the exception of selling to minors. It's an important social justice moment for California, reflected by impressive endorsements from organizations like Courage Campaign, California NAACP, ACLU of California, Ella Baker Center for Human Rights, United Farm Workers, and the California Democratic Party.
Under AUMA it's possible that hundreds of thousands of people will be eligible for criminal record clearing. Anyone with a prior marijuana conviction will be able to petition to reduce or expunge the conviction from their records. This applies to people on probation or parole, those who have already completed their sentence, and also to anyone currently serving their sentence.
No juvenile will go to jail for marijuana. Just like tobacco and alcohol, it won't be legal for young people to buy or use cannabis, but instead of harsh penalties like fines or jail time, they'll receive counseling or community service. And they'll no longer have to worry about a criminal record haunting them.
Police won't be able to search people based on the odor of marijuana. The smell of marijuana is often used by police as probable cause to detain, search and arrest people — even if they're just walking down the street. And for people of color, those encounters can escalate quickly.
Prop. 64 will save California tens of millions of dollars in law enforcement resources and raise upwards of $1 billion in new tax revenues each year. Uniquely, Prop. 64 creates a Community Reinvestment Fund that will allocate tens of millions of dollars to "support economic development in communities disproportionately impacted by marijuana prohibition" through job placement, and legal services. This important because even with medical marijuana being legal and possession being decriminalized, nearly 500,000 marijuana arrests took place in the last decade in our state with black and Latino Californians being arrested at higher rates than whites.
The initiative was carefully written to protect small growers, existing cannabis businesses, and medical marijuana patients. No licenses for large scale grows will be issued for the first 5 years and there will even be a "microbusiness license" comparable to small breweries or wineries. The rights of current patients will not change if Prop 64 passes and they will be exempt from state sales tax with a voluntary ID card, the cost of which will be capped at $100, with fee reductions for Medi-Cal beneficiaries.
If you care about criminal justice reform, Prop. 64 is a thoughtful initiative with meaningful criminal and restorative justice reforms that will not only push California forward once passed, but also encourage voters and legislatures in other states to follow our lead — and that's very much needed in places where arrests are happening at higher rates than California, often falling disproportionally on people of color.
Jonathan Perri is Associate Campaigns Director at Change.org and former Associate Director of Students for Sensible Drug Policy. His views in this piece are his own.
Popular in the Community