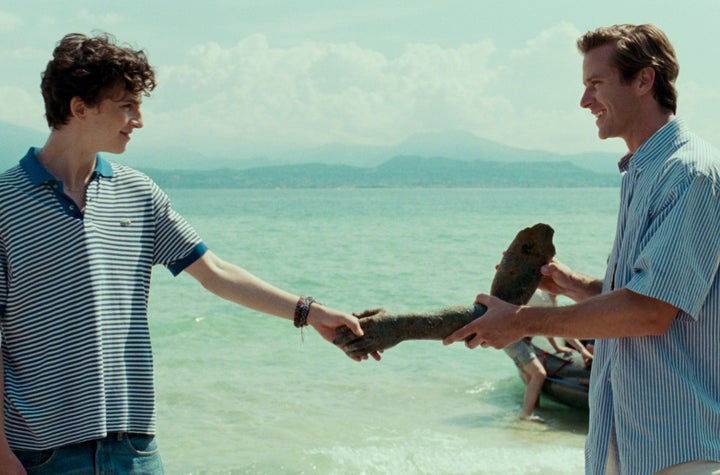 When it premiered at The Sundance Film Festival earlier this year, Luca Guadagnino's gorgeous drama, "Call Me By Your Name" sent droves of moviegoers into a ravenous frenzy anticipating its wide release. There were whispers of steamy gay sex scenes and piercing performances from the cast. All of this was proven to be true for audiences at The Berlin Film Festival in February and now the recent screening at the New York Film Festival has excited another wave of titillated new fans.
Based on the acclaimed 2007 novel of the same name by Andre Aciman, it's the coming-of-age story of 17-year-old Elio Perlman (Timothée Chalamet), a musical prodigy who spends the summers on his parents' Italian villa in the 1980s. When his father (Michael Stuhlbarg) welcomes the brilliant and hunky academic, Oliver (Armie Hammer) to stay for the summer to complete his PhD, the two young men form a passionate bond.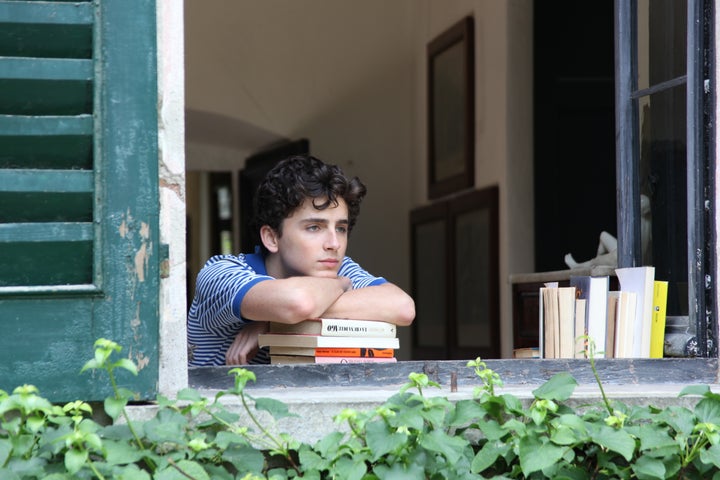 Sailing delicately between jolting musical transitions and subtle tiptoes toward the forbidden, "Call Me By Your Name" has arrived at just the right time. While nearly every nook and cranny of Western culture is fraught with harshness and judgment, Guadagnino and his cast breezes in, reminding us that love can save the day. What the film accomplishes is nothing short of revelatory, a warm, generous (and long overdue) cradling that steps beyond the LGBT community and high into a universal arena. Carefully paced against a heavenly Italian country backdrop, the film champions the ferocity of first love, first heartbreak and the longing over what might have been.
In Conversation with Andre Aciman
Egyptian-born Author Andre Aciman, who makes a brief but memorable appearance in the film, has been basking in the joy of seeing his masterpiece transition into a new medium, as well as the excitement of the narrative connecting with a new audience. His eight books, including his latest novel, Enigma Variations, have received vibrant praise from critics.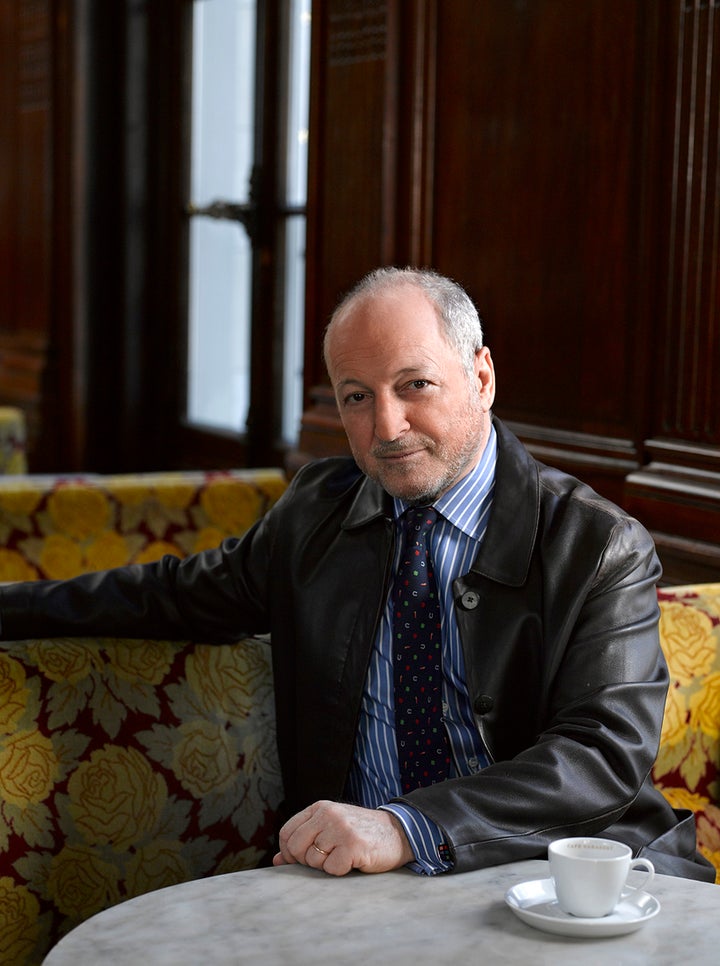 Are there major differences between the book and the film?
Andre Aciman: Yes. In the novel Elio and Oliver travel to Rome, and from Rome Oliver leaves for the States. They meet over the years. Many years. But one thing I learned from this movie—and from the way movies must necessarily differ from the written page—is that what matters most is that the emotional and the aesthetic impacts remain consistent. So you don't need to see the passage of time to understand that something profoundly sad has happened to Elio. All you need to see is a boy staring at the camera while people in the background are setting the table. I was not wrong when I told the producers and the director that the end of the film was more powerful—hence better—than the way the novel ended.
Were you involved in the production at all? Did you have input on the script?
AA: I knew how annoying an author can be to a director and script writer. So I refrained from intruding. I had already had my say with the novel. Now it was their time to have their say. I would have said something, however, if I felt that the film was not faithful to the spirit of the book. But the film was incredibly faithful and consistent. I was very gratified to see that some of the key scenes were lifted almost verbatim from the novel itself.
What was it like seeing your characters enacted on screen? Were there any surprises?
AA: It was simply gratifying. I never felt that they were alien to the book. I never felt that "Gee, this is strange, this doesn't feel like the story I wrote or the characters I wrote about." Rather what I kept thinking—and maybe this was tickling to my ego—I can't believe that the pages I struggled over on the Upper West Side of Manhattan during a very hot and humid summer could have generated this amazingly beautiful film filled with so much longing and beautiful characters.
Michael Stuhlbarg's character, Professor Perlman, contributes hugely to the resolution of the story. What did you think of his take on the role and his handling of that particular scene?
AA: The father's closing speech is better in the movie—even I was moved—than in my book.
How do you feel now that the film is starting to get awards buzz?
AA: I feel that the film is fantastic. It's beautiful without being cloy, it's bold and frank without being blatant or brazen, and it's real, real about how love happens, how love alters us, how physical love needs to be, and ultimately how love stays sometimes forever. I couldn't be happier.
In Conversation with Michael Stuhlbarg
As the star of HBO's Boardwalk Empire as well as blockbuster films like Lincoln, Blue Jasmine and Doctor Strange, actor Michael Stuhlbarg has been making his way up the Hollywood ladder with quiet dignity. He's an actor's actor. His sensitive and funny turn as Elio's father, Professor Perlman has, along with the two leads, garnered early awards buzz. "Call Me By Your Name" might be the project that catapults Stuhlbarg toward the A-list stratosphere.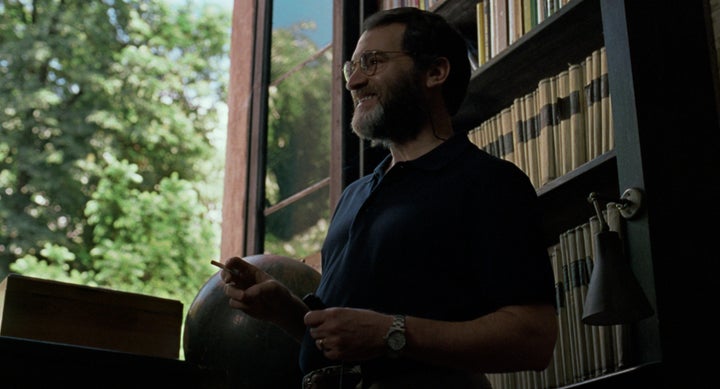 How did this project come to you?
Michael Stuhlbarg: I was sent the script through my agent--and Luca, I was told, was curious to see if I might be interested in the project. I knew of, and was dazzled by his film, I Am Love, had always been a huge fan of James Ivory. I was unfamiliar with Andre Aciman's novel, but was immediately drawn into the story--particularly so after learning how Luca wanted to shoot it.
What was the biggest challenge about the role?
MS: I think absorbing all of his given circumstances--a Professor of Latin and Greek scholarship with a passion for Art History and Archaeology, fluent in Italian, suggestions of a regretful past, a doting liberal loving father, generous, playful, who sees his son falling in love for perhaps the first time, a responsible concerned parent who wishes to maintain a respectful presence in his son's life.
His perception of the relationship between Oliver and Elio is very tender. Why do you feel this is valuable for both the LGBT community (particularly young people) and the world at large to see this kind of parenting in the film?
MS: Perhaps Mr Perlman's tenderness offers a loving voice of reason and compassion at a time when tenderness, reason, and compassion can be hard to come by. I find him a pure advocate of the human experience, whatever that experience may be for each of us.
Call Me By Your Name will arrive in theaters on November 24th.
Check out the trailer below:
Popular in the Community