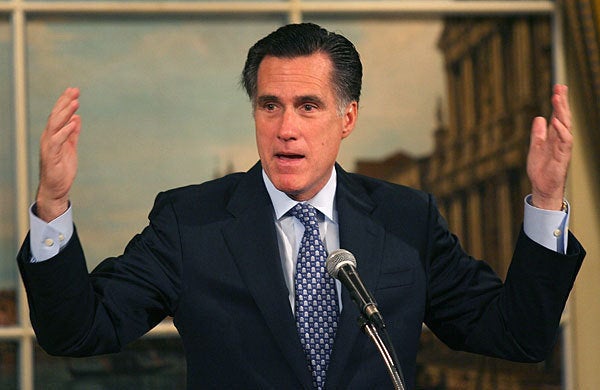 Coming just two years ahead of New Hampshire's First-in-the-Nation Presidential Primary, Californians Against Hate's Fred Karger is running "Call Mitt Romney" ads in three major daily newspapers in states where Romney resides: the New Hampshire Union-Leader, the Boston Globe, and the Salt Lake Tribune.
The online ads ask former Massachusetts Governor Mitt Romney to use his vast influence with the president of his church, the Church of Jesus Christ of Latter-day Saints (Mormon Church), to get them out of the anti-gay marriage business. Click Here for Full Ad Copy We would hope that the Mormon Church would take a vow of 'political neutrality' on gay marriage, just like they pledge in partisan politics.
The Mormon Church has been running and paying for these campaigns to ban gay marriage throughout the country for the past 15 years. They have spent millions and millions of dollars in 31 states to take away marriage equality - $30 million in California alone!
The Mormon Church began their crusade against gay marriage in Hawaii in 1995. Take a look at our web site, Mormongate.com to see just exactly how they operate. Everything is done in secret, and in their memos, they even talk about ways to get money to Hawaii, "without it having to be reported." CLICK HERE -- Check out the 11 official Mormon documents. You will be shocked!
In May of 2007, the Mormon Church set up another front group. They established the National Organization for Marriage (NOM) to qualify and pass California's Proposition 8. Church leaders had Matthew S. Holland, the son of Mormon Apostle Jeffrey R. Holland, set up NOM and serve on its initial Board of Directors. Their multi-million dollar effort was done invisibly until they got caught.
The California Fair Political Practices Commission is in its second year of an unprecedented investigation into the Mormon Church and the National Organization for Marriage (FPPC Case # 08/735) for not reporting all the money they spent on Prop. 8. The Maine Ethics Commission is also investigating NOM for possible money laundering and for not disclosing the names of their contributors, who gave $1.9 million to the recent election in Maine to ban gay marriage - 64% off all the money raised to pass Question 1. This is in spite of being ordered to do so by Federal Judge D. Brock Hornby and Maine's Attorney General Janet Mills. New York Times Story: CLICK HERE
All the controversy swirling around the Mormon Church is hurting their standing with the public and the political establishment. The Church's own pollster, Gary Lawrence, admitted to the Washington Post last spring that the Church's acceptance by the American public had dropped by 5% last year due to its heavy involvement in all the anti-gay marriage campaigns, "We're upside down on our image," Lawrence told the Washington Post .... "People have misconceptions of us because of ignorance, because of the history of polygamy, and because we organize quickly, which scares some people."
Mitt Romney should ask Mormon Church President Thomas S. Monson to use the Church's millions to help Haiti, not to further hate.
A few months ago, U.S. Senator Harry Reid apologized to a group of prominent LGBT leaders who met with him in his Washington, DC office. The organizers of the hugely successful 2009 March on Washington were all ears when Senator Reid said he was sorry for all his Church's participation in the Prop. 8 campaign.
Reid said the decision by the Church of Jesus Christ of Latter-day Saints to support the successful Proposition 8 ballot measure in California last year was a "waste of church resources and good will." He made it clear that he "felt it was harmful for the church to focus on such a divisive issue."
Mitt Romney should do the same thing, and ask Mormon Church leadership to stop their nasty campaign to ban gay marriage.
Popular in the Community