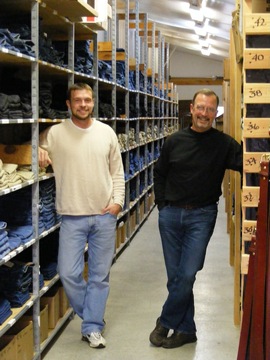 The father and son team of Lawson and BJ Nickol are on a mission to help consumers understand the value of quality products that are Made in USA. They are the founders of All American Clothing.
They began their business in 2002 in Ohio after Lawson Nickol discovered his previous 'USA Made' blue jean employer had begun to outsource their manufacturing overseas. He felt so strongly about keeping jobs in the USA that he started his own USA-made blue jean factory. Currently the factory employs about 65 people. Lawson says: "The apparel industry has lost 85 percent of cut and sew people in the USA since 2002 when China became "king'. It's so difficult to stay alive here in the USA."
The All American Clothing Company wanted to stand out from other jean companies so they developed their Traceability Program. I'm calling it "jeanelogy," because it literally traces the roots of each pair of jeans so the consumer knows which farm the cotton came from to make their specific pair.
Logan Beam, director of marketing for the company, says "Our unique 'Traceability Technology' allows customers to trace their USA Made jean back to the American farmer who grew the cotton. The technology ultimately supports over 11,000 American farmers within ACG (American Cotton Growers). For the first time, consumers will receive proof that their jeans are 100 percent grown and sewn in the USA."
To trace the origin of their jeans, consumers can log on to the company's website and enter the "traceability number" that comes with their jeans. A map opens to show the exact farm that grew the cotton used in their jeans. All American Clothing explains their program in this video.
BJ Nickol says that "Before an All American Clothing Company product reaches your closet or doorstep, about 400 American workers should have touched it." The Nickol's are hoping that they can educate consumers on the importance of paying a little extra for goods that are made here in the USA.
Lawson says: "Surveys indicate that consumers would like to support USA manufacturers but it seems only about 5-10 percent of consumers are willing to pay the price. There's a lot of emotion that goes into that decision for those consumers." He's hoping to show that emotional side through telling their own story about the lives of the people and farmers involved in bringing their jeans to the marketplace.
Logan beam explains that: "All American Jeans cost $50 a pair which is actually much less than many designer brands. We hope that people begin to feel a responsibility to mix in some Made in USA clothes every year or every season.
Lawson suggests that for companies trying to find a USA based resource for manufacturing to look at Makers Row.
All American Clothing Company now also offers private labeling for other companies to put their business name on the All American Jeans. They will also try out new patterns for people with certain minimum requirements.
At 61-years-old, Lawson feels a responsibility to help future generations by supporting local communities and providing jobs locally. He's working hard on this grassroots movement and feels supported by organizations online that serve as resources to promote USA made such as The Made In America Movement and Made in USA Certified are just a couple. Nickol is also excited about the USA made support from an upcoming documentary film called 'Made in the USA: The 30 Day Journey'.
Lawson Nickol is confident that this is his calling and this mission will be his legacy. With his son by his side, they continue to spread the word...it's in their genes.
Calling all HuffPost superfans!
Sign up for membership to become a founding member and help shape HuffPost's next chapter