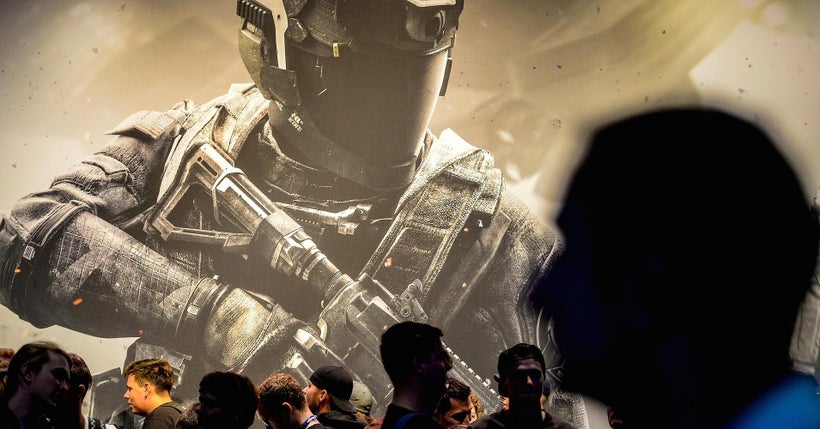 Damn Daniel, All This for $1.50?
Thanks to the loss of an online bet between two online-gamers, the Finch family in Wichita, Kansas, paid the ultimate price because Tyler Barriss thought $1.50 was more important than the life of Andrew Finch.
On Friday, the Wichita Police Department arrested Barriss, 25 years old, as a suspect in a swatting hoax that resulted in the shooting and killing of 28 year-old Andrew Finch.
Law enforcement dispatch received a phone call reporting that that [his] father had been shot in the head and that the attacker was holding [his] mother and younger brother hostage. The caller added that [the attacker] poured gasoline inside the home and "might just set it on fire." To complete his report, Barriss provided authorities, unbeknownst to them, the address of the other video gamer.
Police responded and approached Finch, 28, and ordered him to raise his hands. Unfortunately, Finch moved them to his waist and believing him to have been reaching for a weapon, Officers fired their weapon and killed him.
Yesterday, some reports indicated that Finch was involved with an online wager totaling $1.50, among gamers playing the newly-released game, Call of Duty: WWII. However, Finch appeared to have no connection to the game or the dispute arising from it. Instead, reports indicated that one gamer, Barriss, is believed to have provided two other officers with the Wichita address where Finch was killed.
Disturbingly enough, the victim's mother, Lisa Finch, stated that her son was "not a gamer." It is believed to be a gamer playing under the gamer "tag" or identity of "Swautistic" of making SWAT related calls in the past. However, the user denied in a now-deleted tweet, any responsibility for this swatting incident. "It appears that the dispute and subsequent taunting originated on Twitter," says Brian Krebs, independent cyber-security journalist. "One of the parties to that dispute — allegedly using the Twitter handle "SWauTistic" — threatened to swat another user who goes by the nickname "7aLeNT". @7aLeNT dared someone to swat him Social media accounts associated with the players involved have since been removed or altered."
Krebs posted the original series of tweets on his site, by SWauTistic taking responsibility and then shortly after, denying any involvement.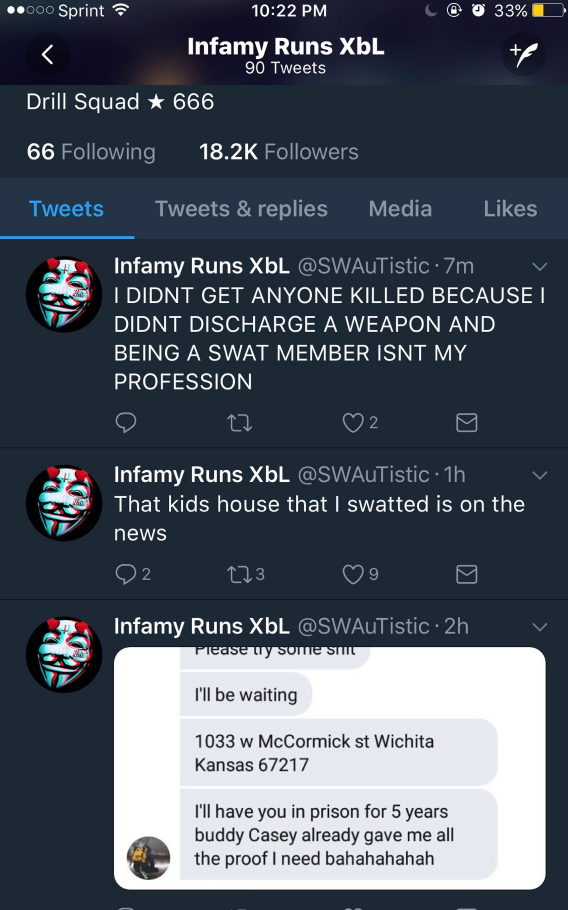 What is the Crime of 'Swatting?'
'Swatting' involves a disgruntled internet user calling in a fake threat of violence, typically a murder and hostage situation invented by the caller, and doing so anonymously by using software to mask their identity and location. It is usually done by computer hackers, gamers or people well versed with electronic communications as a prank. That results in an excessive display of force from police, who have no other information to go on and typically respond to such calls with an extraordinary amount of aggression. Typically, the victim of a swatting call, is unrelated to the online feud itself, as the case at hand goes to show.
While the term itself was coined back in 2008, it has become a fairly new phenomenon over the past two years. 2016 as the year of "Celebrity-Gate," where many celebrities were subject to law enforcement investigation over fake phone calls to police informing law enforcement that there was an on-going hostage or murder situation occurring at that celebrity's house.
However, as of today, there are currently no federal swatting laws or statutes in existence. Therefore, states have to apply or even stretch its current statutes to crimes of this type. In most cases, the crime of homicide and wire fraud are arguably "catch-all" statutes for many of these newly committed crimes.
You can listen to the 911 call Barriss placed, below.
While there are no federal swatting laws currently in place, the State of Kansas could still file a number of charges, including, but not limited to wire fraud, homicide, assault, and even obstruction of justice. As of today, no charges have been filed against Barriss, but he is currently in custody.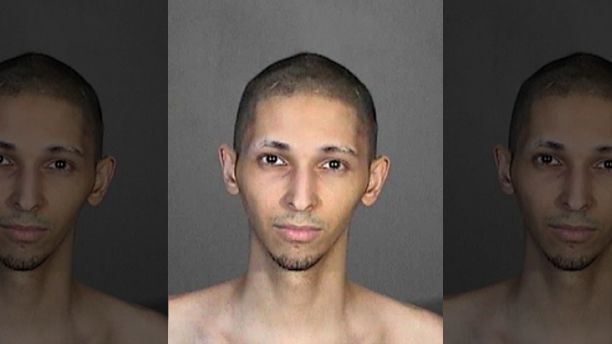 What Does the Legal Future Hold for 'Swatting?'
The FBI estimates that roughly 400 cases of swatting occur annually. This latest case will present legal challenges to Kansas and other states moving forward as we look to liability on the caller as well as law enforcement.
"What gives the cops the right to open fire?" she asked. "That cop murdered my son over a false report in the first place." —Lisa Finch, mother of the deceased victim, Andrew Finch
You're looking at criminal liability levels for at least two parties—the caller and the officer(s). Assuming the caller is identified, located, and remanded to custody, you can apply current statutes in consideration of any charges to be filed. The difficulty then shifts to determining what liability or guilt, if any, lies with the officer(s) who caused permanent injury and/or death to the victim(s).
Andrew Rossow is a Tech Contributor for The Huff Post and a practicing Internet Attorney Cyberspace in Dayton, Ohio. Rossow is also an Advisory Panelist with The CyberSmile Foundation and a Committee Member with Ohio Attorney General Mike DeWine's "CyberOhio Initiative."
To stay updated on Rossow's publications, please follow his #CYBERBYTE on Twitter at @RossowEsq and his official FB page at @drossowlaw.
REAL LIFE. REAL NEWS. REAL VOICES.
Help us tell more of the stories that matter from voices that too often remain unheard.
This post was published on the now-closed HuffPost Contributor platform. Contributors control their own work and posted freely to our site. If you need to flag this entry as abusive,
send us an email
.