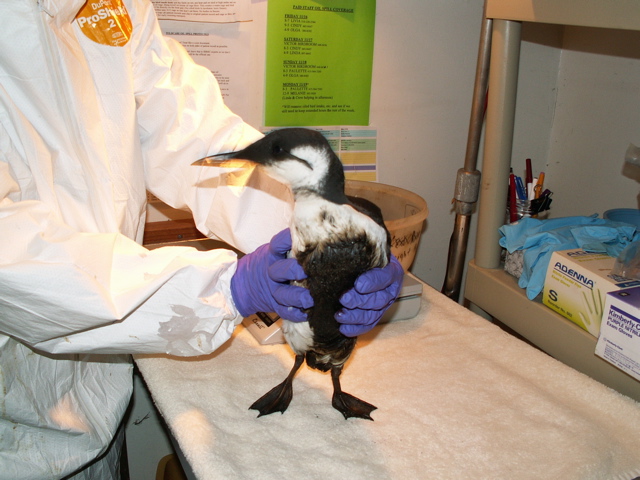 (All photos courtesy of WildCare, San Rafael, California)
A mother bird sat on her egg. The egg jumped. "Oh oh!" said the mother bird. "My baby will be here! He will want to eat. I must get something for my baby bird to eat. I will be back!" So away she went.
-Are You My Mother, P.D. Eastman
When I first saw photographs on the news of the struggling brown pelicans at the BP Deepwater Horizon oil spill, I immediately thought of my favorite childhood book, Are you my Mother?. In this story, a wide-eyed, scrawny baby bird falls from its nest and walks for miles in search of his mother, surviving a wilderness adventure full of mishaps with a dog, cow, kitten, boat and a 'snort.' As the wretched scenes played out on my television screen I was determined to go save the oil-soaked baby birds in the Gulf. So, I gave WildCare, the wildlife rehabilitation center in San Rafael, California, a call to let them know help was on the way!
"I love animals. I have two cats!" I chirped to the woman on the phone. I'm pretty certain I could here her rolling her eyes...
Then she told me that I needed to come to an orientation, complete a 16-hour training and volunteer regularly for a year before I could help rescue wildlife trapped in hazardous materials after an oil spill. Discouraged and a bit paranoid, I hung up the phone, raised an eyebrow and deliberated. Had the Marin Humane Society circulated my name and mug shot on its 'do not hire' list after I had returned our adolescent, jittery guinea pig last year, complaining he was just too much work and wouldn't do anything special?
Yearning to feed a baby squirrel with a syringe or train a fledging robin to forage for worms or tube feed an injured pelican, I decided to cut through the bureaucratic red tape. I contacted Arlene Davis, an animal lover who has been volunteering at WildCare for over twenty years. An engineer at Motorola in real life, Davis volunteered her time locally in 2007 during the Cosco Buscan oil spill in the San Francisco Bay. She recently returned from a three-week shift rescuing birds from the BP oil spill at Deepwater Horizon. She told me that volunteers commit to at least a 3 week shift, working 12 hour days, often in Hazmat suits in 100 degree weather, 7 days a week.
Hazmat suit, intolerable temperatures and humidity, mopping bird poop, shvitzing? Okay, forget it. I'm not that big a fan of birds. To be honest, I'm more of a lover of flora than fauna. Besides, a Hazmat suit would make me look fat. I'll just retrieve my toothless, befuddled guinea pig from the Humane Society and we'll call it a day.
"We were washing roughly 40 birds a day. Once birds are rescued they're given an examination to see if they have any other injuries and we do blood work," said Davis. "Then they're fed and pampered for a few days so that they're strong enough to survive the wash and rinse which are both very stressful. Then they go into a drying room and another pen to build up their strength. After that they're sent to the pools. They spend a few days there preening so they can make themselves waterproof again. Only they can do that. They preen by knitting their feathers together in such a way that water will just roll off."
The whole process can take a week. Once rescued birds are in good health, a federal band is placed on each one and they're packed in crates to travel and be released in a safer location in the wild.
"I was asked once to get up at 2:30 in the morning to package 72 pelicans into a carrier so that the trucks could be loaded at 4:30am so they could meet a 6am coast guard plane that took the birds to Alabama."
Other batches of birds were sent to Florida and Texas. Releasing them in the morning helps them acclimate in the new area.
"We're concerned that adult birds will try to fly home back to the Deepwater Horizon area. The juvenile birds have a better chance of staying in their new home. That's why we put the federal band on them so we can tell if they are birds that we had saved already," said Davis.
In the three weeks that Davis was there, roughly 650 birds passed through the rescue station.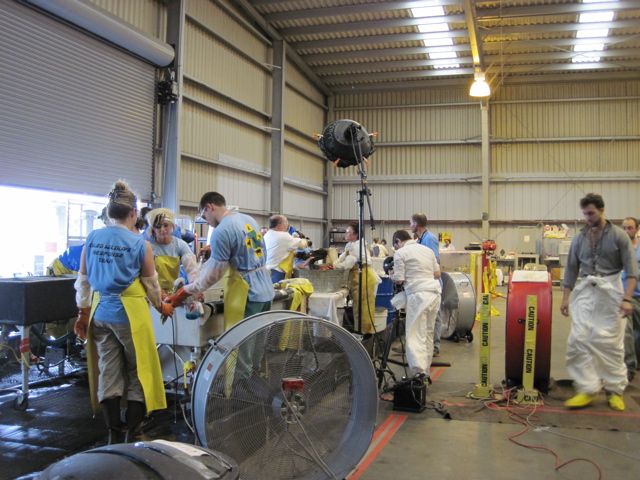 Large homes that can sleep 19 people in five bedrooms and trailers that are often rented out to fishermen have been set up to house the rescue workers and a large network of volunteers organized by the Oiled Wildlife Care Network and International Bird Rescue Research Center. BP is paying for the WildCare workers' plane fare, lodging and food; a grant from PG&E is helping to defray some WildCare rescuer expenses. Karen Wilson, executive director of WildCare, hopes to have two staff members at the Gulf for the next few months.
"As a participating member of California's Oiled Wildlife Care Network, WildCare is committed to supporting the cleanup efforts as long as assistance is needed. The dedication of WildCare volunteers who have dropped everything in their 'regular' lives to help save oiled wildlife in the gulf is inspiring," says Wilson. "They work in grueling conditions washing and feeding birds in 100 degree-plus temperatures. I am so proud of their tireless and outstanding work."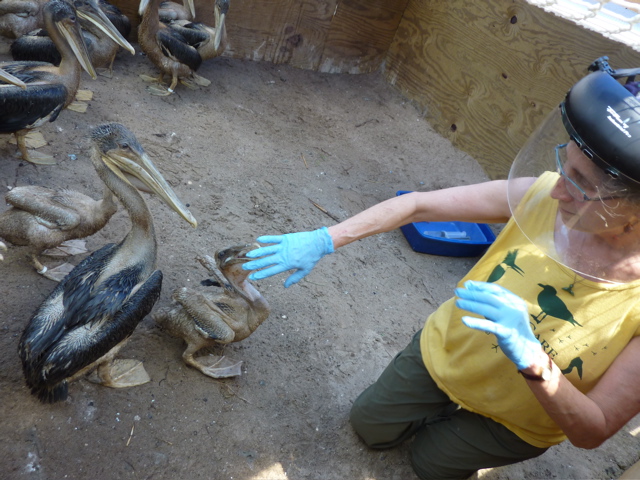 WildCare volunteer Arlene Davis
A wash line, wooden pens and a makeshift bird triage unit has been set up in a warehouse south of New Orleans where BP personnel and Occupational Safety and Health Administration (OSHA) supervisors are on sight. Volunteers work closely with rehab vet techs and veterinarians who are carefully chosen after completing emergency response training by the International Bird Rescue Research Center (IBRRC). Tri-State Bird Rescue and Louisiana State Animal Rescue Team (LSART) have also been instrumental in organizing rescue personnel across the country. Davis warns that volunteers should be prepared to do other non-exotic duties such as cleaning dead fish or mopping floors and not just working with rescued animals. And, to beware of the petrol and bird manure smells.
"The best smelling place there was actually the porta-potties!" When asked how she survived the long hours and grueling conditions she replied, "The Cosco Buscan oil spill in San Francisco was very different. That was a very finite event. There was one big blob of oil that spilled and then was stopped. The spill in the Gulf of Mexico has been going on and on so the after affects will continue going on and on as well. I felt privileged to be involved here. I wanted to be a part of the effort especially since I'm from New Orleans. It's great to see the birds after they've been washed. They're jumping in the water, flapping their wings. It takes over your whole life and it's hard to leave."
Twenty year-old Humboldt State University student, Stephany Helbig, of Fairfax, California left to volunteer at Deepwater Horizon over two weeks ago. Helbig has been volunteering at WildCare since she was thirteen years old but this is her first time helping out at an oil spill. "I was 17 during the Cosco Busan oil spill so I wasn't old enough to work with oiled birds. This is my first opportunity to go to a bird rescue. I would love to say it's a once in a lifetime chance but unfortunately it probably won't be." Helbig hopes to become a veterinarian and travel around the world doing research on preserving wildlife habitat. She's presently studying wildlife science and conservation biology while working part time as an intern at a veterinary clinic. Before she left for the trip she was told she'd be picked up in Louisiana, but could be trained and stationed there or moved to Alabama, Florida or Mississippi. The unknown location didn't worry her.
"All I knew is that I'd be put in a large house or trailer with lots of other people. I had no idea where but to me it's just like going to a dorm in college. I'm used to that!"
Before she left she shared that her fear wasn't about working with the birds. She's extremely familiar with handling and restraining all types of wildlife and knowing how to stay safe. Her biggest concern was the long 12-hour days, in the heat and humidity and wearing a Hazmat suit. When I heard from her last week in Louisiana, she was busy washing birds she had rarely seen such as spoonbills, laughing gulls, terns and tri-colored herons; and not only was it extremely hot, but there were also thunderstorms outside and a local tornado warning. Yet still, she sounded grateful to be part of the rescue.
"I'm getting a lot of valuable rehab and triage experience from being here. I much prefer the small size of the laughing gulls to the giant western gulls at home. Less painful when fingers are near the beak region."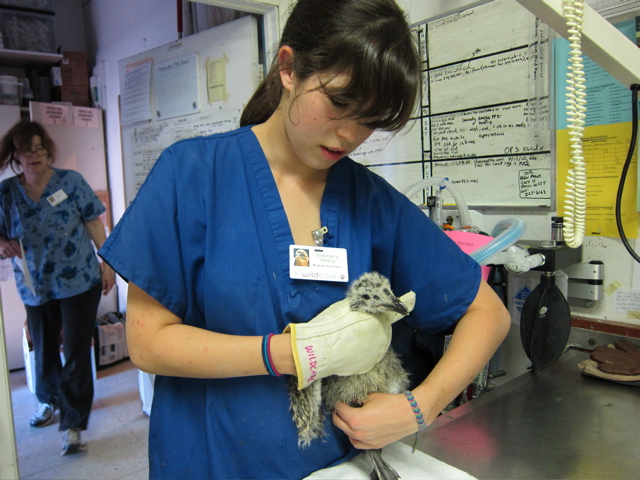 WildCare Volunteer Stephany Helbig
There's never a good time for an oil spill but the absolute worst time is in the spring and summer when wildlife creatures are breeding. From April to August the food sources are rich; fruit, berries, insects that animals can feed to their brood. This spill is especially hitting the breeding colonies of baby pelicans. Melanie Piazza, Director of Animal Care at WildCare would like to help in the Gulf of Mexico in a few months.
"I'm here holding down the fort along with our staff and volunteers and sending who we can. We treat close to four thousand animals a year here," says Piazza. "Once our baby season winds down I'm planning on going. In the fall, when we can spare more staff, we'll be sending more people."
Around the country, many people are overwhelmed with the disaster and frustrated that they can't help. Piazza recommends that California citizens prepare for disaster now. "Make sure you're family and pets are taken care of. Then come in to do the training with us (or another animal rescue facility in your area), instead of panicking when it hits and wishing you could help but being denied, because you're not trained." WildCare has an orientation for volunteers every January. After the orientation, if you decide you can commit to the 16-hour training that occurs from January through March, you'll also need to commit to a 4-hour shift just about each week throughout the year. "Some people stay for a year. Some stay for 20 years," says Piazza.
"Students 12-17 can volunteer as well. It's a little different training. We have kids, college students, adults and retirees. It's everybody. We 're opened 7 days a week so we can find a shift to fit just about anyone's schedule! You can work after work or on a weekend. We always welcome new volunteers."
In an era where many feel more and more removed from nature and wildlife, Piazza hopes California residents will take the time to educate themselves about common backyard animals; instead of hating the opossums or raccoons that come around, uninvited, to eat out of the cat bowls in the garage.
"One of the most amazing things about living in the Bay Area is the abundance of open space and wildlife just outside our doors. I recommend to any one who calls us who is scared or 'hates' a particular animal or species to look them up online. Learn a little bit about the species and you'll be amazed at how incredible they are and maybe even start to appreciate them and enjoy catching glimpses of them."
She reminds us that our backyard wildlife is here for a reason. They serve a purpose in nature; opossums, raccoons, skunks for example are terrific rodent, snail and slug control. They eat critters that you don't want in your garden. Bats and swallows eat millions of mosquitoes every day. Coyotes and foxes eat hundreds of mice and rats. "Without our backyard wildlife we'd be in big trouble."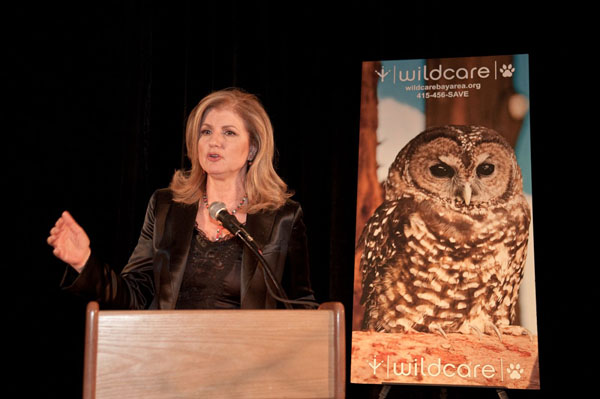 Arianna Huffington, WildCare Gala - Master of Ceremonies, 2010
Why we heart WildCare:
Each year 350 WildCare volunteers give approximately 39,000 hours of their time to treat wild animal patients and teach Bay Area schoolchildren.
WildCare's wildlife rehabilitation hospital treats approximately 4,000 injured or orphaned wild animals of more than 200 different species -- mammals, birds, reptiles and amphibians.
Over 90% of the wild patients treated at the center have been orphaned or injured by interaction with humans and/or their pets, not by natural causes.
Each year the center's environmental education programs introduce more than 40,000 Bay Area children and adults to the creatures with whom they share their habitat.
WildCare's 2010 budget is $2,000,000. They receive no ongoing support from any governmental agency but rely heavily on memberships, donations, fundraising and volunteer hours to serve the community.
If you can't donate time or money, check out the 'needs list' on the website which changes often. Sometimes they're in need of towels, spare produce from fruit trees, native plants or acorns.
WildCare has miraculously survived for over forty years with 90% of its staff being volunteers.
Interested in volunteering at WildCare? Sign up now for the January orientation.