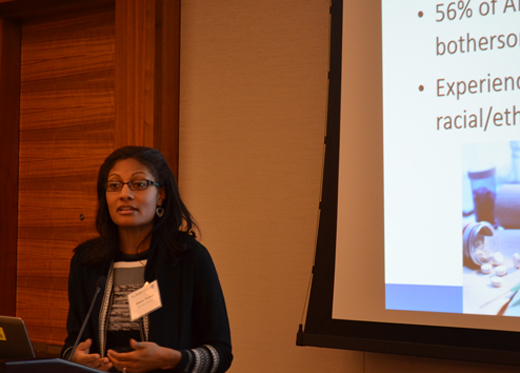 The health and well-being of women is the health and well-being of the world. And yet:
Every day, 1,600 women and more than 10,000 newborns die from preventable complications during pregnancy and childbirth.
Women working full time in the United States are paid just 80 percent of what men are paid for similar work, a gap of 20 percent.
Of all adults living with HIV in sub-Saharan Africa, 61 percent are women. In the Caribbean, the proportion of women living with the virus is 43 percent.
Of all deaths due to cervical cancer, 86 percent are in low- and middle-income countries.
1 in 5 women reports being sexually abused before the age of 15.
We could go on. And at the 2016 International Council on Women's Health Issues (ICOWHI) Congress this month in Baltimore, we did go on about addressing issues of violence, isolation, economics, aging, social determinants of health, and ultimately empowerment through participation, advocacy, education, and research. We talked about moving the needle--what that meant and what it would take:
Adjust the political mind-set and ethical standing on a woman's place in the world.
When professional caregivers say they "don't do women's health," that means they are ignoring at least 50 percent of the population. This is the elephant in the room, and also in the big tent that is global health. In order for politics to change, men must buy in, especially in nations where women's political rights are limited. We all know that progress on women's health issues is swiftest when men and women work in unity--with equal investment--to provide a voice for improved health, social justice, peace, and human rights. Yet the status quo survives. We need to build bridges that carry ideas both ways.
Never before has the world been so threatened by factors from climate change to geopolitical instability that make international diplomacy complex and convoluted. Women are in a uniquely vulnerable position. Over four days at the ICOWHI Congress, we made our points forcefully and we listened openly. It was a breath of fresh air. It was a wonderful chance to make connections, to hear more than 100 of the brightest health care minds on the planet--as well as our own brilliant faculty and students--build potential solutions. And now it is time to act.

Prepare, innovate, and be resilient.
Here's a small sampling of the range and impact of global topics discussed at ICOWHI:
Perinatal survival in mountainous villages of Nepal,
Quality of life in Thai women with cervical cancer,
Empowering midwives in Ghana,
Addressing intimate partner violence against ethnic minority immigrant women in the U.S.,
Sleep disturbance among older women in Vietnam,
Mental health issues for women in India.
In the United States, we have witnessed tremendous growth in the nursing profession, with more opportunities to practice to the top of our licenses, and perhaps aim even higher. The acceptance and expansion of the nurse practitioner role in particular has been nothing short of extraordinary. Nurses in fact are now providing full care where physicians are few, like rural and underserved areas.
A good bit of this success has been earned through thoughtful, creative responses to the Affordable Care Act, which has urged us forward as a profession to fill such gaps in care, address disparities, and increase the scope of our practices as many, many more men and women have gained access to the health care system. We do not know exactly what will become of the Affordable Care Act as a new U.S. political landscape and legislative realities form, but we know that we must not go backward. Hopkins Nursing, our fellow institutions of higher learning, and nurses as a profession must be ready to pivot, to innovate, and to step forward once more.
Support HuffPost
The Stakes Have Never Been Higher
Related
Popular in the Community