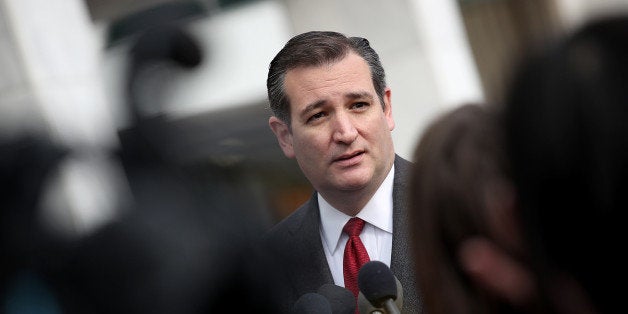 Today, in response to the tragic Brussels terrorist attacks, Ted Cruz called for the United States to "empower law enforcement to patrol and secure Muslim neighborhoods before they become radicalized."
Leaving aside the blatant violations of civil and human rights, namely due process, what would that even look like? Try to imagine your local sheriff's department picking and choosing streets to patrol based on the (perceived) religious identity of the residents. It's not a pretty picture.
And although this comes only one day after Cruz defended his choice of an anti-Muslim conspiracy theorist and hate group leader Frank Gaffney as a national security advisor, this call for securing Muslim neighborhoods marks a new low in Cruz's efforts to marginalize and ostracize Muslims in the United States.
It may be a new low, but, unfortunately, it is not unexpected. For years, leading figures in the organized anti-Muslim movement have focused their time and money on stoking fear of Muslims, in hopes that those fears will translate into bigoted public policy.
This call to monitor Muslim neighborhoods can only be seen as proof that the work of anti-Muslim activists has been successful.
That wasn't the only controversial comment Cruz made, adding, that "Our European allies are now seeing what comes of a toxic mix of migrants who have been infiltrated by terrorists and isolated, radical Muslim neighborhoods. He also took the opportunity to renew his calls for an immediate halt to refugees from "countries with a significant al Qaida or ISIS presence" and increased border security at the southern border. He really hit all the anti-Muslim movement's policy points.
And in a kind of perverse circular strategy, Cruz ended his Facebook post with some fear stoking of his own.
"The days of the United States voluntarily surrendering to the enemy to show how progressive and enlightened we can be are at an end. Our country is at stake."
I'd have to say I agree with that last part. Our country is at stake.
Calling all HuffPost superfans!
Sign up for membership to become a founding member and help shape HuffPost's next chapter