 NEW YORK -- New York City Mayor Bill de Blasio and Council Speaker Melissa Mark-Viverito (D-East Harlem) honored one of the most popular anti-imperialist bands in the U.S. on Friday as the group's frontman donned a T-shirt demanding freedom for a jailed Puerto Rican nationalist viewed by many of the island's residents as a political prisoner.
At Gracie Mansion ahead of Sunday's Puerto Rican Day Parade, the elected officials bestowed René Pérez and Eduardo José Martínez of Latin hip-hop group Calle 13 with a proclamation praising the group for "igniting minds, imaginations, and conversations around the world." It would have seemed an odd sight just a few months ago, during the city's more conservative Bloomberg administration.
Pérez was crowned the king of this year's Puerto Rican Day Parade, which chose the liberation of Oscar López Rivera as one of its main themes.
"They say that this is the country of freedom and human rights," Pérez told The Huffington Post. "But if this were happening in another country, like Venezuela or China, people would say, 'That's a dictatorship.'"
Noting that President Barack Obama had visited the Robben Island jail cell where former South Africa President Nelson Mandela spent most of his 28-year confinement as a political prisoner, Pérez added: "You've got a political prisoner in your own country."
Those calling for his release say that at 71 years of age in an era in which the violent struggle for Puerto Rican independence has fizzled out, López no longer poses a threat. The Chicago-area bombings in which López was connected killed no one, and were intended to damage property rather than hurt people, according to Puerto Rican Resident Commissioner Pedro Pierluisi, who represents the island as a non-voting member of the U.S. Congress.
The issue has widespread support on the island. Both Pierluisi and Gov. Alejandro García Padilla, who belong to opposing political parties, have called on the Obama administration to free López. U.S. Rep. Luis Gutierrez (D-Ill.), himself of Puerto Rican descent, has also pressed for López's release.
Wildly popular throughout Latin America as well as among Hispanics in the United States, Calle 13 has become known for its revolutionary politics as much as its eclectic rhythms and risqué lyrics. The band rages against the U.S. killing of Puerto Rican nationalist Filiberto Ojeda Ríos in "Querido FBI," extends its solidarity to immigrants in "Pa'l Norte," and offers an anthem to Latin American unity in "Latinoamérica." Calle 13's most recent album, "Multiviral," features a guest appearance by WikiLeaks founder and U.S. government nemesis Julian Assange.
Though de Blasio refrained from discussing Calle 13's politics in his public remarks, the band's anti-imperialist message likely strikes a personal chord with the mayor. As a young man, de Blasio supported the Central American solidarity movement, traveling to Nicaragua in 1988 during the left wing Sandinista government to distribute humanitarian aid.
A corruption scandal had threatened to cast a shadow on this year's Puerto Rican Day Parade. An investigation by state Attorney General Eric Schneiderman revealed in February that the nonprofit that organizes the annual event had mismanaged $1.4 in corporate donations, according to the New York Daily News.
But Councilwoman Mark-Viverito, the first Latina to serve as city council's speaker, praised the reorganized board as she spoke to the crowd at Gracie Mansion on Friday.
"Their efforts and the efforts of a community that is demanding accountability are bringing this parade back to its roots," Mark-Viverito said.
She applauded the parade's new leadership for championing the cause of Oscar López, saying that previous parade organizers had "never wanted to highlight" demands for his release.
Mark-Viverito said she chose to honor Calle 13 this year to send a message that those in positions of influence should use their fame to press for social change.
"We have added responsibility to raise our voice," Mark-Viverito said. "And that is what Calle 13 does."
In addition to López, this year's parade will pay tribute to the 100th anniversary of the birth of poet Julia de Burgos, as well as the 65th Infantry Regiment, known as the Borinqueneers. Taking its name from the indigenous name of the island, "Borinquen," the segregated Puerto Rican 65th Infantry Regiment fought in World Wars I and II and the Korean War, before being disbanded in 1959.
Before You Go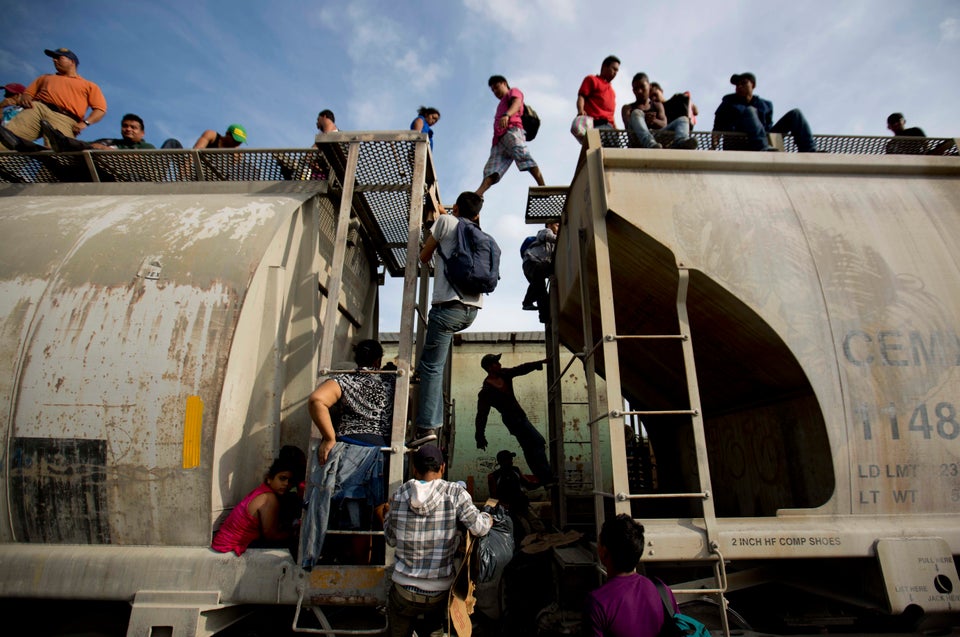 Why Latin Americans Really Come To The U.S.
Popular in the Community