Calle 13 has created a partnership with UNICEF, MTV Latin America and Tr3s to launch the global campaign "MTV EXIT" in Latin America and Spanish-speaking communities in the U.S. "MTV Exit" seeks to raise awareness about human rights, exploitation and human trafficking.

Calle 13 teams up with Radiohead, The Killers, Muse and Angelina Jolie as advocates for the "MTV EXIT" Campaign.
"MTV Exit" started in 2004 to raise consciousness among students through TV programs, online exposure and live events. It is "a campaign about freedom -- about our rights as human beings to choose where we live, where we work, who our friends are, and who we love", according to the project website.
Program efforts primarily focused on the Asia-Pacific region, with its main office in Bangkok, Thailand. Calle 13's partnership is intended to broaden its reach to Latin America, where human trafficking is prevalent.
Precise data on human trafficking is hard to gather because of the covert nature of the crime, according to UNICEF. However, a 2005 report by the International Labour Organization (ILO) estimated that 2.4 million people were subjected to forced labor as a result of human trafficking. Between 980,000 and 1.2 million of those people were children. The highest numbers were found in Asia, with some 9.4 million. Latin America and the Caribbean followed with some 1.3 million.
"We've traveled practically all through Latin America and we know about this and other problems," said front man Rene Perez, also known as Residente Calle 13, according to Fox News Latino. "So, I worked on the number 'Song For A Boy On The Street' ('Cancion Para Un Nino En La Calle') along with Mercedes Sosa, which speaks about children who are exploited sexually, at work, who wind up addicted to drugs."
The collaboration between UNICEF and the Puerto Rican group officially launched Monday night at the United Nations with a presentation of the documentary "Invisibles Slaves" (Esclavos Invisbles), which was produced by UNICEF and directed by Perez. The documentary tells the story of four victims of human trafficking and exploitation. The subjects talk about how they were first deceived, then abused and how they finally gained freedom. The documentary is shot in Tapachula, Mexico.
The duo donated the rights to their song "Prepare My Dinner" (Preparame La Cena) to the soundtrack in hopes of bringing attention to the subject. The documentary will debut on November 29 on MTV Latin America and Tr3s.
"Youth is our future and we need to educate them, not exploit them," said Residente de Calle 13 according to PR Newswire. "We are thrilled to be supporting this campaign and look forward to working with MTV and UNICEF to address other related issues like education".
Check out other Latinos who are lending a hand:
Before You Go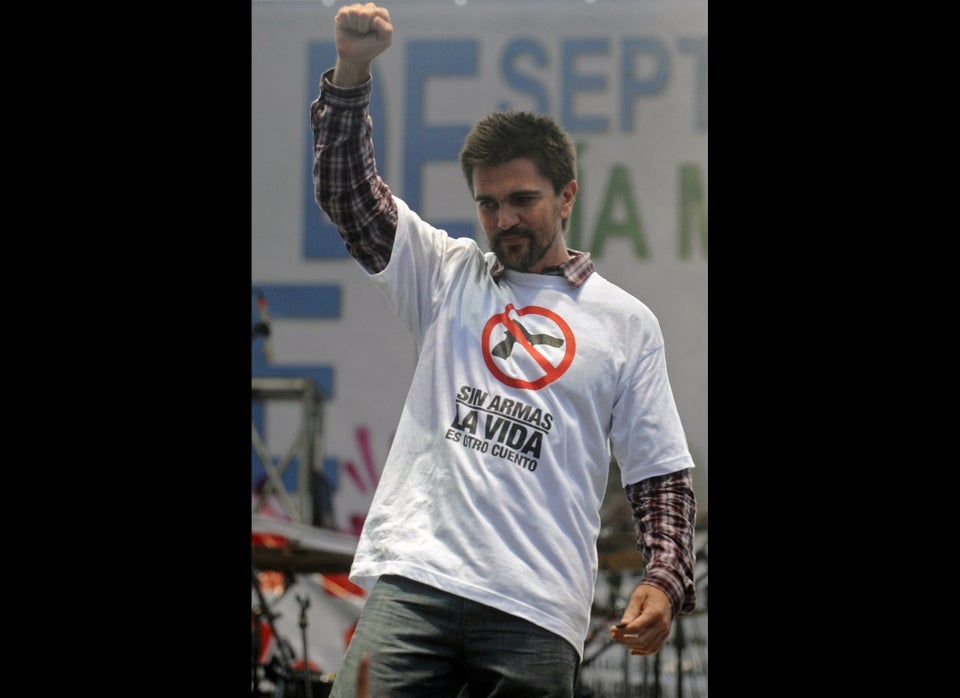 Latino celeb philanthropists
Popular in the Community