"I never wanted to be the first," Callie Brownson said of becoming the first full-time female assistant coach for a Division 1 football team. "I just wanted to live in a time when it was possible."
That time is now, and it just so happens that Brownson is the first. She broke that ceiling earlier this year, when Dartmouth offered her a job as an assistant offensive coach after a two-week internship and a lifetime of refusing to accept that the sport she loved could not make space for her.
Though she embraces becoming the first woman to achieve the feat, she is swift to assert that gender doesn't influence her approach to the game as much as the deficit of female football coaches might suggest.
"At the end of the day, sports are a universal language," she said. "It doesn't matter if you're a man or a woman. It matters if you know your stuff."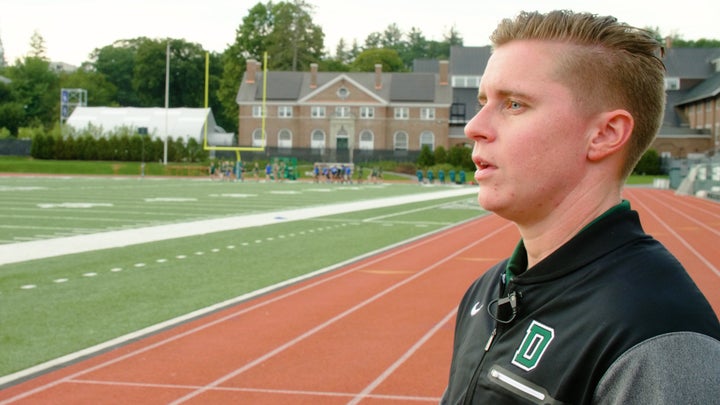 Brownson's connection to football began early, when she spent Saturdays watching football with her father, a devoted fan of the University of Miami Hurricanes. She enjoyed watching to bond with her dad, but quickly developed her own love for the game.
"I just loved every aspect about it. I loved how, every single time I watched a game, I learned something new," she said. "When I was 10 or 11, I said to my dad, 'I want to play.'"
He agreed, and Brownson thrived in her league. But she was denied an opportunity to play in high school, even though she was holding her own playing street and backyard football with her male peers. But her high school environment was "not a culture where they were even willing to explore" adding a female player, she said.
Still, she persisted, joining a women's professional team after college. She played for eight highly successful seasons.
"It doesn't matter if you're a man or a woman. It matters if you know your stuff."
Football had been "woven into my life in little periods," she said, and when she began to truly consider what she wanted to do with her life, she knew it had to be football-related.
"[Playing professionally] was this weird sign that football was back in my life and I had another chance," she said.
She interned for the New York Jets and was later invited to coach at a prestigious camp for women and girls, where she met Buddy Teevens, who coached Dartmouth's Division 1 team. Impressed with her skills, he offered her an internship with Dartmouth. She interned for two weeks, until he surprised her by offering her a full-time job in front of the entire team.
"I can't even explain the emotions that were running through me, but I was shaking and just kind of in disbelief," she said. "I really didn't expect it to happen."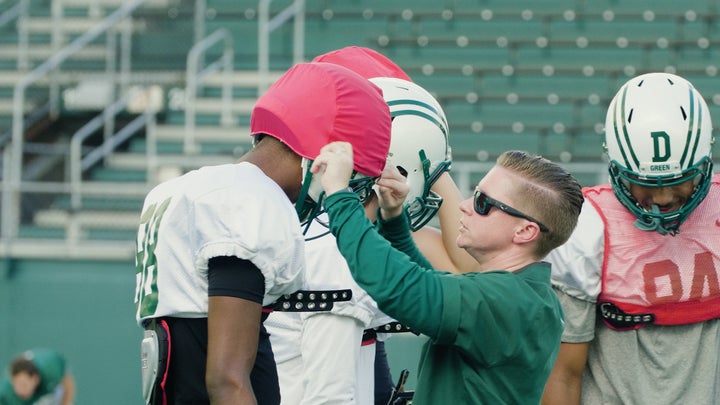 Women comprise nearly half of NFL viewers but remain strikingly absent from the sideline. This owes partly to football's strong connection to masculinity, Brownson said.
"Football is just one of those untouched masculine-dominated areas of society. And I know growing up, everybody's always felt like it's this documentation of masculinity and toughness," Brownson said. "And I think so many people who believe in that have tried to preserve the idea that it can only, exclusively be for men."
Women are often doubly disadvantaged when it comes to finding a career in football, and the same barriers that keep many women from playing football eventually hinder their ability to enter the field as coaches.
"A lot of people who work in football are former college players, former professional players, have been coaching at the high school level for a significant amount of time, were graduate assistants at the college level," Brownson said. "And women just haven't had those opportunities."
Meanwhile, "a majority of women's sports teams are coached by men, and no one seems to have a problem with that," she added.
"Women love football too. So why not work in it?"
Brownson was received positively by the players she coaches. In fact, they actively advocated for her hiring, and "the community really rallied behind me," she said. Negative reactions have come primarily from internet spectators.
"You have to expect that people might not like that you're changing their norm. But their norms suck, and it's time for them to change," she said. "My favorite comment was that I should grow my hair out so that I fit the part a little bit better."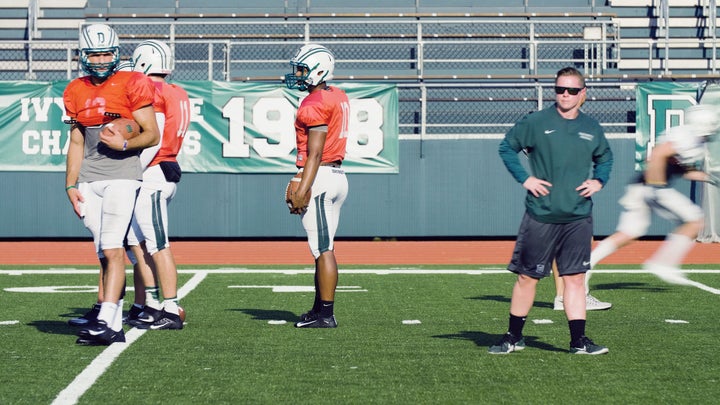 Though Brownson is the first woman to become a full-time assistant coach for a Division I team, she hopes to be the first of many. And she fully expects, in the future, to watch other women surpass her own achievement.
"The one prediction I do have is that, many, many years from now, I'm going to be an old woman and on a Saturday or Sunday in fall, I'm going to sit down on my couch, and I'm going to turn the TV on, and I'm going to watch prime-time football and there's going to be a female head coach on TV, and that will be a beautiful thing," she said.
"It's coming. It's happening. And it starts with stuff like this."
Clarification: This article has been updated to reflect that Brownson became the first female full-time assistant coach for a Division 1 team.