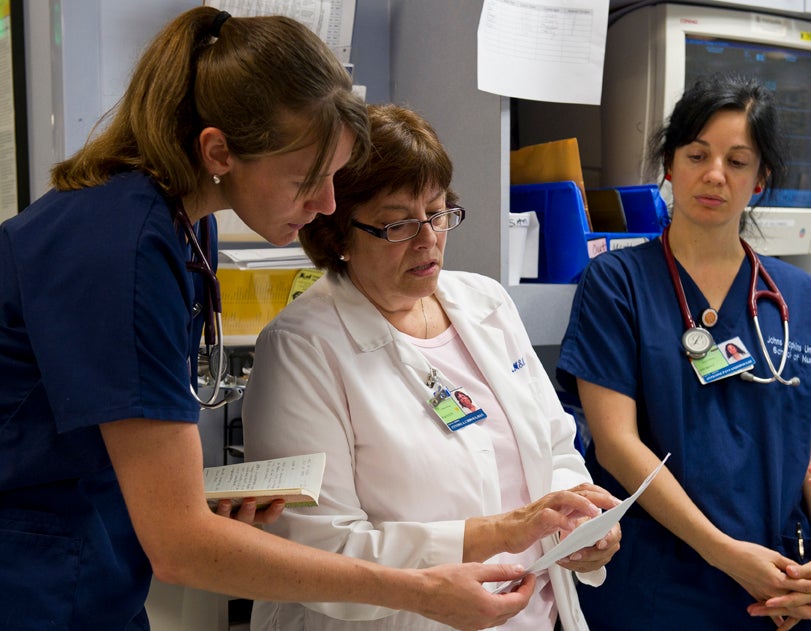 It probably doesn't seem from the outside like a very good deal: Give up your own time, very often without pay, to help a new nurse learn in short order to perform like a seasoned caregiver. But we in the nursing profession, and especially those who have been on the giving end, see the preceptor arrangement as something else altogether. We're improving nursing, yes, but we are also creating colleagues who will have our backs as well as yours.
Health care is a team game after all. Hence our fixation on creating interprofessional education for the nursing students who will one day work alongside physicians, pharmacists, researchers, first responders, clinical technicians, and others.
Each has a key role, and each role must be learned the hard way. Preceptors can shorten that "growth" period for nurses. Preceptors offer students powerful learning opportunities that call on hearing, sight, sound, and touch, that immerse them deeply in patient care, and that build knowledge, skills, and confidence. They also have amazing power to impart professional values and create lasting impressions. The experience also makes new nurses better nurses, the ones we want on our own teams. And anything that eases the transition from school to the real world makes new hires more likely to stay, keeping recruitment and training costs down.
There is no getting around the idea that being a preceptor is extra work, so we won't sugarcoat it. We have tried to sweeten the pot a little bit. We point to rewards like pride or, at educational institutions, the opportunity to advance into positions as adjunct faculty or clinical instructors. It's a chance to sharpen existing skills and receive advanced training yourself, and the service is noticed by the people above you. And preceptors can earn free continuing education units (CEUs) required of all certified nurses and which can cost $300 to $500.
Nevertheless, nursing is hurting for preceptors across our profession. And we are losing promising nurses because of it, at a time when we can ill afford such turnover. What can we do? Nurse leaders are working on a few ideas, as plenty of us have seen both sides of the preceptor relationship.
Help us out, please. To those of you who've never tried or considered being a preceptor, why not?
If you are or have been a preceptor, what drew you in and what helped and what hindered you in this role?
All thoughts are welcome. Use the comments field if you wish to share. And even if you don't care to join our conversation, please have one with the leadership of your nursing organization. Find out about preceptorship and how you might get involved. The benefits to health care are incalculable and the power to shape the future is immeasurable.
Thank you for all you do to make health care better.
REAL LIFE. REAL NEWS. REAL VOICES.
Help us tell more of the stories that matter from voices that too often remain unheard.
This post was published on the now-closed HuffPost Contributor platform. Contributors control their own work and posted freely to our site. If you need to flag this entry as abusive,
send us an email
.