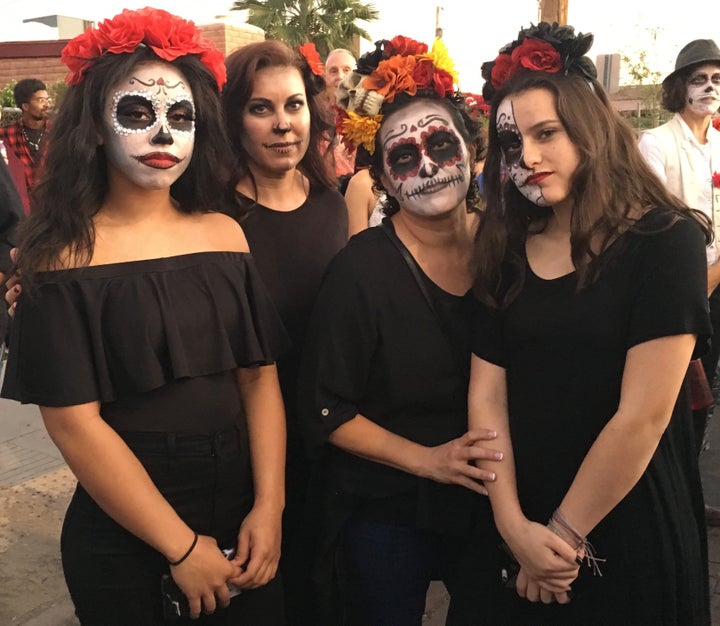 Kids dressed as Jaguars run through the crowd growling and giggling. They remind us: What is wild belongs here. Women decked in traditional dress and calavera (skull) face paint representing Femicides in Mexico, remind us: What is beautiful has the right to exist. Medical students in white coats pulling a massive red AIDS ribbon through the streets, remind us: What is human has the right to be cared for.
100,000+ humans, animals, and fantastics, brown, white, and black, marching, dancing and singing in the streets. This is Tucson's annual bi-national and bi-cultural All Souls Procession, a spectacular ritual founded by artists, inspired by multiple cultures and religions. This is what spiritual activism looks like.
The festivities began with what could be understood as the bones of it: the real thing here on the border… the 17th annual Coalición de Derechos Humanos Pilgrimage. It is Nov. 2, 2017: Dia de los Muertos in Latin American tradition and All Saints Day in the Catholic tradition.
That night, I watched a woman place a palm sized nugget of golden Copal onto burning embers in a bowl. Undulating back and forth, dreamlike, she swirled the bowl around and down until thick smoke engulfed my body, head to toe, purifying me for the pilgrimage ahead. Copal, used in the ancient ceremonies of pre-Columbian Mesoamerica and sacred to the people of Mexico, South and Central America, is followed by handfuls of marigold petals cast high in the air and over our shoulders.
The indigenous opening ceremony snakes into a solemn procession, each step accompanied by the long mournful call of a conch shell, like a distant warning, like the single roar of a solitary jaguar or a human lost. The sound echoes and then magnifies. I hear the combined call of thousands who've died crossing the desert, from Mexico into the U.S.
We hold candles against the dark and clutch white wooden crosses bearing the name and age of individual remains found in the Sonoran Desert in the past year. Out of 147 crosses, 122 are painted with the word Desconicido, "unknown," a John or Jane Doe. We march a mile and a half from the Global Justice Center to Tucson's Tiradito shrine, a historic landmark, considered sacred ground by Tucsonians and visitors who have gather here weekly in a vigil to remember the dead in the desert.
"Dia de los Muertos has a very special meaning for us here at the border. It's unconscionable, what's happened here." says Isabel Garcia, attorney and long-time immigration rights organizer. We walk with the spirits of migrants that have lost their lives and we walk with ancestors that have taken care of this land."
"Their lives and deaths really make you question things," she adds. "Who are We? And what matters to us?"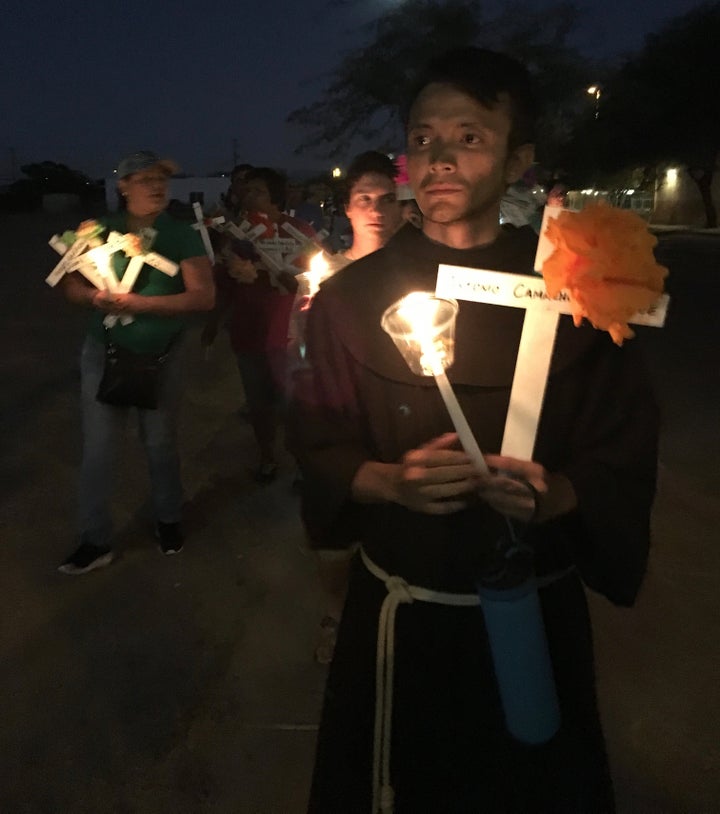 Franciscan monks also walk with the group in solidarity. Brother Sam Nasada, from a small contemplative community near the border committed to immigration and social justice issues, volunteers with local humanitarian groups and puts water out in the Desert.
"This is also special day for the Catholic Church, remembering all souls, especially those who have died in the desert who have been forgotten by the world," he says.
He looks at the cross he holds to his chest.
"All these people lost in politics and statistics have families, friends, history," he says.
"My cross has a name. Antonio Camacho Andrade." Brother Sam's voice drops, barely audible.
I think about artist Alvaro Enciso who builds large crosses from wood and found tin, then with volunteers, cements the crosses into the earth where remains were found. In the last four years, Encisco has planted crosses in over 550 grave sites.
Our pilgrimage arrives at El Tiradito. Temporary Altars and Ofrendas have been laid here for Dios de los Muertos. One large shrine is covered in photos of men and women and children who lost their lives at the hands of border patrol, men in uniforms who have gotten away with murder.
"When we remember our dead, they do not die. And it is important to us that they never die because they define us," Garcia tells the crowd.
"We are here to say we celebrate your lives… to say YES, you existed. We value your families and we honor you."
We lay our crosses one by one at the largest shrine in the center of the adobe wall, then together we pray: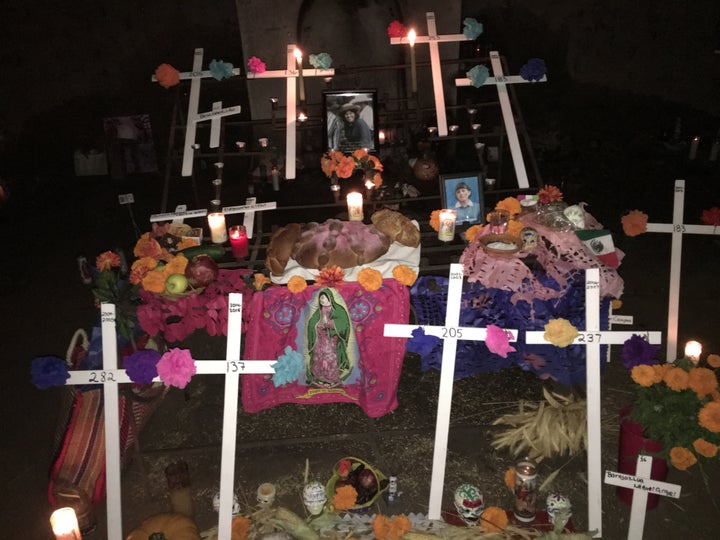 Creator, full of love and mercy, I want to ask you for my Migrant brothers and sisters. Have compassion and protect them, as they suffer mistreatments and humiliations on their journey., They are labeled as dangerous, and marginalized for being foreigners.
Let them be respected and valued for their dignity. Touch with your goodness the many and let them pass. Care for their families until they return to their homes, not with broken hearts but rather with hopes fulfilled. Let it be.
Nature
As the sun begins to set, the All Souls Procession starts and the unmistakable smell of burning sage wafts through the crowd. Clouds of billowing smoke: a mystical mist. Winged women in white on stilts levitate in the smoke like cupids in a religious retablo. The collective smudging of sage seems to alter the vibe in the crowd. To the right and left of me, people smile dreamily.
The thump of a constant drum beat ahead spurs on the crowd. I spot the Giant Jaguar Puppet operated by four or five people, moving like a Chinese Dragon, it's massive head floating above the crowd. The puppet was created by all volunteers in 2009 as a political and spiritual action after Macho B, the only jaguar at that time known to be in Arizona, was killed.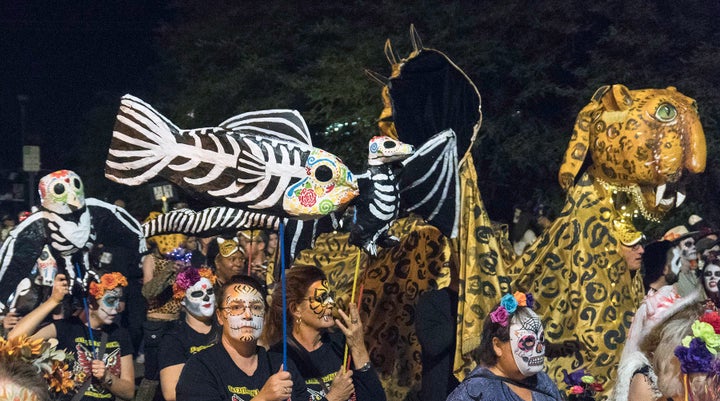 Randy Serraglio, the Southwest Conservation Advocate for the Center for Biological Diversity, is also in full Jaguar regalia, wearing a paper mache Jaguar head, a faux jaguar coat, claws, and tail.
"The beautiful thing about the jaguar is this: Throughout the Western hemisphere, indigenous cultures have revered it as a spiritual creature, supernatural, for all the amazing things that it could do that no other animals could do," says Serraglio.
"The Aztecs revered it as a god and so did the Olmecs," He adds.
For the Maya, the jaguar was the god of the underworld. It carried the sun into the underworld and then it made sure it rose again each day."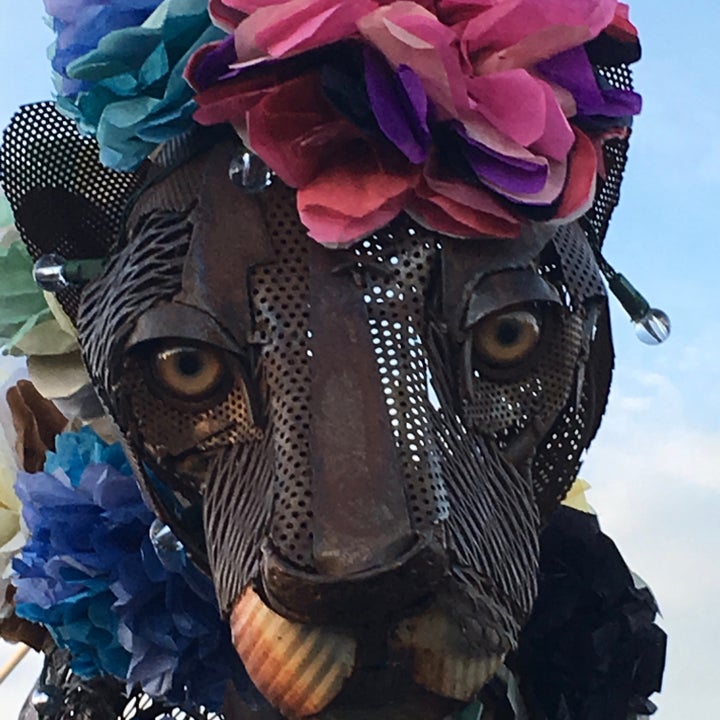 Art
Using her art to support Sky Island Alliance and the Northern Jaguar project, Tucson Sculptor Pat Frederick pulls two carts carrying steel sculptures of Jaguars Macho B and Corazon festooned with flower garlands. The sculptures have become mascots for the Sky Island Alliance who preserve healthy migratory corridors for jaguars just north of the border as well as the Northern Jaguar Preserve that provides a safe breeding ground in Northern Mexico, just south of the border.
Another Artist Lauren Strohacker, collaborates with the Northern Jaguar project by projecting their motion-triggered trail camera photos of regional wildlife including the magnificent Jaguar onto the border wall, a binational art project that draws attention to blocked migration pathways.
The Northern Jaguar Project invited the public to the All Souls Procession as a "sanctuary for people from all walks of life to mourn, reflect, and express their grief and loss in a celebration of creative energy… to process the memory of the jaguars lost and for the future of jaguars to come."
"Many different cultures have elevated the jaguar to a spiritual place of great power, meaning, and mysticism," Randy Serraglio adds. …the perfect symbol for the All Souls Procession."
Walking just ahead of the big cat contingent, a group of volunteers for the Center for Biological Diversity represented five threatened species from Arizona and Sonora. The volunteers look striking in Calavera face paint and black tee shirts that read Extinción es para Siempre, Extinction is forever, on the front, and on the back: Por que es Vida es Buena, because Life is good. Each volunteer raises a stick topped with a species puppet above the crowd. The visually arresting sculptural puppets, painted in high-contrast black and white, float above our heads, literally standing above the rest.
"Art is a powerful tool for social change," says center volunteer Leigh Moyer. These species are threatened by the border wall, growing population and human-caused environmental changes. I wish I could do more."
"Species don't need to be justified, they deserve to be here all on their own," she adds, looking up at the handsome agitprop puppets.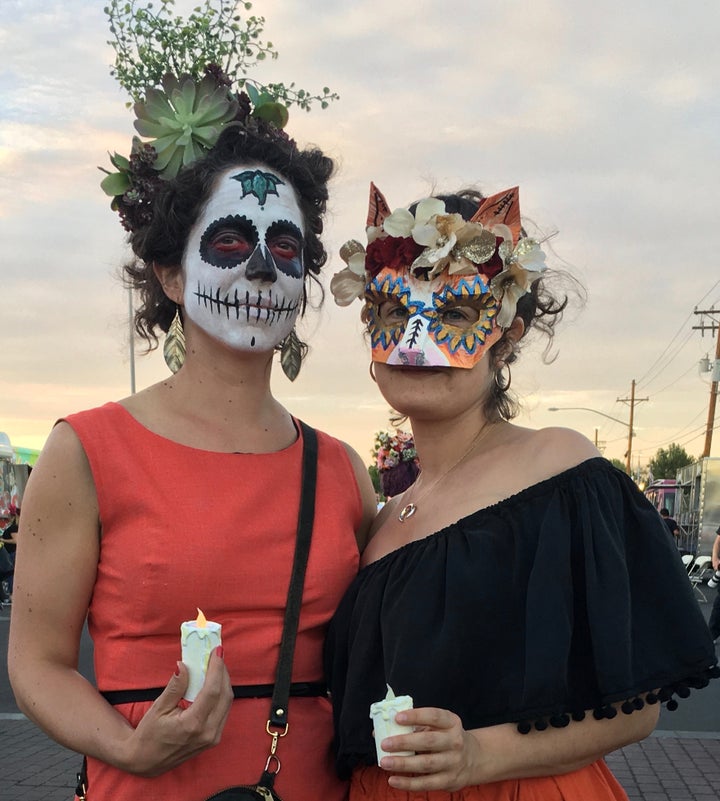 Family
For all the groups represented in the procession, it's the families that turn out who are the heart and soul of the night.
Kerry Maller, 44 and Ashlee Kennedy, 23, friends and students in Social Work, both carry hand-made shadow boxes to honor their mothers.
Kerry points out elements in her Shadow box that include a picture of her Mom and all the things she loved: angel wings because she collected angels, blue beads to reflect her beautiful blue eyes, and a cross.
"I consider myself spiritual, not religious, but religion was really important to my mom especially when she got sick," say Kerry Maller.
"It was very cathartic to make this shrine. It is really important to me. It helps me to think about my mom and honor her," she says.
"I look forward to this every year. And my father and mother were married for 45 years. He doesn't walk anymore but his face lights up when he hears I'm doing this so it honors him too."
Maller's friend Ashley speaks up. "Purple was her favorite color." She starts to cry.
"My mom just passed away this year," she says, when she can talk.
"There's a lot of emotional energy inside but It helps to be here," she adds.
"It helps that it's a celebration."
Behind me is another family: mom, an aunt, a daughter and cousin holding umbrella frames, open like Parisian parasols, decorated with photographs, and tied with strips of cloth bearing names of deceased family.
"We've lost more than a few family members in the past year," says Casie Williams, 30. "But we had a great time making them together as a family. It's a mixture of joy and sadness being here."
"in church this morning, I observed All Saints Day," she adds. "Like this procession, we are all different in my family. We're a blended mix of different religions."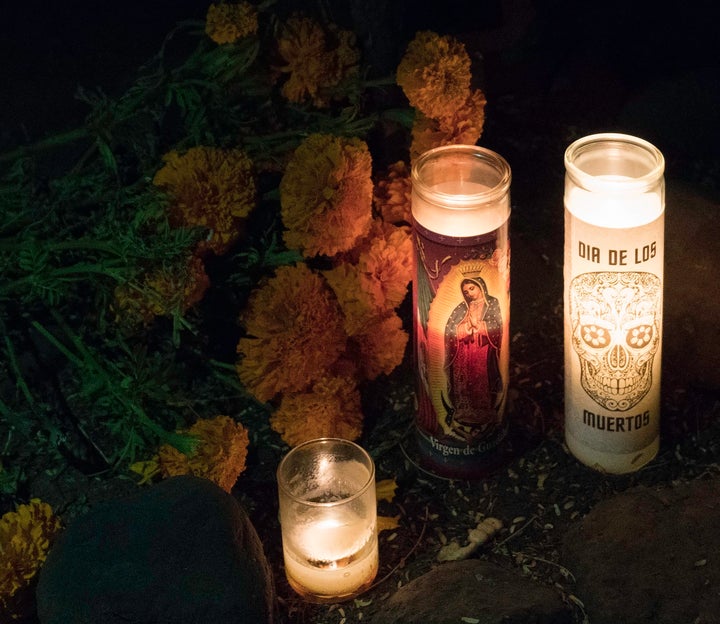 Faith
On the way home, we decide to visit the El Tiradito Shrine. We walk into the deep heart of the remnants of the arched adobe wall. Though filled with votive candles, the small space is darker than dark and palpably quiet after the din of the procession. There is a sense at el Tiradito shrine, particularly at night, of dropping into a kind of portal to another dimension, a destabilizing feeling. We light another candle and arrange the marigolds. Then we say a prayer and remember the love…
Popular in the Community