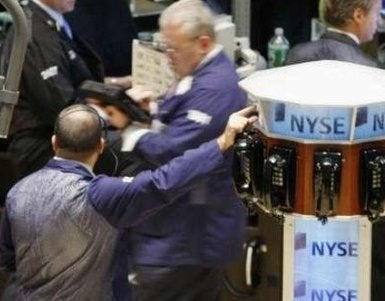 Here's one for Ripley. Given all the flashing economic red lights and the dangerous financial and geopolitical uncertainties that abound, the last thing any of us might expect, including me, is for bloodied and worried investors to suddenly rush headlong into the stock market.
Wrong, says veteran San Francisco money manager Gary Wollin, who expects a "buying panic" -- a veritable flood of new stock purchases -- to kick off any day now and push the equity market appreciably higher.
The 69-year-old Wollin, who manages a tad over $100 million of assets under the banner Gary Wollin & Co., believes the tide has turned, what with the economy bottoming and the market even going up now on bad news, such as the General Motors bankruptcy, rising unemployment and the missile firings by North Korea.
Call it, he says, referring to his projected buying panic, "pre-July 4th fireworks in the stock market that most investors will love," a good part of which, he believes, will be set off by lots of money on the sidelines -- notably nearly $3.8 trillion currently housed in retail and institutional money-market funds.
Such a buying binge would represent a major turnabout from four months ago, around March 9 to be precise, when the stock market was plummeting and the Dow Industrials were trading at a recent low of 6,547, down more than 7,500 points from their record high of 14,164 in October 2007. Understandably, Wall Street was rife with fear at the time, so much so that there was talk of an impending selling panic that could send the Dow skidding even further to the 5,000 level.
However, with the market having since gone on a romp, rocketing to nearly 8,800 on the growing belief that the worst of the recession is behind us, Street speculation of a selling panic has just about disappeared.
Wollin's projected buying panic calls for the Dow to jump to the 9,500-10,000 range before July 4. "You can't just wish for it; it has to be fueled," he says. To trigger this panic, he says, we're going to need at least some mildly significant good news and see the market spiking (via several days of triple-digit gains in the Dow) on heavy volume. As potential news catalysts, he points to:
A clear-cut, no-hedged statement by a highly credible figure -- not Treasury Secretary Timothy Geithner -- that the economy is clearly bottoming.
A comment from some big name in Corporate America, such as an IBM or Intel, that orders are picking up, which, in turn, would enable companies to raise prices and beef up shrinking profit margins.
A disclosure from a large bank that it has plenty of capital and is actually lending again in a meaningful fashion.
A sign that the rising level of job losses -- which everyone knows is headed even higher over the next several months -- could be peaking.
Indications that home prices could be stabilizing and foreclosures slowing.
An easing of tensions with Iran or North Korea.
Though not a household name, Wollin should not be written off as a dreamer who is out of touch with reality. He's made some excellent market calls. Among them, he turned bearish on November 30, 2007, with the Dow at 13,371. That was a little early, what with the Dow subsequently rising another 793 points. But then, the Dow fell 7,617 points to its March low of 6,547.
Before plunging to its low, though, Wollin, on March 11 of this year, turned bullish at 6,930 and he reiterated that bullish stance on April 7 with the Dow at 7,789. Since his March call, the Dow has risen more than 1,500 points. Clearly, our man seems to have a darn good crystal ball.
Our bull, by the way, makes it clear that he's not oblivious to the land mines. In particular, he points to the gigantic government deficit; the risk of hyper inflation from enormous money printing; the threat of major financial failures related to commercial real estate and defaults on credit card debt, and possible geopolitical risk related to North Korea, Iran, Afghanistan, Pakistan, Iraq and Venezuela.
As with most money managers the past two years, Wollin's performance is nothing to write home about. Still, he's done better than the market with respective losses of 22% last year and 0.39% so far this year.
Given his market exuberance, Wollin has stepped up his buying, with the emphasis on beneficiaries of a rebounding economy. In this respect, he's been focusing on transportation companies, among them Burlington Northern Industries, CSX Corp., Fedex, UPS and Genco Shipping &Trading, Ltd.
Some other favorites are Exxon Mobil, Chevron and Freeport McMoRan. He's also gung-ho on Procter & Gamble and Johnson & Johnson, which, he says, belong in every quality portfolio.
A word of caution when it comes to Wollin's expectations of a buying panic. There are loads of skeptics. One, a successful San Francisco hedge fund manager, who is never quoted publicly and insisted on anonymity, ridicules such a view, adding "it's a bad time to interview someone who obviously resides in Kookooland."
This manager, a market bear who in recent days became net short (a bet equity prices will fall), argues stocks are absolutely no bargains as measured by per-share earnings forecasts and a bevy of inflated price-earnings multiples. He also thinks much of the market's buying power was dissipated during the recent rally. He further questions all the talk of renewed economic vigor, describing much of it as hope and sheer hype. He also expects the recent jump in the price of oil (and gas) to take a heavy toll on the consumer.
"I don't live in kookooland," he says, "and everything I see, including President Obama's developing love affair with the Arab world, tells me it's only a matter of time before we retest the March lows."
Related
Popular in the Community