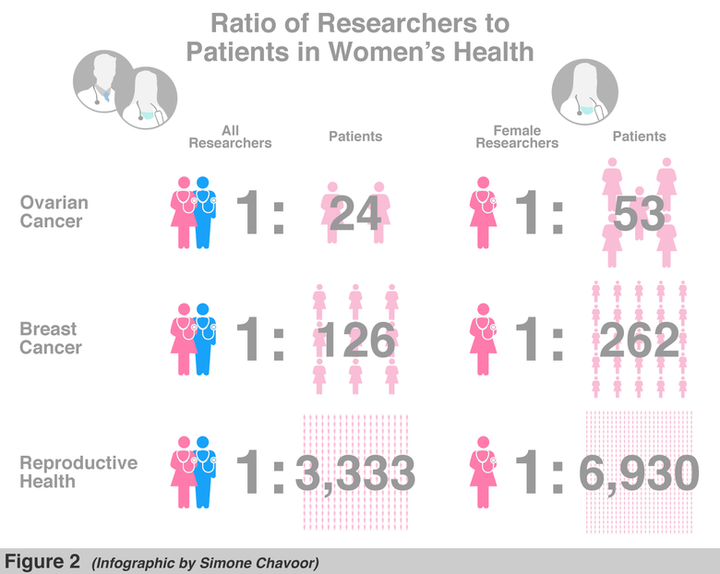 In the advent of Women's History Month, my super-star colleague Funmi Fapohunda, Director of Platform Engineering and machine learning specialist here at Zephyr Health, used our powerful platform to answer a question: is there a disparity between male and female researchers in Women's Health? Further, what is the delta in male to female rank and file researchers versus top 100 researchers? What we uncovered is a complex look at how research varies in the top 3 women's health disease areas; Ovarian Cancer and diseases, Breast Cancer and Reproductive Health. In general, female researchers make up about half of all researchers in women's health and, while female researchers in these disease areas may be on the rise, the biggest disparity was found between the top 100 researchers in both Ovarian Cancer and Reproductive Health. (Figure 1).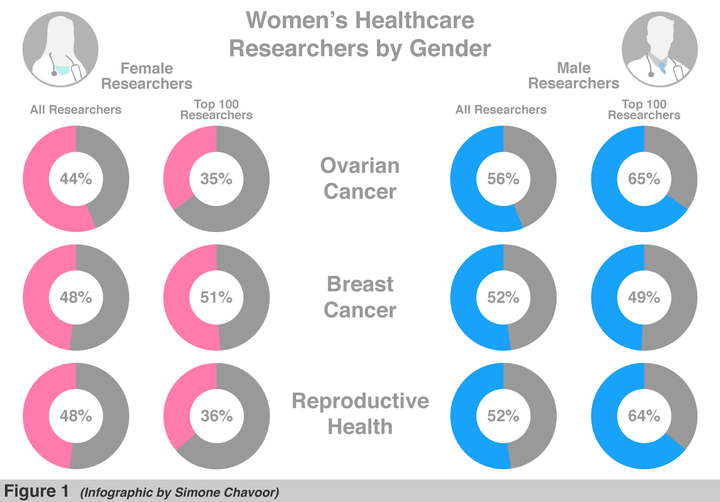 Interestingly, the greatest disparity was seen in total researchers dedicated to the most common area of women's health, Reproductive Health. (Figure 2) What was particularly striking was that, while Ovarian and Breast cancer have an acceptable researcher-to-patient ratio of 1:24 and 1:126 respectively, the researcher to patient ratio in Reproductive Health is an astonishing 1:3,333 and, if we consider only female researchers, an even more dismal ratio of 1:6,930! (Figure 2). And yet, Reproductive Health affects one third of the female population between 15 and 44 years of age.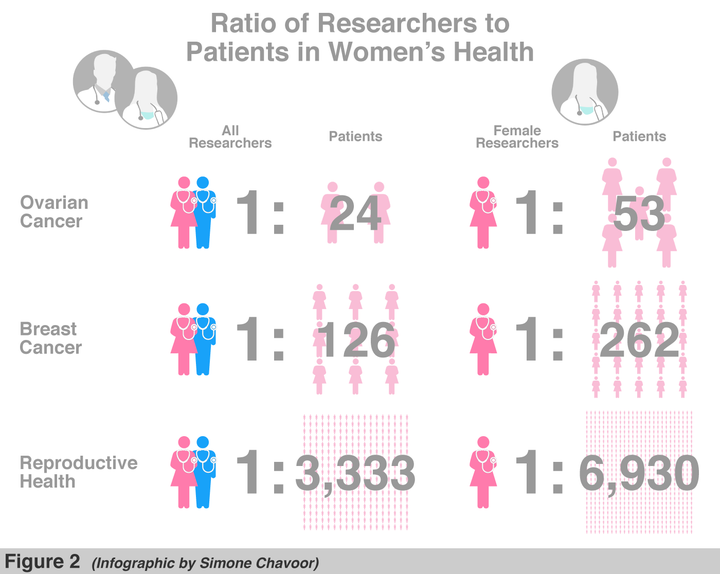 As stated in a STAT article on women facing bias in research grants, "People are more likely to study issues relevant to their own health, so if you don't have women advancing to the highest positions where they can become leaders and contribute to policy, we're going to continue to see health disparities between women and men." With fewer women than men leading research in these disease areas, with the exception of Breast Cancer, and fewer total researchers dedicated to Women's Reproductive Health, it's clear that Reproductive Health continues to be a lower priority for research and scientific investment, hence the future of Women's Reproductive Health advancements looks bleak.
Reproductive Health is, in fact, a much broader category of disease and treatment than most people realize; according to the Centers for Disease Control, Reproductive Health is the health of women during their reproductive years, which are the years they can have a child, and the "diseases" can be related to everything from infertility to childbirth to menopause. Using Zephyr Health's analytics on researchers and applying that number to fertility-related cases alone, the ratio of researchers to patients would be 1:83, which is better considering that the US fertility rates are below replacement, at just 1.9 children per woman[1].
So, how do we get more women in research roles in Women's Health? It could be the classic pipeline problem. Although 47.6%[2] of medical school graduates in the US are women, less than 50% of practicing physicians are women. In addition, according to a recent Wall Street Journal article, women make up less than a third of full-time academic medicine faculty, making it more difficult to become a key opinion leader. Broader healthcare institutions and private businesses do not fare much better; according to a recent Rock Health Report women make up only 21% of leadership roles in Fortune 500 healthcare companies.
The good news is that as more women enter the field of research, gender disparity will be reduced and the numbers of top female researchers will rise. Our hope is that women's health, and in particular, Reproductive Health, will see an increase in female researchers and incentives focused on building up this important research area.
How We Did It: Led by Funmi Fapohunda, Director of Platform Engineering and machine learning specialist, the team used Zephyr Illuminate(tm)'s  to identify top researching physicians in the US based upon their having either 5 publications in the last 10 years or, having had one clinical trial in their lifetime and one publication in the last 10 years. The Top 100 were then determined by the volume of recent activity and the relative importance of their role in that research.
"We used our proprietary data linkage algorithms and machine learning to identify top researchers by disease area, much like we do for our Pharma customers, and then segmented these further by top 100," said Ms. Fapohunda.
Leilani Latimer is the VP Global Marketing, Partnerships & Commercial Operations for Zephyr Health. She is a marketing leader with proven experience taking nascent business ideas and products from concept to scale, with success in global go-to-market strategies, product marketing and planning, cross-functional team leadership, customer engagement, communications and employee engagement.