Brooklyn, New York -- It was the worst of times in New York and the best of times.
Real estate prices had plunged. Apartment buildings were being abandoned -- whole neighborhoods were being abandoned. Unemployment was skyrocketing. The crime rate was rising even faster -- New York had become the most dangerous city in the country.

A notorious New York Post headline screamed President Gerald Ford had told the city to "Drop Dead!" New Yorkers felt abandoned by their government and alienated from their own country. While America struggled through an economic recession, New York was in the grip of a nasty depression. And many thought the city was on the verge of total collapse and anarchy. Yes, it was the worse of times.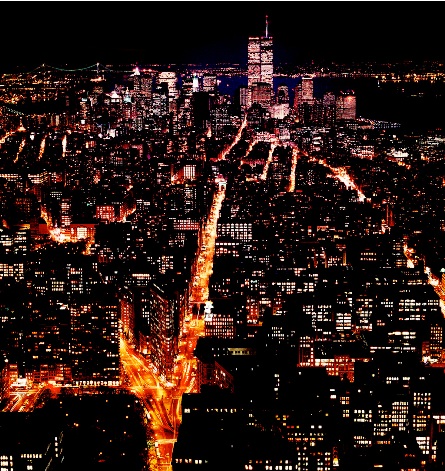 Yet, something strange and profound and beautiful also happened during those dark years. A torpedo of energy shot through lower Manhattan. A diverse group of young people coalesced and formed a unique community. It was a gathering of a new artistic scene that blossomed into a subculture dedicated to creativity. New York might be collapsing, but they were determined to make it the best of times.
Downtown Calling chronicles this artistic explosion in a discarded and crumbling New York City. This fine documentary delivers on details and gives us the broad strokes. The time covered is roughly between 1978 and 1985 and the subject is the art and music scene in lower Manhattan, mostly in Soho and the East Village with a foray to Harlem. This is an excellent, face-paced film that was directed and produced by Shan Nicholson, while narrated by Deborah Harry, the former lead singer and song writer of Blondie.
The artistic pillars of this dynamic development in lower Manhattan was music and art. A succession of musical styles fired the gathering tribe's enthusiasm -- Punk Rock, New Wave, Post Punk, No Wave Punk, first generation Hip Hop, underground Disco. The music was played in clubs -- in lofts, in basements, in warehouses, in spaces all over lower Manhattan that were abandoned or in derelict condition. At first there were only two clubs: CBGSs and Max's Kansas City. Then an endless number of clubs sprung up -- The Grill, Roxy, Fun House, Paradise Garage...
.
A slew of exciting art galleries also sprung up. There were exhibits that attracted not only the Downtown crowd but aficionados from throughout the city, as the music scene was doing. And there was the art out on the street. A hemorrhaging of creative graffiti painted on subway cars and building walls and sidewalks that blanketed the city with a sense of both lawlessness and aesthetic beauty ... a genuine, organic expression of a city that was simultaneously physically crumbling and artistically rising.
Undying this gathering scene in lower Manhattan was the bargain basement prices and plentiful supply of a physically deteriorating city. Store front spaces, large lofts, walk-up apartments, basements that allowed for a legion of new hipsters to live and to hang out in one area. A loosely arranged, edgy and experimental community that from the beginning was intensely self-contained and had little contact with the larger American avant-garde movement.
Not only was the physical space available, there was a psychological space that allowed for the Downtown scene to incubate into something artistically unique and profound. Although concentrated geographically, the ideas and styles sprouting out were incredibly diverse, yet diverse within the new sensibilities of the Downtown subculture. After all, this was anti-Studio 54 crowd.
Downtown Calling moves swiftly from archival footage to pointed interviews to choice photographs. It presents the participants' voices and the visual imagery of a colorful and creative era, one that has strangely been neglected by history -- possibly because it was sandwiched between and also coexisted with the huge uproar of the 1960s and then the Reagan conservative onslaught of the 1980s. We hear from New Yorkers ranging from DJ AM to Mayor Edward Koch, and nearly every facet of the scene is covered.
So, why as the 1980s started to wane did the Downtown party end? Several reasons. Crime had become intolerable and the law-and-order Rudy Giuliana was elected mayor. The city's economy returned, with huge tax abatement for building luxury apartment buildings. Today Mayor Michael Bloomberg's vision of New York is antithetical to a grassroots art community. His vision is a New York that is a "luxury city," where the gritty and inexpensive are replaced by the clean and orderly; the blue collar culture with small businesses are replaced by corporate culture, especially financial and insurance corporations. New York today, including Downtown, is, as someone says in the film, driven by "a money culture."
New York today is a new type of bad, one not with crime out of control and the physical structure of the city collapsing, but one with money and greed out of control and basic morality collapsing. It's certainly a bad that is not as bad as in the 1970s and 1980s, but it's not good. It's bad.

I watched Downtown Calling at the Royal Flush Festival in Williamsburg, Brooklyn, a neighborhood many consider the inheritor of the Downtown creative spirit. Royal Flush is certainly stretching the boundaries with an eclectic mix of music and film and art. Yet, the physical foundation of cheap and plentiful does not exist in Brooklyn. The physical foundation for a resurgence of Downtown across the East River probably can not happen.
At the Q&A after the screening, director Shan Nicholson said he was not optimistic about the return in New York of large-scale grassroots creativity. "Money was not an issue back then," he said referring to the Downtown movement, "today money is an issue."
CBGBs the iconic club of the Downtown scene is today a boutique for high-end men's fashion. The cost of living in Brooklyn is nearly as expensive as Manhattan. Mayor Bloomberg's "Luxury City" may be the death of New York as a Mecca for emerging art. Yet, when history lives, life can again be history. Never exactly, but approximately.
Downtown Calling is a film that takes us back to the worst and the best of New York. Back to an important, vibrant time that we desperately need to remember. A time when a dynamic and creative group of New Yorkers, standing in the ruins of their city, in a city nearly out of control, found a way to make art and to make New York a better city. See Downtown Calling and never forget the Downtown time. And always remember it can happen again. Both the bad and the good. But mostly remember that art can re-explode in our city and take it to a higher, much better level. It may be starting to happen right now!
Popular in the Community