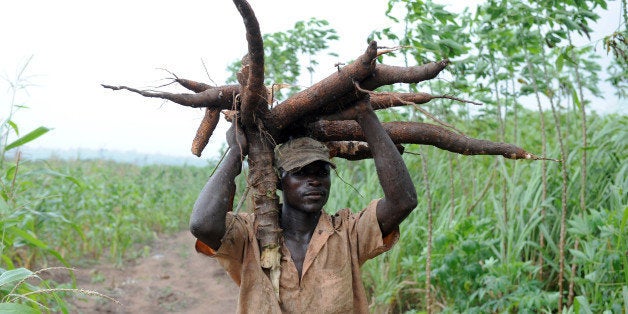 In South Asia farmers are using lasers to level their lands, which can reduce the amount of water needed for their rice crops by 25 to 30 percent.
In Nigeria, 14 million farmers have registered with the government via their cell phones, a communications conduit now used to send coupons for seeds and fertilizers that in the future can provide a host of other services, from crop insurance to early warnings about threats from pests and plant disease.
In India, 30 million small-scale farmers are now insured with policies that pay out as soon as weather conditions deteriorate, while in East Africa 11 million people are tuning in for Shamba Shape Up, a popular reality television program focused on keeping farms productive as climate change threatens their livelihoods.
These are just a few examples of efforts underway around the world to help smallholder farmers deal with the most alarming aspect of climate change: the threat it poses to our world's food systems. Scientists warn that abrupt shifts in growing conditions already are reducing yields of important food staples. And they are concerned that climate stresses are likely to cause massive losses in tropical fisheries and threaten livestock that sustain the world's poorest people.
To adapt, the focus now is on developing a wide array of capabilities collectively called "climate-smart" agriculture. Agriculture is climate-smart when it contributes to the sustainable increase of food productivity, improves farmers' resilience to climate change, and reduces the carbon footprint of agriculture.
This week at the United Nations Climate Summit, the world took an important step back from the brink of a grim future filled with food crises by embracing the cause of climate-smart agriculture. UN Secretary General Ban Ki Moon announced the formation of a new Global Alliance for Climate-Smart Agriculture. Over the next two decades, the Alliance aspires to reach 500 million farmers, fishers, pastoralists, livestock keepers and foresters -- equivalent to half of the world's one billion small-scale farmers -- with climate-smart practices. The goal is to ensure food production can survive amidst much higher temperatures and far more frequent encounters with drought, flooding and violent storms.
The Summit has attracted world leaders from government, business, civil society and research who are increasingly anxious to address the triple threat facing food production.
There are already a billion people who don't get enough to eat and by 2030, there will be an additional 2.4 billion people to feed. Meanwhile, even if we act today to significantly curb emissions, the amount of heat-trapping greenhouse gases already in the atmosphere is sufficient to cause unprecedented climate stresses for farms and fisheries deep into the 21st century. Finally, there are major environmental threats to food production, such as the falling water tables in the irrigation-dependent rice and wheat belts of India and the dead zones caused by fertilizer run-off in the once abundant fisheries of the Gulf of Mexico.
Data compiled by the UN and research institutes known as CGIAR indicate that by 2030 there will be about one billion people producing food -- most of them working on small plots, keeping animals on marginal lands, or fishing with simple vessels. To survive these many challenges, the ambitious goal is to help at least half of them -- 500 million -- use the tools and techniques of climate-smart agriculture.
Already, we are seeing food producers compelled to rethink what works as climate change confronts them with new crop diseases and pests, higher temperatures and stingy rains, and scrambles previous certainties about the mix of species that can survive on farms and in coastal waters. We are finding even in remote, poor areas there is an eagerness to do what it takes to survive, adapt, and grow.
As a result, farmers make better decisions and start managing their climate risks. And the more they learn, the more they demand new technologies. Adaptation appears imminently achievable.
Climate change is the defining challenge of our generation and food security could be its first victim. Thankfully there is large toolbox of climate-smart technology and practices to draw from and farmers appear willing to innovate and adapt. What we need now is a widespread support for the Global Alliance for Climate-Smart Agriculture so that farmers will have the resources required to achieve order in the chaos that climate change could bring.
This post is part of a month-long series produced by The Huffington Post in conjunction with a variety of events being held in September recognizing the threats posed by climate change. Those events include the UN's Climate Summit 2014 (that was held Sept. 23, 2014, at UN headquarters in New York) and Climate Week NYC (Sept. 22-28, 2014, throughout New York City). To see all the posts in the series, read here.