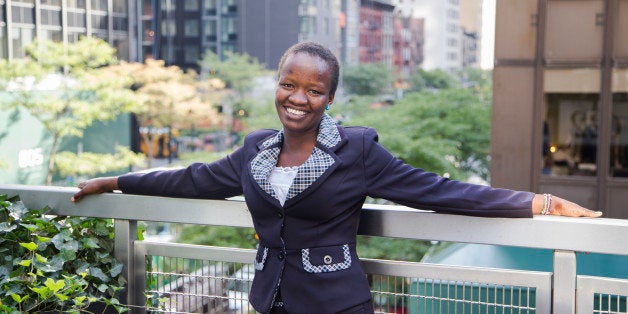 Nancy Tomee is a young woman from the Pokot community in Kenya, where female genital mutilation (FGM) is traditionally practiced as a rite of passage to womanhood.
Female genital mutilation comprises all procedures involving the partial or total removal of the external female genitalia or other injury to the female genital organs for non-medical reasons. It currently affects some 130 million girls and women in 29 countries in Africa and the Middle East, and millions more girls like Nancy are at risk each year.
When Nancy's family decided she was old enough to undergo FGM, she refused and escaped by struggling free and running away. Nancy resisted FGM for seven long years, during which she endured much bullying and abuse.
When Nancy returned home after completing her primary education, her parents again pressured her to undergo FGM. She was able to avoid that fate once more thanks to a local group that persuaded her parents to allow her to undergo an alternative rite of passage.
Today, she is 21 years old and a passionate advocate for other girls who want to escape FGM. In September 2014, Nancy was invited to speak at the United Nations Headquarters about her efforts to end the practice. I had the chance to meet Nancy during her visit and was deeply impressed by her courage and determination. She told me she would like to become a medical doctor someday to protect girls from practices like FGM.
Today is the International Day of Zero Tolerance for Female Genital Mutilation, and this year's theme is a call to action for health workers around the world to mobilize against FGM. The United Nations Population Fund (UNFPA) and the United Nations Children's Fund (UNICEF) lead the largest global program to accelerate the abandonment of FGM, with a focus on 17 countries in Africa and the Middle East.
FGM is not only a violation of human rights, deeply rooted in social norms and tradition, it also has serious consequences for the lives and wellbeing of girls and women. In addition to the immense pain and suffering, it is a threat to maternal and newborn health. Women that have undergone FGM face an increased risk of obstetric complications. They are also more likely to see their childbirth end in stillbirth, and children born to women that have undergone FGM are more likely to die in early infancy.
The sad reality is that some health professionals succumb to social pressure to perform FGM. Around one in five girls that have undergone FGM have been cut by a trained health care provider. In some countries, the numbers can be as high as three in four girls. There have been reports of some health workers taking payments to perform FGM. This cannot be ignored. Laws and medical guidelines must clearly and unequivocally condemn such actions and ensure that violations are met with consequences.
Partners like Johnson & Johnson provide generous support to UNFPA's efforts to strengthen the capacity of midwives. In addition, the UNFPA-UNICEF Joint Program helps strengthen health workers' skills in FGM prevention and care in 17 countries.
Health workers are increasingly standing up against the practice. Today, in Mauritania, a woman giving birth to a baby girl knows that her midwife will inform her about the harms of FGM and will intervene if someone tries to pressure her into it. This is because the National Association of Midwives has publicly declared that it opposes FGM and that it will actively promote its abandonment in the communities that its members serve.
The Joint Program also supported Burkina Faso to strengthen the capacity of as many as 300 health workers to eliminate FGM and set up a hospital program to repair the consequences of the practice.
These and many other inspiring actions are being taken by health workers in grassroots communities to show their determination to put an end to FGM. And even if you are not a health worker, you can speak out and take action.
I am therefore challenging you as readers:
What can you do to help us eliminate female genital mutilation in this generation?
Editor's Note: Johnson & Johnson is a sponsor of The Huffington Post's Global Motherhood section.
Related