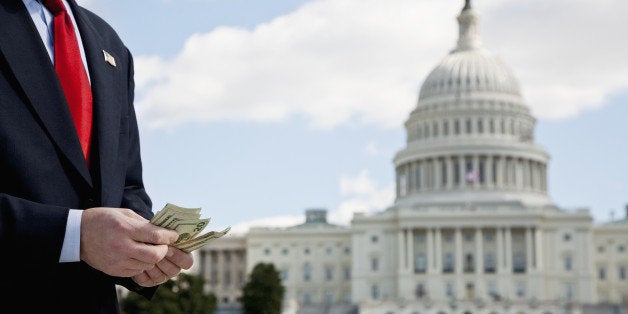 I challenge any presidential candidate: is our government corrupt? Let's see them talk their way around the follow-up question: what are you going to do about it? Only three candidates are willing to say that the system is corrupt: Bernie Sanders, Donald Trump, and Lawrence Lessig. But Trump has no solution to the problem, while the other two do.
To a crowd in South Carolina on August 22, Bernie came at the issue head-on, "The American political system today as a result of Citizens United has been totally corrupted and the foundations of American democracy are being undermined."
Lawrence Lessig offers the most iron-clad solutions, including the American Anti-Corruption Act and a 28th Amendment to the Constitution that overturns Citizens United. But he's the least known of the three.
Trump talks about corruption, while also being a benefactor of that corruption. Over the past 26 years, he's given $961,140 to Republicans and $584,850 to Democrats, not for nothing. He's even given money to support Hillary Clinton in the past. So it's not surprising that he has no plan to fix the problem of corruption.
By contrast, Sanders explains, "5 years ago as most of you know, by a 5 to 4 decision, the Supreme Court of the United States dealt poorly with the citizens of the United States. And what the court said in their disastrous decision; this is what they said, they said to the wealthiest people in America, 'you already own much of America. You own the economy. Now we're going to give you the opportunity to purchase the United States government.' and that is what they are trying to do right now."
But Sanders' solutions are big Pollyanna wishes to get at the root of the corruption, while Lessig is a champion in this area. Sanders said, "I have not made many campaign promises so far, but let me make one to you right now. And that is: any nominee of mine to the U.S. Supreme Court will make it loud and clear before that name goes to the Senate, that he or she will vote to overturn this disastrous Citizens United."
If only the Senate would confirm such an individual.
No. The president isn't going to combat corruption. Only the citizens can do it properly. I've lost count of the number of folks who've told me "Let's get rid of them all," when speaking about Congress. "Start over again." That's what they say. Now let's actually do it.
Calling all HuffPost superfans!
Sign up for membership to become a founding member and help shape HuffPost's next chapter