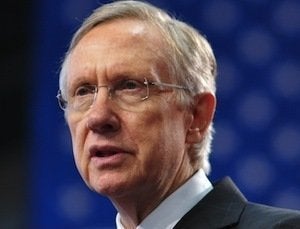 Senate Majority Leader Harry Reid (D-Nev.) joined the growing chorus of elected officials demanding a moratorium on foreclosures this week in response to mounting furor over revelations that banks have used bogus affidavits to take people's homes away.
"I write to request that your mortgage-servicing division suspend foreclosures on Nevada home owners until systems are in place to ensure Nevadans are not being improperly directed into foreclosure proceedings," said Reid in an Oct. 3 letter to Ally Financial, Bank of America, Wells Fargo, Citigroup, and JPMorgan Chase.
Several of the nation's largest banks have already halted foreclosures in the 23 states where a court's approval is required to foreclose. Ally (formerly known as GMAC), Bank of America, and JPMorgan have paused foreclosures after employees admitted in sworn depositions they didn't verify information in thousands upon thousands of affidavits they signed.
Nevada is not a "judicial foreclosure" state, but, Reid wrote, "suspending foreclosures on Nevadans is also justified because the reports of shoddy and defective affidavit preparation suggest that servicers might not be reviewing a home owner's loan documents with the requisite care."
The still-unfolding paperwork scandal is reminiscent of the predatory lending and "liar's loans" that inflated the housing bubble in the first place. Homeowner advocates say servicers are cutting corners by relying on "robo-signers" to produce bogus affidavits after losing paperwork as mortgages have been repackaged into securities and repeatedly sold on Wall Street.
Sens. Al Franken (D-Minn.) and Bob Menendez (D-N.J.) on Tuesday asked the Government Accountability Office to investigate, and Sen. Jeff Merkley (D-Ore.) sent a similar request to the Treasury Department. Sen. Sheldon Whitehouse (D-R.I.) called for a national moratorium on foreclosure on Thursday, as did groups like the Leadership Conference on Civil and Human Rights, the National Fair Housing Alliance, National Council of La Raza, the NAACP and the Center for Responsible Lending.
"My state of Rhode Island leads our region in foreclosures, and I have seen firsthand the devastation that losing a home brings a family," wrote Whitehouse in a letter to Fannie Mae, Freddie Mac, and the Federal Reserve. "Until the major loan servicers demonstrate that they (1) are making every reasonable effort to keep families in their homes through loan modifications and/or forbearance; and (2) have the capacity to properly and respectfully carry out foreclosures, I ask that you impose a moratorium on all foreclosures on homes that secure the mortgages you hold or control."
House Speaker Nancy Pelosi and other California Democrats asked the Justice Department, the Federal Reserve, and the Office of the Comptroller of the Currency to launch investigations into foreclosure fraud on Monday. "Left to their own devices, [the banks] no sense of community, no sense of what's right for our country," Pelosi told HuffPost. "Just get something so we can turn it into a financial instrument so we can short it or long it or whatever, and privatize the gain and nationalize the risk, both to the taxpayer, to the homeowner, to the consumer, it's stunning. This is a very big deal."
The calls for moratoriums and investigations have come mostly from Democrats, but Republicans have piped up as well. Sen. Richard Shelby (R-Ala.) joined the calls for an investigation on Wednesday. A spokesman for House Republican Leader John Boehner (Ohio) told HuffPost, "At a time when economic uncertainty and unemployment are putting great pressure on homeowners and the housing market, it is imperative that we get all of the facts about this situation, and quickly."
The uproar over foreclosures led President Obama to effectively veto a bill passed by Congress last week without debate that consumer advocates said would have made it more difficult to fight bogus affidavits. Consumer advocates called the bill's timing suspicious; Ohio Secretary of State Jennifer Brunner said it was "almost like a trap door" for banks needing an out from the paperwork scandal.
REAL LIFE. REAL NEWS. REAL VOICES.
Help us tell more of the stories that matter from voices that too often remain unheard.