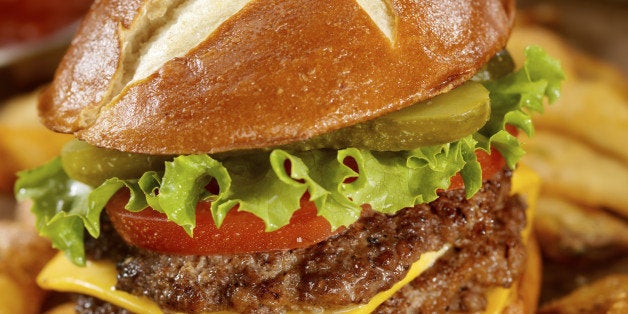 Americans will soon know just how many calories are in that fast food burger they're about to buy. But that won't necessarily make them think twice about buying it.
The Food and Drug Administration last week announced new rules requiring fast food chains, vending machine companies and other restaurants with more than 20 locations to list the number of calories in each of their menu items. The regulations, which came out of a provision of Obamacare, aim to help diners make "informed choices for themselves and their families," FDA Commissioner Margaret A. Hamburg wrote in a press release.
But extra information may not translate into healthier choices, experts say. With a few exceptions, "the overwhelming majority of the research" finds that diners don't eat less when restaurants post the number of calories in their meals, according to David Just, a Cornell professor who has researched how portion labeling influences food choice.
People who make dining decisions based on calorie counts already have a pretty good sense of how many calories are in a Big Mac or burrito, Just noted. And most diners who head to a restaurant chain go for a specific item and rarely look at the menu anyway, said Maeve Webster, a senior director at DataSsential, a company that studies food trends. If customers don't look at the menu, they won't see how many calories are in that serving of french fries.
"It will be a very rare case where a restaurant will full-on lose customers by putting calorie counts up there," Webster said.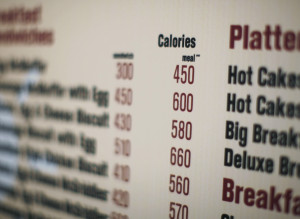 This July 18, 2008, file photo shows a McDonald's drive-thru menu in New York, printed with calorie counts for each food item.
Probably the biggest reason why adding calorie counts doesn't typically change diners' behavior is that many people "have virtually no understanding" of how many calories they should be eating or even what constitutes a healthy meal, Webster said. For some, calorie counts are just "white noise" on an already crowded menu, she said.
In some cases, listing the calories on the menu may even trick diners into thinking that unhealthy items are normal, Webster said. For example, if people see a 2,000-calorie burger at a variety of different restaurants, they could begin to think that a burger should have 2,000 calories. For some perspective, an average quarter-pound cheeseburger with ketchup on a bun has about 400 calories, according to FitDay, an online dietary and weight loss journal.
The FDA rules do offer some help for diners trying to make sense of calorie counts, by requiring that eateries post a statement that says: "2,000 calories a day is used for general nutrition advice, but calorie needs vary."
Posting calorie counts may even push some people to eat more food rather than less, Webster suggested. Some people might think that higher calorie counts mean they're getting more for their money, just as they do with bigger portion sizes.
A 2012 study on the impacts of New York City's 2008 requirement to post calorie counts found that McDonald's customers slightly increased their calorie intake after the rules took effect.
It's also not uncommon for restaurants to add a super-high-calorie item to the menu to make a slightly less-heavy meal look healthier to customers, Just said. He added that he wouldn't be surprised to see restaurants try this tactic as the calorie count rules go into place.
Some research does show that restaurants make their dishes healthier in response to requirements to post calories. And most of the research on the impacts of calorie counts has focused on short-term results and fast food chains, according to Brian Elbel, a professor at NYU's Wagner School of Public Service who studies how people make decisions that influence their health. We still don't really know much about what the long-term effects of the policy might be, or how the rules might affect fancier establishments, he said.
Elbel's own research on the topic has found that fast food diners take note of calorie information when restaurants post it, but don't change the number of calories they eat or the number of times they visit the restaurants.
But research focused on fast food may not be a reliable predictor of how calorie counts affect behavior in other contexts, Elbel said. That's because people typically don't head to fast food restaurants with the intention of ordering something healthy. They're looking for something that's cheap and quick.
Health may be more of a priority when ordering at sit-down chains, which are included in the FDA's rules, Elbel said. There, seeing the calorie difference between a steak and fish dish could influence a diner's order, especially given that meals at sit-down chains probably have more calories than most diners think.
"They might have a lot more sticker shock from these places," Elbel said.