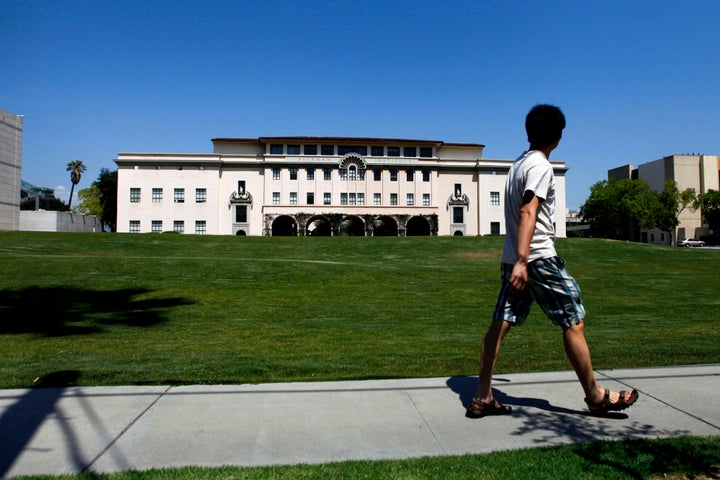 Christian Ott was scheduled to return to his job as a professor of theoretical astrophysics at the California Institute of Technology on Friday, completing a nine-month suspension for harassing graduate students he supervised.
But Ott won't be back on campus until August 2017, Caltech told The Huffington Post this week.
Ott was suspended in September after the university found him guilty of violating its sexual harassment policy, Science magazine and BuzzFeed reported in January. The decision to keep Ott at the university, rather than terminate his employment, prompted one of the graduate students who was harassed to leave the school to finish her research.
The student, Io Kleiser, plans to finish her studying at the University of California, Berkeley. BuzzFeed reported that Ott fired her from a research project with him because he was in love with her. Several other students also left the research group that Ott led, for various reasons.
Caltech said in September that Ott must "undergo professional coaching and training in how to mentor students before returning to campus." The university wouldn't elaborate on why Ott isn't returning until next year, and whether or not the delay was voluntary.
Kleiser said that university officials told her that Caltech's Title IX office had extended Ott's suspension until the beginning of the fall 2017 semester.
Ott remains the principal investigator on three grant projects funded by the National Science Foundation, Caltech confirmed, but it's unclear how involved he is in the current research. He appeared as an author on two research papers published in March and April, during his suspension. He has also tweeted that more of his work is on the way.
Ott did not return requests for comment.
Ott joined Caltech in 2009, won tenure in 2014 and last year was leading three active NSF-funded grant projects, including a prestigious, five-year CAREER award for promising young investigators.
NSF records show Caltech is the sponsor of all three grant projects, two of which will run through August 2017; the third is scheduled to end by Aug. 31 of this year. That means Ott is now slated to return just as his grants expire. It's not clear whether he will be able to do any work on the projects while he is officially barred from Caltech.
In a statement released in January, when Ott's case first became public, Caltech said it used these sanctions because the school wanted to ensure other faculty and students' "academic progress is not adversely affected."
"A demonstrable change in behavior and mentoring approach will be required before unmonitored interactions with students can resume," Caltech President Thomas F. Rosenbaum and Provost Edward M. Stolper said in January.
NSF policy also allows for a grant to be suspended or terminated in whole or in part when the foundation has "reasonable cause." That has not happened in Ott's case.
Caltech did not say whether it considered requesting his removal as PI on the projects. The university reiterated that Ott "will not be allowed unmoderated contact with students" when he returns.
Support HuffPost
The Stakes Have Never Been Higher
Related
Popular in the Community