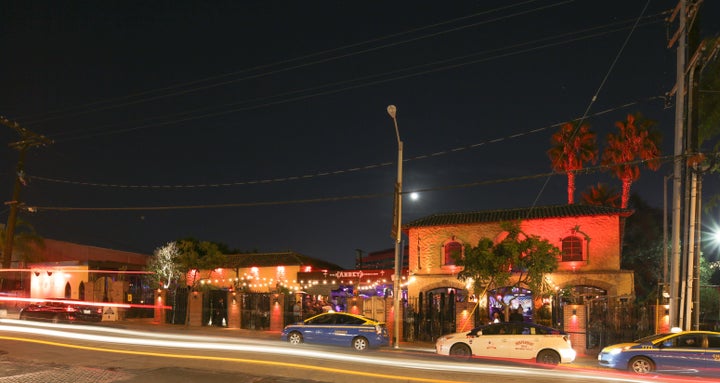 An openly gay YouTube star was charged with filing a false police report after he claimed he was beaten outside a gay nightclub in Los Angeles, which he characterized as a hate crime.
The Los Angeles County Sheriff's Department disputed Calum McSwiggan's claims of assault on Tuesday, saying that the vlogger injured himself in prison after being arrested on suspicion of vandalism.
The self-proclaimed LGBT lifestyle YouTuber wrote on Instagram and Facebook that he was brutally beaten by three men in West Hollywood after visiting gay club The Abbey following VidCon. He claimed he was left with three broken teeth and six stitches in his forehead.
"The authorities should have been there to help and protect me, but instead they treated me like a second-class citizen," he captioned a photo of himself bandaged in a hospital bed. "I've never felt so terrified to be a gay man in the public eye."
The L.A. County Sheriff's Department said in a statement that deputies who responded to the scene of the alleged hate crime early Monday morning "were unable to substantiate the assault."
They said McSwiggan was later arrested around 2:30 a.m. "after deputies observed him vandalizing a car." He "had no visible injuries" when he was booked for vandalism (for property damage greater than $400).
"Mr. McSwiggan's booking photo was taken prior to deputies seeing Mr. McSwiggan injuring himself," according to the sheriff's department statement. The photo shows no visible injuries.
The 26-year-old "was then observed injuring himself with the handle and receiver to a payphone" alone inside his jail cell at the West Hollywood Station. He was taken to the hospital for treatment, sheriff's officials said in a statement, and eventually released on $20,000 bail.
"I've been told to say nothing before court tomorrow, but staying silent here is killing us. If you're a friend, just DM me for the truth," McSwiggan tweeted on Tuesday.
On Wednesday, McSwiggan provided more detail about the alleged attack. 
"He said something about my friend Melanie and then punched me in the mouth. I blacked out quickly after this but remember being kicked in the body multiple times, I believe by all three men," McSwiggan wrote.
"In a moment of devastation, anger and blind rage I kicked the wing mirror of the attacker's car until it broke and then ripped it off with my hands. I also scratched the front of the car with the broken wing mirror before returning back to The Abbey for help."
McSwiggan was charged with the single count of falsifying a police report on Wednesday. He faces a maximum of 364 days in jail if convicted.
HuffPost contributed to this article.
CORRECTION: This article's headline previously stated that McSwiggan was charged with faking his own arrest rather than his own assault. 
Calling all HuffPost superfans!
Sign up for membership to become a founding member and help shape HuffPost's next chapter
BEFORE YOU GO
PHOTO GALLERY
Gay And Lesbian People Who've Won Oscars