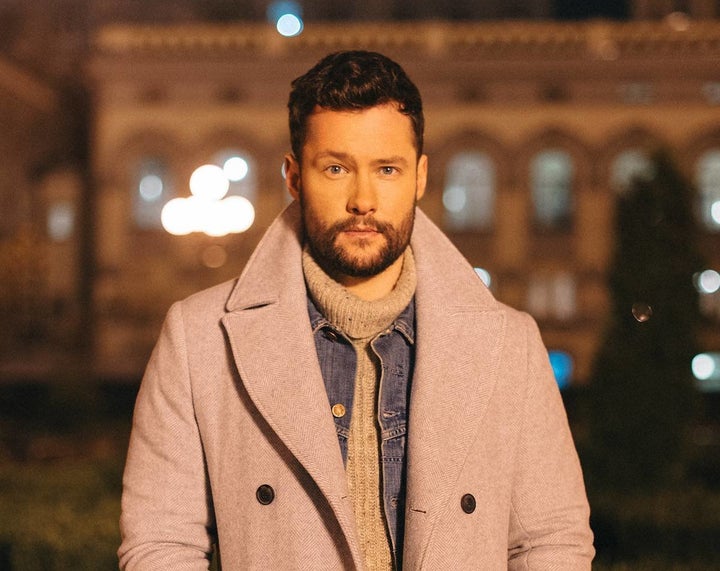 Calum Scott's success in the music industry has caught just about everyone off guard ― including Calum Scott himself.
The "Britain's Got Talent" veteran catapulted to global fame in 2016 with a silky, piano-driven cover of Robyn's "Dancing on My Own," which has received over 259 million views on YouTube and surpassed the original on the charts. Scott, who had been working a 9-to-5 human resources job in his native England before landing a spot on "Britain's Got Talent" a year prior, was suddenly recognized across Europe. A pair of live performances on "Good Morning America" and "Late Night with Seth Myers" got the U.S. to take notice, too.
The search for success beyond a novelty hit has, of course, thwarted many would-be stars. But Scott puts doubts about the dexterity of his musical chops to rest with his full-length debut album, "Only Human." Released March 9, it's well-produced and sonically cohesive, showcasing the rich, unaffected vocals that garnered Scott worldwide acclaim.
"Dancing on My Own" is there, of course, as is the sterling kickoff single, "You Are the Reason," which is one of 11 original songs. The album is at its most compelling, however, when Scott delves into surprisingly personal territory, reflecting on life, love and his journey toward living authentically as a gay man.
Check out the video for "You Are the Reason" below. 
"In the past two years, I've kind of been finding my feet as an artist because I was catapulted into the limelight, and it was quite difficult for me to come to terms with that at first," the 29-year-old told HuffPost. "The creative process has been a little bit of an experience, really ― to try and make that work for me. The only way I know how to do that is just to remain genuine, humble and true to everything I know already in my life."
Unlike other queer artists like Troye Sivan and Hayley Kiyoko, Scott said he had yet to fully come to terms with his sexuality when "Dancing on My Own" became a hit, and he shied away initially from speaking about his private life in the media. Coming out as gay "terrified me to the core," he said in a previous interview, particularly when it came to his father, Kevin, from whom he'd been mostly estranged since age 2. 
That struggle informs a number of the album's tunes, including "If Our Love Is Wrong," which Scott has deemed his "coming out" song. Meanwhile, "Hotel Room" could very well be a first in mainstream pop as a love song inspired by a gay man's unrequited feelings for a straight man. (In Scott's case, it happened to be someone he met while on tour in Asia.) 
"I'm a very sensitive bloke, and I wrote ['Hotel Room'] as a very honest, heartbroken guy," Scott said. "I'm kind of unlucky in love and I have, for some reason, always fallen for the straight guy. I don't know if it's some cruel irony, [but] I think it's because I see the good in everybody and I fall in love very deeply and quickly."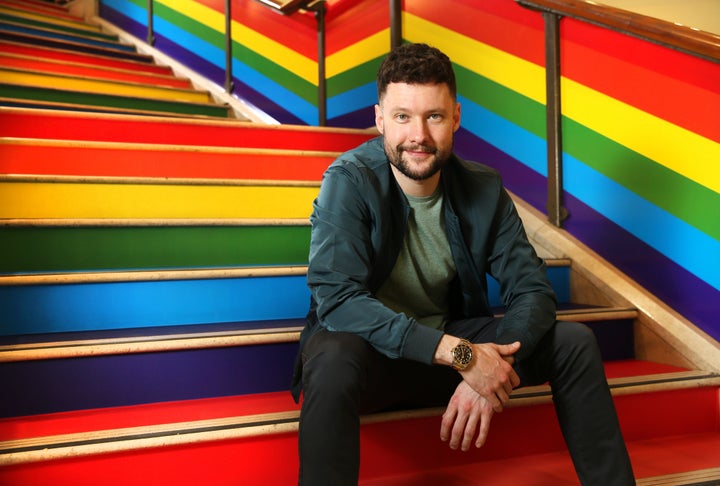 Fortunately, "Only Human" isn't mired in melancholy. As its title suggests, "Rhythm Inside" is an uptempo dance track, while rumored second single "What I Miss Most" is a rocking ode to Scott's hometown of Kingston upon Hull, England. 
If anything, those moments of pure optimism may be more indicative of Scott's current mindset. As the inaugural performer at the Gay Times Intimate & Live series at the London Hippodrome last month, he addressed his audience as "a happy, confident gay man." The moment, he said, "felt so empowering and so good."  
Preparing to kick off a European tour in Ireland Thursday, the singer said he's learning to have more fun with his image, too. He peeled off his shirt for a sexy Gay Times photo shoot and headlined at the Gay and Lesbian Mardi Gras in Sydney, Australia.
Scott's piano-driven melodies and inward-thinking persona have already been compared to another openly gay British crooner, Sam Smith. The two share a piano player, Reuben James, as well as a producer, Fraser T. Smith, and have struck up a friendship. "I love what he does. I love his music and his drive," Scott said of the Grammy winner.
[My album] is all about the fact that we're one human race and we can't help how we feel, we can't help who we fall in love with. Just celebrate who you are and be happy with you are.

Calum Scott
He's hopeful a collaboration with the "Stay With Me" singer will one day be in his future, too. "Two gay guys doing a beautiful duet ― I think it would just be so powerful, you know. I think the blend of us together would really work," he said. "We've always thought it would lovely to do a duet with two male voices [but] I suppose the best things happen when they're unexpected. So we'll see. I have my fingers crossed."
Like Smith, Scott would ultimately like to "inspire bravery, strength and courage" among his fans, whether they identify as LGBTQ or not. If there's an overriding message to be found on "Only Human," it's that "all will happen in your own time," he said.
"[My album] is all about the fact that we're one human race and we can't help how we feel, we can't help who we fall in love with," he said. "Just celebrate who you are and be happy with you are. Take all the ups and downs together, as you're only human."  
REAL LIFE. REAL NEWS. REAL VOICES.
Help us tell more of the stories that matter from voices that too often remain unheard.
BEFORE YOU GO