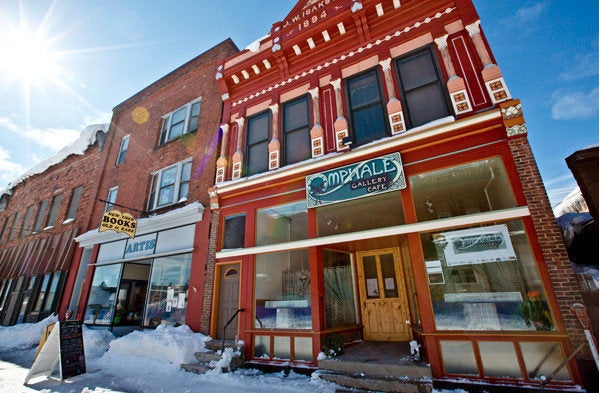 The first time I ventured to Calumet in the Keweenaw Peninsula I was struck by the wide, mostly empty streets--and Shute's Bar. What I was seeing at the time was a testament to a robust mining era of days gone by. That was back in the late '70s. Today, Calumet has changed in appearance--much like I have--and is now a really cool place to go for a number of reasons (including Shute's Bar, which is still there).
The reason it is such a cool place has everything to do with the decade-long efforts of Main Street Calumet. Administered by the Michigan State Housing Development Authority,, MSC has an office staff but also works with and relies on an army of volunteers and other concerned citizens, business and property owners, and also partners with village township staff and officials.
They've all worked together to attract business and investment to Calumet and residents to the downtown district, while preserving the historic structures that make this place so unique and such a pleasure to stroll through on a bicycle or by foot.
"Calumet's traditional downtown is one of the most pedestrian and bicycle-friendly communities in the state," says Tom Tikkanen, executive director for MSC. "The extraordinary history and architecture found in Calumet has inspired local artists and artists that have relocated here to open a number of galleries, which in turn or concurrently, have supported a number of fine eating establishments and coffee houses."
Tikkanen and others have done such a great job with this initiative, one of only two granted in the U.P. (the other Michigan Main Street recipient in the U.P. is Iron Mountain), that they've been bestowed award upon award for their hard work, including the Main Street Manager of the Year, given to Tikkanen in 2007, the Michigan Main Street Project of the Year for 2007, for three façade rehabilitation projects, and the 2008 Governor's Award for Historic Preservation.
But so much for awards. Visit Calumet sometime and you'll see why it's someplace special, perhaps even a best kept secret. It's a town with a fascinating history, mostly centered around the copper mining that took place in the late 1800s and early 1900s.
That period of prosperity, which sharply declined before the Great Depression, produced some awesome landmarks (including the Calumet Theatre, the First Presbyterian Church, which is now the Calumet Art Center, and Keweenaw Heritage Center, which operates out of the original St. Anne's Catholic Church) that are now being preserved, by the efforts of the MSC, the National Park Service and other groups. And that doesn't include Calumet's close proximity to the natural beauty of its woods and lakeshore.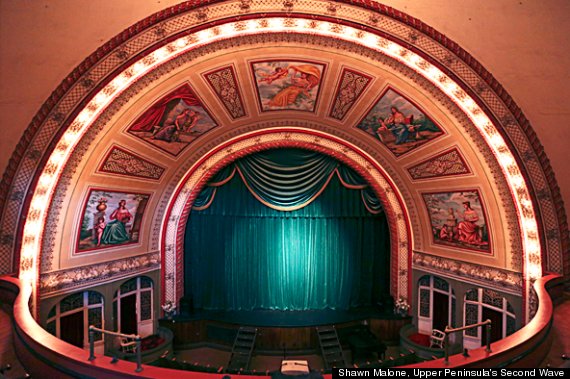 "Calumet is located at the geographic heart of the Keweenaw Peninsula. People who visit or reside here can travel a short distance and find themselves in the midst of incredible natural splendor," says Tikkanen.
Calumet is not one to languish in the past, only to call attention to it. Thanks to revitalization efforts, it's a place that is moving forward. A robust tourist trade keeps things hopping in the summer, and winter events, such as the Copper Dog 150 sled dog race, attract winter visitors. And don't forget the Pastyfest! This event celebrates an all-in-one Cornish meal, consisting of kind of a beef and vegetable stew wrapped in a flour pastry the copper miners took in their lunch pails down to the mines. Calumet is also home to the Red Metal Radio Show and the International Frisbee Tournament, two events for which the MSC is the financial fiduciary.
The revitalization work in Calumet is not finished, however. There are several projects MSC is involved with, including one on Sixth Street. Calumet was recently awarded a grant in the amount of $505,600 which will be used to rehabilitate 13 apartments in the former Morrison School building, according to Julie Gardner of MSHDA. There is also work going on over on Fifth Street to what is known to locals as the Payne Webber building. Through a cooperative effort of MSC, the Village Downtown Development Authority and the Keweenaw National Historic Parks, the building has been stabilized with a new floor and roof. It will be available for private investment for development for office, retail, or art studio space later this spring, according to officials.
"Overall, these projects are important for increasing the number of downtown residents," says Tikkanen.
The revitalization of Calumet didn't happen by accident. Main Street Calumet has been awarded for its efforts to implement the National Main Street Center's four-point approach, which consists of volunteers serving on the following committees: organization, promotion, design, and economic restructuring. The MSC director said this approach is a "proven comprehensive method for downtown revitalization."
So what's next for Calumet? Tikkanen says the MSC wants to continue to expand and maintain Calumet's "sense of place" by expanding downtown retail and commercial venues and strengthen its role as the Keweenaw's cultural and civic center.
They are also looking to establish a district heating system utilizing thermal energy from mine shaft water. Thanks to the efforts of the community and outside agencies, some things will never disappear in Calumet, like the architecture, the pasty--and hopefully, Shute's Bar.
Read more stories from Michigan's Upper Peninsula at Second Wave.
Main Street Calumet Partnerships
As an organization, MSC has assisted the Calumet community in building cross-sector partnerships at the local, state, and national levels. MSC's partnerships have included:
- Village of Calumet & Historic District Commission
- Charter Township of Calumet
- Downtown Development Authorities (Village & Township)
- Keweenaw National Historical Park & Advisory Commission
- Calumet Public Schools
- Michigan Main Street & National Main Street
- Michigan Economic Development Corporation
- Michigan State Housing Development Authority
- Michigan State Historic Preservation Office
- United States Department of Agriculture
- Local nonprofits: Coppertown USA, Heritage Center at St. Anne's, Calumet Theatre, UP Firefighter's Museum
- Keweenaw Peninsula Chamber of Commerce & Keweenaw Convention & Visitors Bureau

Statistics
Net downtown results achieved through MSC's partnership efforts since 2005 - 2011:
- 22 new businesses established
- 20 commercial buildings purchased
- 67 net jobs created
- Over $15 million for community infrastructure improvement projects and building rehabilitations through grant opportunities
- Over $3.3 million in private investments by downtown Calumet business and property owners.
Related
Popular in the Community