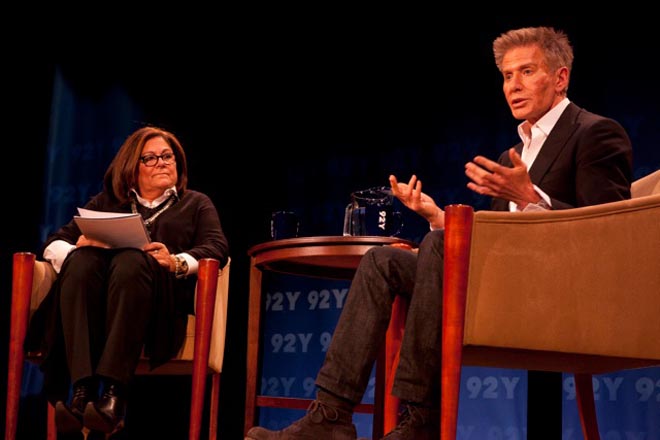 Joyce Culver for 92nd Street Y
Calvin Klein rarely gives interviews these days, so we were all ears when the fashion legend sat down with IMG Fashion Week creator Fern Mallis at New York's 92nd Street Y last night. The hour-long talk covered topics ranging from the designer's formative years in the Bronx to his famously provocative ad campaigns.
Klein said his interest in fashion began at age 5, and noted that his childhood surroundings influenced his future design aesthetic. "I grew up in an environment that was very baroque, and always loved simplicity and purity. Everything had to be pure, minimal and strong."
While his boyhood pal Barry Schwartz was an early supporter (and later business partner), not all his neighbors were on board with his creative interest. "Most people didn't understand," he recalls. "They were playing baseball and I was going to art classes." But he wasn't the only future fashion icon in the area. "Ralph Lauren grew up in the same neighborhood, and Ralph always dressed in a sort of peculiar way. I was the edgy one and wanted to look like some tough guy."
Klein reminisced about his decision to launch his eponymous collection in 1967, and his subsequent forays into jeans, fragrance and underwear. Regarding the latter, he revealed, "My second wife Kelly worked with me in the design studio for a long period. CK One was a fragrance for women and men, and underwear was same idea. Kelly would wear my white shirt and I thought it was really sexy to see women in something that reminded me of men's underwear." The designer noted that he still wears his signature skivvies. However, "I wear other people's underwear too, because I want to check out the competition."
In fact, his logo-bearing undergarments earned his brand a memorable mention in "Back to the Future" long before product placement was de rigueur in films. (Remember this scene?). "I found it embarrassing," he says.
Klein recounted another blush-inducing anecdote involving an interview daughter Marci (an Emmy-winning producer for "30 Rock" and "Saturday Night Live") gave to a magazine. "She said, 'Every time I go to bed with some guy I'm looking at my dad's underwear,'" said Klein. "I said to my psychiatrist at the time, 'I don't thing that's very funny.' He said 'lighten up.'"

Klein, of course, has long courted controversy with his suggestive advertising. He remembered receiving flak for an infamous Broadway billboard back in 1980. "Patti Hansen was great beauty of the time," he notes. "We had someone shoot her on her hands and knees -- she had this incredible mane of hair. People were really upset. That didn't win me a lot of friends, but I believed in reaching people -- especially when making products that a lot of people can afford to buy." But Klein says he didn't intend to be a provocateur. "We never did any of the creative, thinking it would cause controversy… We just thought of creating something exciting that would push the envelope, but not be vulgar, and would be sexual and sensual."
And creative inspiration often came from unexpected sources. Klein remembers the moment he named his Eternity fragrance. "The Duchess of Windsor passed away and they had a sale of her jewelry at Sothebys," he says. "There was a catalog and a ring that the Duke had given her, a diamond band that was called an eternity ring."
Casting the waifish Kate Moss in some of his best-known campaigns was another obvious choice. "A lot of women were getting implants in their breast and buttocks, and I found something so distasteful about all of that," he observes.
Asked whether he still follows the company's decisions (creative director Francisco Costa is currently the brand's most recognizable face), Klein replied, "Sometimes when I see the visuals, I think if I were doing that I would do it differently -- but I'm not. If I can't control it, why get upset about it?"
Klein says that while he's often asked to name a career highlight, ultimately, "it's the combination of all the work; it's not one collection. It's about all the years of constantly doing the best you can do, and to me that's the definition of success."