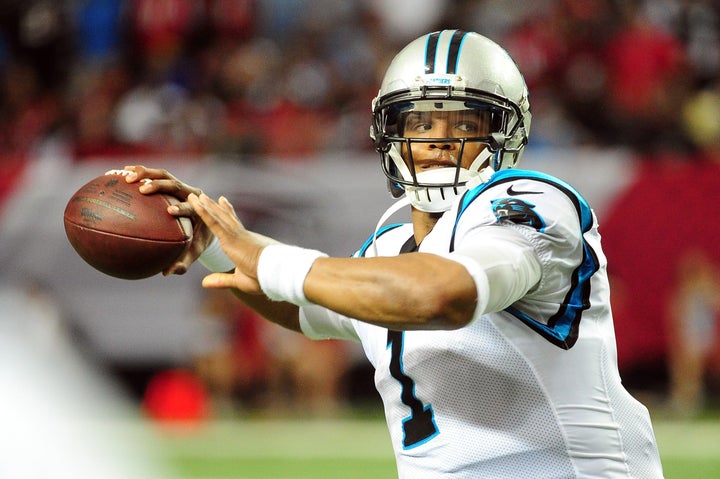 Once again, someone wrote a questionable letter to the editor of the Charlotte Observer complaining about Carolina Panthers quarterback Cam Newton, and once again, the Observer decided to publish it.
Last time, the topic was Newton's dancing and the traumatic effects it might have on children. This time, the newspaper posted a letter to the editor in which a woman criticized Newton for *gasp* having a child out of wedlock. It is titled, "Cam should marry his son's mother."
Here it is in its entirety:
In response to "The Chosen One: baby will change Cam's life (Jan. 1):

So the man whom we celebrate, and with good reason, has produced a son. Congratulations would be in order if he had been man enough to marry the mother of his child and make a home. This happy occasion is blighted when Cam, whose own parents were married, skips the very basis of being a good parent.

I am just very sorry and very disappointed.

PATRICIA S. BRODERICK, MOORESVILLE
Newton took to Twitter on Dec. 30 to announce that he and his girlfriend Kia Proctor had recently welcomed a child, adding that he had kept the baby news private to avoid distracting his team.
Newton has been unearthly this year. He may very likely win the 2015 NFL MVP, and he has led the Panthers to a 15-1 record and the No. 1 seed in the NFC playoffs. Off the field, he's been just as good, doing charity work around the city and making sure to give all of his touchdown balls to little kids in the stands.
Nevertheless, for some reason, the Observer has decided to provide Ms. Broderick a megaphone to talk not about Newton's play, or even his actions on the field, but about the most personal of things: a newborn child.
ESPN's Bomani Jones and Deadspin's Greg Howard probably had the most appropriate reactions to the letter:
Here's a question: Why does the Observer continue to feel the need to publish pieces that blatantly intrude on the personal life of the hometown quarterback? As previously mentioned, The Observer posted that editorial from the Tennessee mom who was apparently disgusted by the quarterback's dancing after scoring a touchdown.
Here's another question: Could you imagine the Boston Globe publishing a letter to the editor ridiculing Tom Brady in February 2007 when his then-girlfriend, Bridget Moynahan, was pregnant with his child? Of course not, and that's just another example of the double standard that black quarterbacks and so many other prominent black Americans have to deal with in the press.
Related
Popular in the Community