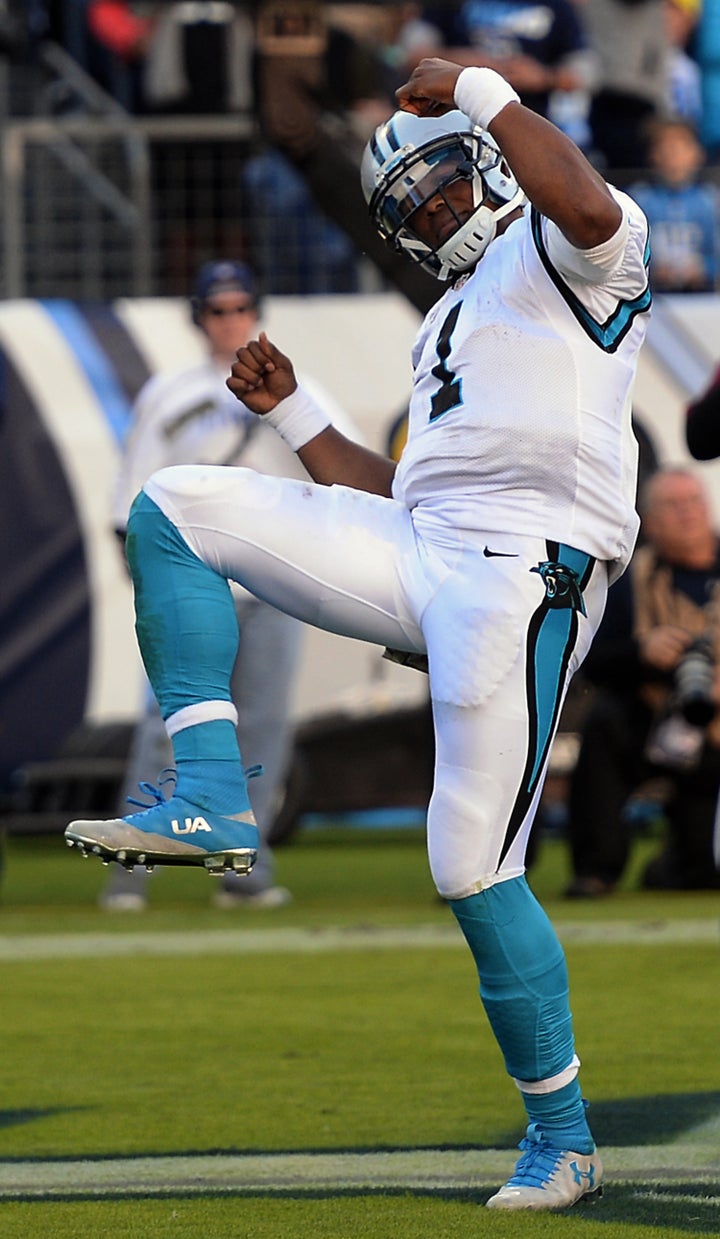 Earlier this week, a mother of a young Tennessee Titans fan harshly condemned Carolina Panther Cam Newton in an open letter concerning a certain touchdown dance by the quarterback. The letter, which was extremely serious for a letter about dancing, went viral.
"Because of where we sat, we had a close up view of your conduct in the fourth quarter. The chest puffs. The pelvic thrusts. The arrogant struts and the 'in your face' taunting of both the Titans' players and fans," the letter reads in part. "We saw it all."
Everybody is entitled to their own opinion. You can't fault her for that. It is what it is. If she feels offended, I'll apologize to her, but at the end of the day, I am who I am. I'm not doing it to be disrespectful to nobody, more so just doing it just to shine light and get people a smile and having fun doing what I do.
I really appreciate his comments and his respect for my thoughts, and I was impressed with the sensitivity and graciousness with which he spoke. I am sorry I didn't understand him better until this week. It is clear from his remarks that he recognizes his leadership role, both on and off the field, and that he truly cares about the kids watching him. I respect his comments just as much as he did mine, and I wish him nothing but continued success on the field and in life.
Plorin's initial letter went viral this week after it was published in The Charlotte Observer following the Panthers' 27-10 road win over the Titans on Sunday. Plorin reacted strongly, and wrongly, to a series of Atlanta-based hip-hop dance moves -- the "Dab" and "Hittin Dem Folks" -- that Newton laid down after scoring a two-yard touchdown on an awful Titans football team.
Plorin brought her daughter to her first NFL game that day, and was sitting right in front of the endzone Newton danced in. Ostensibly, she questioned Newton's status as a role model:
I refuse to believe you don't realize you are a role model. You are paid millions of dollars every week to play hard and be a leader. In the off season you're expected to make appearances, support charities, and inspire young kids to pursue your sport and all sports. With everything the NFL has gone through in recent years, I'm confident they have advised that you are, by virtue of your position and career choice, a role model.
The 9-0 Panthers return to Carolina this Sunday to face off against a semi-resurgent Washington football club. Newton will likely score and celebrate and should do so without any trepidations. We get you, Cam, so heading into the weekend, we have just one note of encouragement: Keep on dancin' on them. 
PHOTO GALLERY
Amazing Photos From The 2015 NFL Season
Calling all HuffPost superfans!
Sign up for membership to become a founding member and help shape HuffPost's next chapter