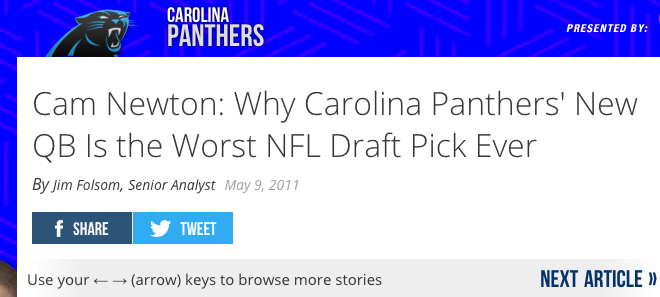 This take is so hot, it might have scorched your eyebrows off.
Newton has been dancing in the end zone all season long.
There have been a number of hot takes on Newton throughout his career, but there is something so delectable about the hyperbole of this headline in particular. Worst NFL draft pick EVER?! As in, of all time? As in, worse than Ryan Leaf, JaMarcus Russell and Tim Couch, among so many others? OK.
Folsom felt so passionately about his stance in 2011 that he started his article with a guarantee.
"Cam Newton is a sure-fire bust," Folsom wrote. "I am so certain of this that if he is the Panthers' starting quarterback in 2016, I will buy a Cam Newton jersey and stand in the stadium parking lot in my underwear."
And that's just how he started this diatribe. Folsom went on to list a number of reasons why he thought Newton would fail, even mentioning that he "is no brainiac." 
It's unclear how the sports writer was drawing his conclusions: Newton joined the Panthers in 2011 coming off an undefeated season with Auburn, the 2010 Heisman Trophy in hand.
Folsom concluded his article with this prediction: "In five years, when Tebow is leading Denver into the playoffs and Cam Newton is riding someone's bench, remember this article." Well, Newton will play the Broncos, who are decidedly not led by Tim Tebow, in Super Bowl 50.
Yes, we do remember this article -- and so does the rest of the Internet. As a result, Folsom has understandably taken a lot of flak in recent months from many on social media.
That was in only in May, too. It appears he has yet to follow through with his promise, even though he was asking for a Newton jersey in November:
Now the "worst NFL draft pick ever" is one win away from becoming a Super Bowl champion. Welp.
The Huffington Post did not receive comment from Jim Folsom at the time of publication. 
This post has been updated to reflect the Panthers and Broncos reaching the Super Bowl.
Calling all HuffPost superfans!
Sign up for membership to become a founding member and help shape HuffPost's next chapter