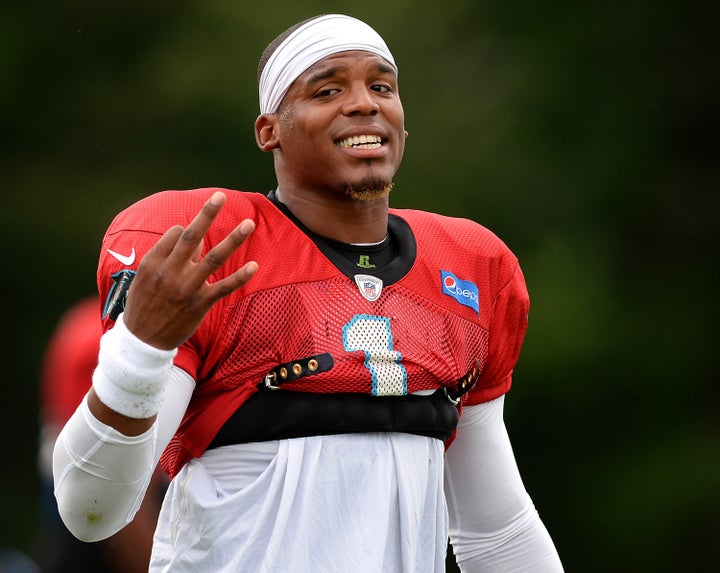 Cam Newton, starting quarterback for the Carolina Panthers, is a lot of things. He's father to his new son Chosen, he's the guy whose team lost Super Bowl 50 this year and who "went home and cried and cried and cried, until 4 a.m. came and he didn't have any more tears left," and he's the guy who popularized The Dab. And he's also a pescatarian.
Newton sat down with GQ for a profile this month and talked about race, getting emotional on the sidelines, his hatred for losing and his dependence on to-do lists, but one thing stood out to us: He doesn't eat red meat (or chicken, or pork, for that matter).
He orders a green tea and a Shirley Temple, extra syrup. He orders the deviled eggs. He orders the mussels. He orders shrimp and grits, and also trout. He's a pescatarian out of pure self-discipline. No other reason — just to prove to himself that he can. "I feel if I can control myself not to eat meat, I can control myself not to litter. If you can control yourself not to litter, then you can control your choice of words. If you control your choice of words, you can, you know, kind of go down from there." He's obsessed with testing himself. Obsessed with a certain level of control.
Oh, Newton also drinks Shirley Temples. Maybe we should have led with that.
The NFL season starts right where it left off, with the defending Super Bowl champion Denver Broncos hosting Newton and the Panthers at Mile High Stadium on September 8.