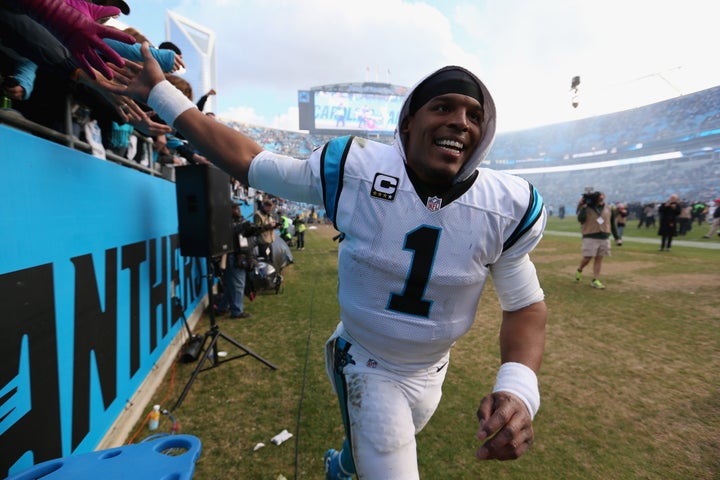 Few if any players in the NFL have dealt with as much annoying off-the-field criticism as Carolina Panthers quarterback Cam Newton this season. 
Despite his MVP-caliber year, a 15-1 record in the regular season and a divisional-round playoff victory over the defending NFC Champions, Newton just couldn't convince some people that he was good enough for their love. He was labeled a "classless" man filled with "egotism, arrogance and poor sportsmanship."
You probably will never be able to convince these people that Newton is a strong role model. But there is one way you can let your voice be heard: You can root for Newton to win every damn award possible for the rest of the postseason.
Despite what these individuals believe, Newton is a man worth cheering on. He has an infectious smile and an undeniable love for the game. He is the kind of man who will make a 6-year-old cancer victim feel like the most important person in the world, and he has dealt with the inane criticism thrown his way with professionalism and class each time.
When the angry Tennessee mom wrote about how his touchdown celebration, he provided this response:
 If she feels offended, I'll apologize to her, but at the end of the day, I am who I am. I'm not doing it to be disrespectful to nobody, more so just doing it just to shine light and get people a smile and having fun doing what I do.
And after a woman criticized him for having a kid out of wedlock? Newton showed the world how thrilled he is about his new baby boy by getting a personalized shirt with him and his son doing "the dab" dance.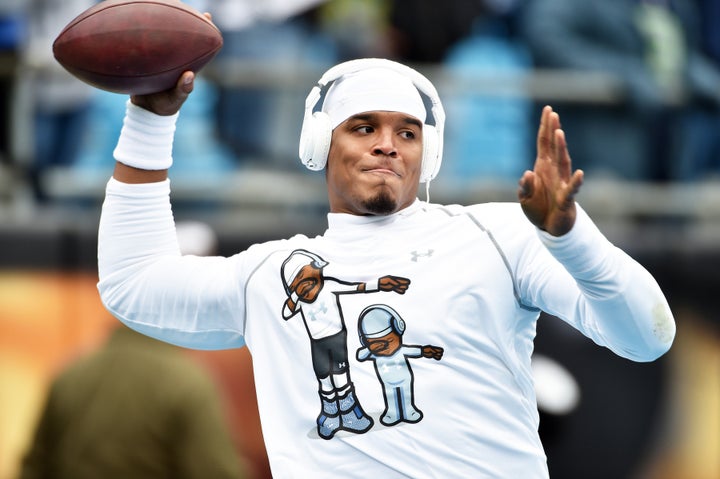 That's not to mention the joy he has given kids and the community throughout the year. Newton received the Ed Block Courage Award from the Panthers organization on Tuesday morning for showing "courage on and off the field."
According to the Panthers, Newton's foundation has donated almost over $400,000 to public schools and provided some type of aid for more than 5,000 people during the holiday seasons since 2012.
And then there's what he does on the field, where Newton's proficiency as a dual-threat quarterback has been beautiful to watch. 
At just 26 years old, the quarterback gathered almost 4,000 passing yards and more than 600 yards rushing. He threw for 35 touchdowns, ran for 10 more and only had 10 interceptions. And he did so without his No. 1 receiver, Kelvin Benjamin, who was lost to injury before the season even started. Without Benjamin to throw to, Newton has made good players look great.
Newton has done almost everything you want a franchise quarterback to do this season. The MVP candidate has played phenomenally, revitalized a fanbase, done great work in the community and stayed out of trouble off the field. (On Wednesday he was named MVP by the Pro Football Writers of America).
Yet despite what he's done for the team and his surrounding city, some still consider him to be an arrogant and classless individual.
None of it is deserved. Newton deserves only applause this year. So if you love Cam Newton and hate annoying people, root for the quarterback this Sunday against the Arizona Cardinals, and then again on the day of Super Bowl 50. 
After all, how sensational would it be to see this during the Lombardi trophy ceremony?
Calling all HuffPost superfans!
Sign up for membership to become a founding member and help shape HuffPost's next chapter