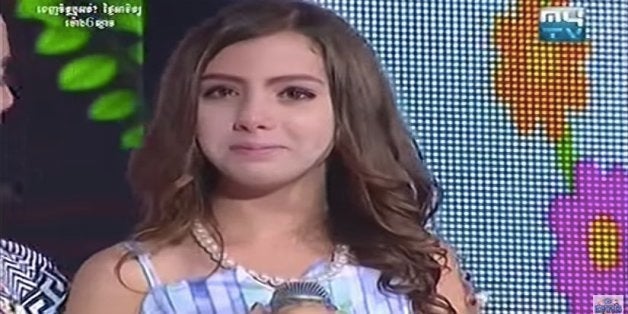 In a bizarre Mother's Day prank, a Cambodian variety show decided to fake a reunion between a daughter and her long-lost mother.
Autumn Allen, a 13-year-old singer, appeared on MyTV's "Penh Chet Ort ("Like It or Not") on Sunday for a special Mother's Day episode. The girl said that she had not seen her mother since she was six years old when she left the United States for Cambodia with her father.
The host of the show then told Allen that her "dream" of meeting her mother would come true. Allen then began to tear up on stage when recalling memories of her mother as a child. But when one of the hosts finally brought out Allen's supposed mother, it was male comedian, Chuop Rolin, dressed up in a wig and dress.
The Internet reacted in anger over the cruel prank and shared messages of support for the singer on her Facebook page. Allen later told the Phnom Penh Post, "At the moment I was sad that I could not see my real mother, but I had fun doing the show." But MyTV eventually sent Allen a letter of apology for the episode, which she shared with her fans.
The show's hosts also publicly apologized to Allen. She thanked her fans in a Facebook post and asked them to forgive the show, as well.
I have met with MyTV and accepted their sincere apologies. The two hosts, Rolin and Taboi (the producer) have apologized...

Posted by Autumn Allen on Tuesday, May 12, 2015
Instead of just apologizing, maybe the show could try to actually find her real mother instead. Allen says she thinks her mother is living somewhere in Arizona, but that she can't get in touch with her. "I miss her and do want to meet her," she told the Phnom Penh Post.