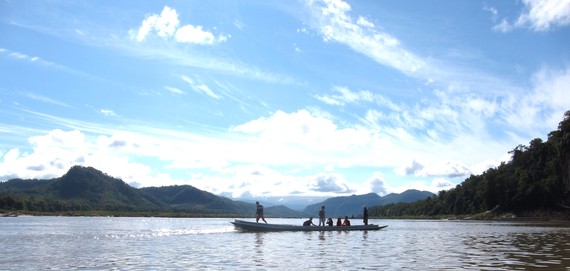 "Until I learned English, I felt like a deaf person--surrounded by all these foreigners I couldn't understand," she told me.
I knew Christmas in Cambodia would be a little unusual, but we found just the spirit we were looking for when Linda Chhay, the owner of our hotel, joined my family for dinner. She described what her life was like as a little girl, growing up in the shadow of Angkor Wat, the famous Cambodian temple that should be on everyone's bucket list. Linda helped support her family by selling trinkets to foreign tourists until she received the Christmas present of her life: a scholarship from Journeys Within, an American travel company that sponsors local Cambodian students, as well as leading tourists around Southeast Asia.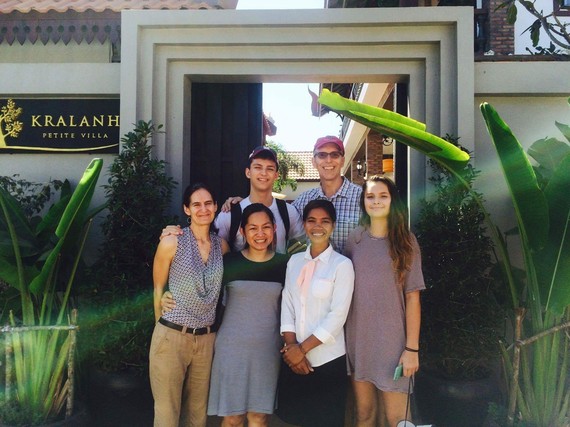 (Linda and her manager with my family, in front of her hotel)"My parents never really saw a future for me except marriage, but Andrea Ross [founder of Journeys Within] became my mentor and she had high expectations for me, so I did my best when she hired me into her travel agency. Andrea later gave me a loan to build my own hotel near Angkor Wat, and I was terrified, but I kept asking Andrea what to do next and she kept teaching me, and suddenly I had my own hotel!"
And what a glittering, hidden gem that hotel is. But, as our van turned off the main street from the airport and bumped over the dusty dirt road on the way to the hotel, my family raised a few questions about my choice in bookings.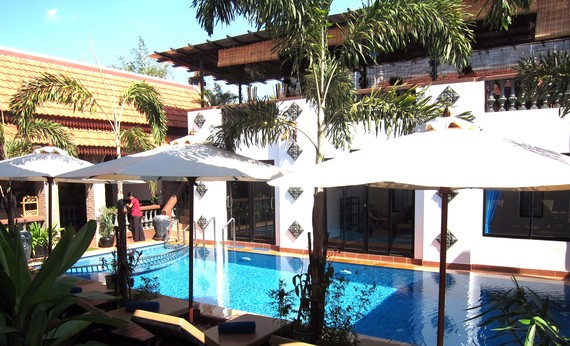 But then we saw the perfect, azure-blue swimming pool. And the beaming staff handed each of us a pineapple with a straw, and inside it was the sweetest juice we ever drank. Then the tiny, close-knit staff of this tiny, boutique hotel adopted us into their Cambodian family for Christmas away from home.
What makes the Journeys Within founder Andrea Ross so unique? Sure, she makes her living creating designer-travel tours, and she's been on Conde Nast Traveler's prestigious list of top agents for 8 years running, with offices all over Southeast Asia. But Andrea has brought The American Dream to so many poor-but-deserving young adults in the region, giving them their shot to work hard and triumph over poverty through education.
Friendly? Gracious? The Cambodians wrote the book. When our guide Seila (seilasann@gmail.com) saw how fascinated our kids were by the local monkeys, he led my son to his delight in the middle of a bevy of monkeys.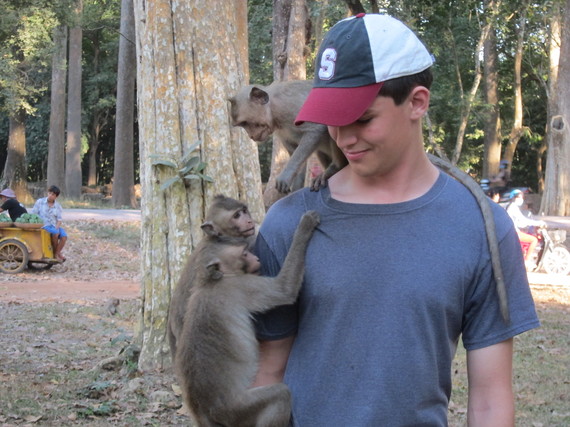 We thought we were all dying to see Angkor Wat until Seila knowingly took us right past it, to the Bayon Temple in nearby Angkor Thom.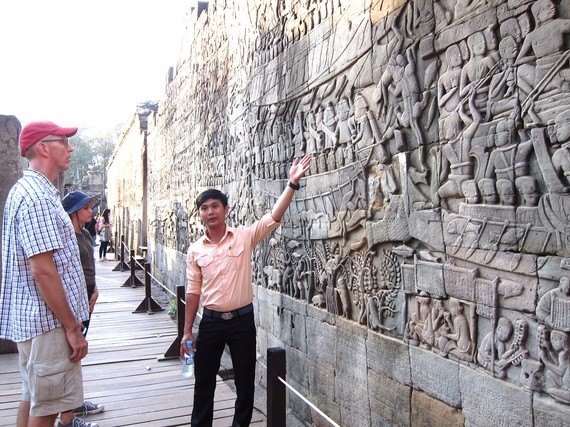 This was the hidden gem of all temples, with immaculate, carved-in-stone pictures of how Cambodian people lived in this kingdom centuries ago. Similar to hieroglyphics in the ancient tombs of Egypt, the wall carvings of Bayon depict everyday life of people eating, farming, making war, giving birth, and getting drunk on palm alcohol!
When my kids asked Seila what it was like growing up in Cambodia, he took us to a lotus farm just as the sun was setting.

As we walked among the rows of the field, the dusky light fell gently on the lotus flowers. Seila patiently taught us how to peel open the flowers and extract the tasty lotus seeds inside, which taste like cashews.
So many guides like to show off their knowledge, talking AT you instead of WITH you, until your eyes glaze over. But Seila was gentle and listened carefully. He was a true teacher, taking advantage of each of our curiosities to create one ideal teaching moment after another.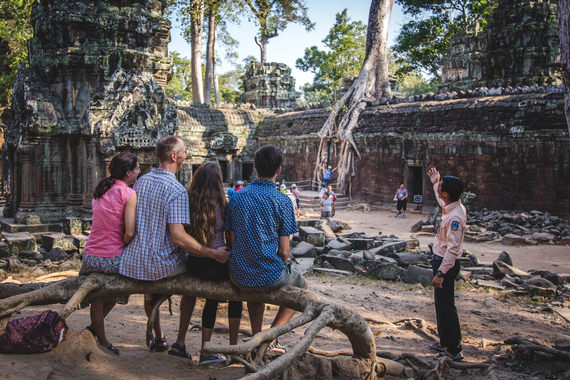 And as you can see above, the local photographer Anna Bella Betts helped us to capture these little moments of wonder in lovely photos that we can return to over the years.
Speaking of moments to remember, you absolutely must see Phare: The Cambodian Circus when you tour Angkor Wat. This is Cambodia's Cirque du Soleil, but with a twist because it changes lives. A young man named Viban is typical of many of the performers who were plucked from abject poverty and abuse.


But Viban and his fellow performers receive an education and training that allows them to triumph over their backgrounds, thanks to the transforming power of the arts. To see Viban in the circus' production of "Chills" was thrilling. He performed stunning acrobatics with charisma and confidence, always with a smile and never breaking a sweat. This young man had us cheering for him from the beginning, and his success was an inspiration to our family.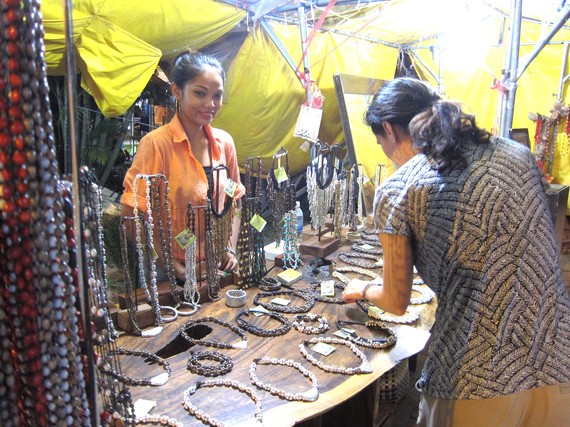 The Shinta Mani hotel, in addition to being beautiful, is also an inspiration with the beautiful Made In Cambodia market it has created, free of charge, for local artisans to sell directly to tourists. Their products are beautifully hand made and it feels great to know that every cent you spend goes to the people who need it most.
None of my family had ever been in a helicopter before, but our pilot Annie Fine of Helicopters Cambodia put us at ease in a brand-new, super quiet and stable helicopter.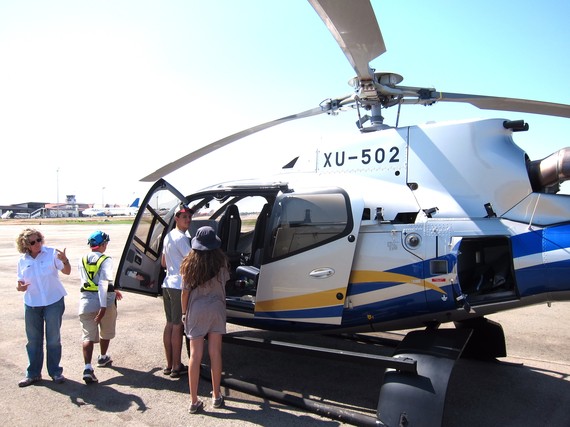 We had our very own "Lara Croft, Tomb Raider" air tour of both Angkor Wat and also the more obscure, inaccessible temples. Our kids were thrilled.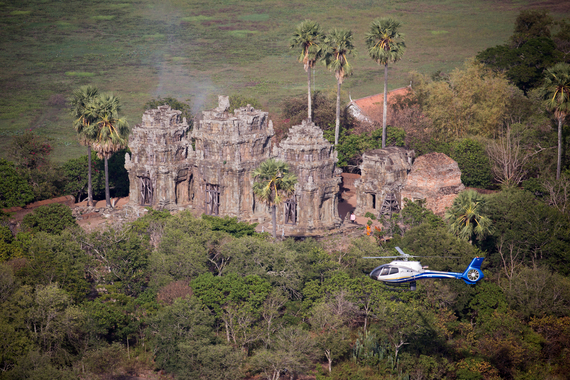 The kids also loved our foray into the rice farms of the countryside, which are only accessible by ATV's we hired at Quad Bike Adventures.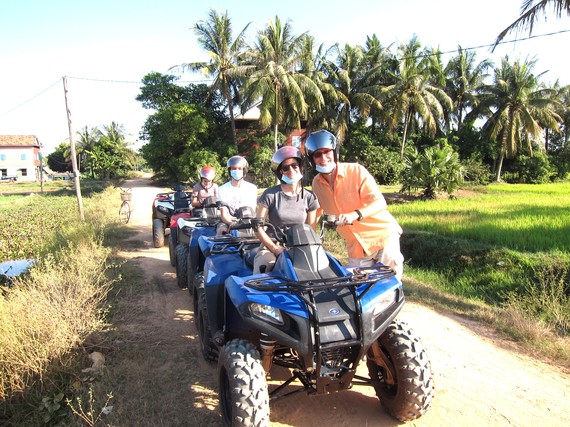 My 14 year-old Rachel had never driven any vehicle besides a bicycle, but our guide Mr. Vong graciously sat behind her and corrected her steering when necessary. Again: a delight for our kids.
While in Cambodia's capital Phnom Penh, we showed our kids the Killing Fields of 1975-79. The audio tour headphones we wore as we walked were fascinating and taught about the Khmer Rouge, without overwhelming the kids with the gore of that grim era in history.
The stunning beauty of the Royal Palace at sunset was a good counterpoint to end that day.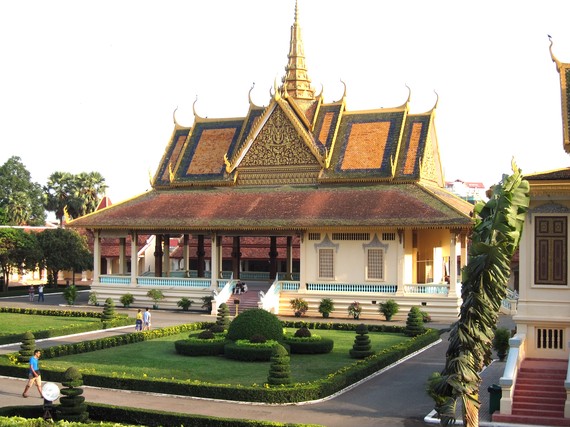 Landing in Luang Prabang, Laos was impressive. Although the countryside is very poor, Luang Prabang has a very developed tourist industry and lovely architecture. Our Luang Prabang View Hotel was on top of a hill overlooking the city.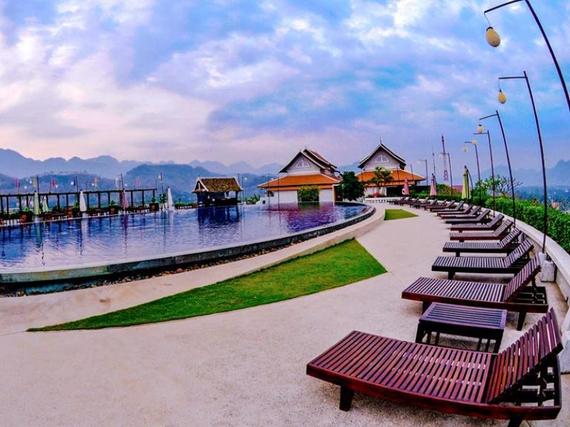 It has a fantastic breakfast buffet and a lovely pool to lounge in after a hot day of touring.
And this was the surprise hit of our vacation: The Living Land rice farm taught us the 12 steps involved in traditional farming of this crop that is the daily staple of billions of people.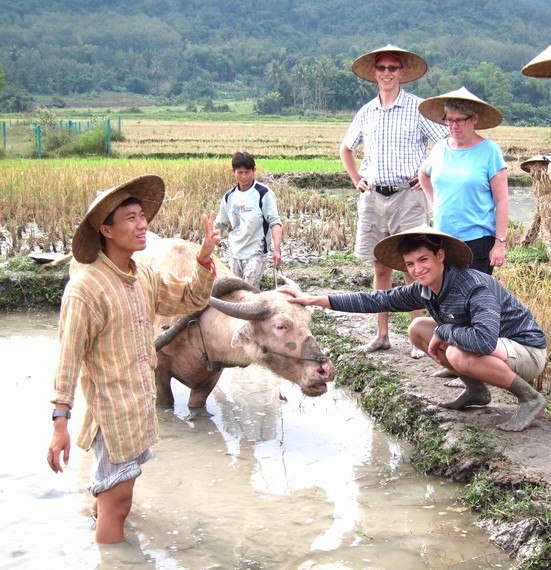 My son and I were expecting a ho-hum lecture, but soon we were barefoot in the rice paddies, coaxing a water buffalo to pull our plow straight!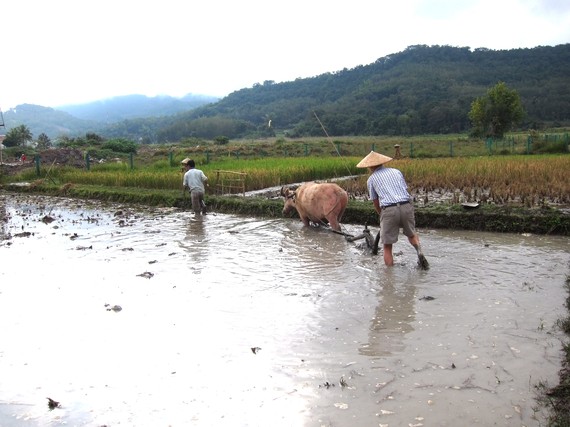 We planted, irrigated, threshed, winnowed and finally cooked our own sticky rice. The place is beautiful, the staff are humorous, and morale is sky-high in this gem of an activity.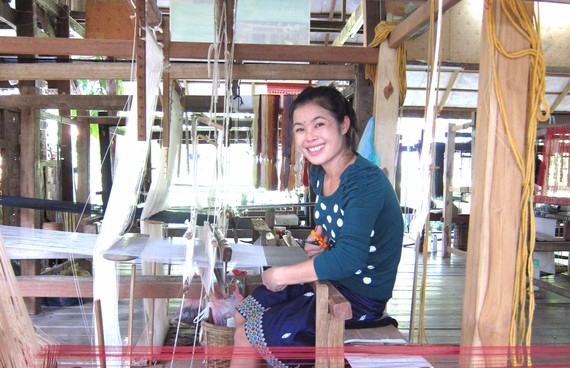 I usually hate souvenir shopping, but "Ock Pop Tok" was another delightful surprise. The name is Lao for "East Meets West," because a Brit named Joanna Smith teamed up with the Laotian weaver Veo Douangdala to sell woven textiles from villages all over the country. We ate the best Lao food of our trip in their garden overlooking the Mekong River, and the esthetic of the place was stunning: from artisans busy at their looms to organic dyes to homemade silk, my wife and daughter were enthralled.
For those who wish to venture outside the city into the beautiful countryside, the Nong Kiau Riverside Lodge is a gem. Owned by a Danish man and his Lao wife, each cabin looked so rustic it made my wife nervous.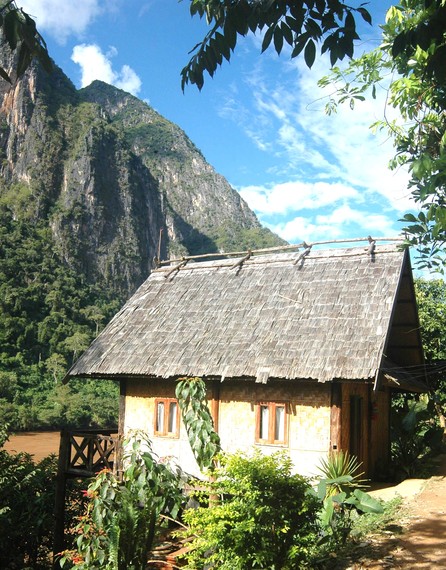 But the pleasant surprise was the stunning river views from the balcony, with a Western-style bathroom, hot showers, and beautiful decor. The dining room has great food and a warm, laughing comradery among the travelers that I fondly remember from my backpacker days as a young man.
Back in Luang Prabang, for the budget-minded this new up-and-comer guesthouse, the Cold River Guest House is an amazing value.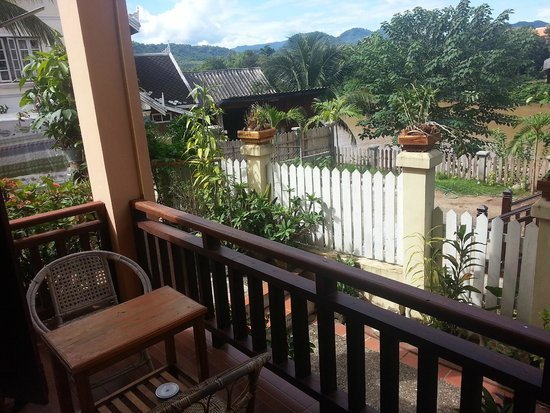 A French couple with years of experience in the hotel business recently bought and renovated it, and the esthetic and the hospitality here are excellent, as is the central location.
Traveling to a Third World country may seem overwhelming at first, but Andrea Ross does an amazing job of making it accessible and fun. Our kids will remember their exposure to a different way of life, and we will remember Andrea's compassion for the lives of the local people she touches in these countries.