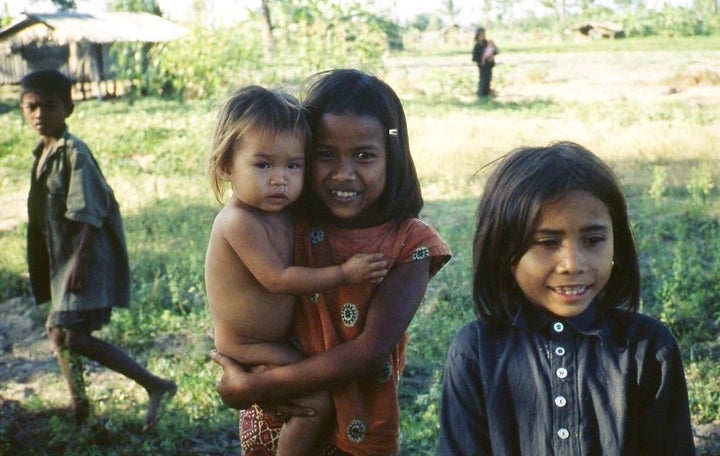 Phnom Penh. November 2017.
On the way to breakfast the other day, I met a man from Battambang, the provincial capital of Cambodia's northwest province bordering Thailand.
The man, all dressed up in a slightly ill-fitting, dark suit, greeted me, cupped his hands in a traditional Khmer 'Sampeah,' and said "good morning."
"Where are you going?" I asked.
A smile emerged. "Off to the United States Embassy for my interview," the man declared proudly.
"I am hoping to move to Texas. I have some family there."
I shall call the man "Mr. Saroeung." I don't want to risk compromising his chances of immigration in this uncertain world.
In the breakfast room, Mr. Saroeung sat with his beautiful wife and two small daughters, ages three and five. Ribbons in their hair, all dressed in what my mother used to call their "Sunday best."
I later watched as the quartet negotiated their way through heavy 7:30 traffic to walk to the Embassy.
"Arkoun, Saamnangol!" – "thank you and good luck," I shouted no doubt incomprehensibly.
I have been a frequent visitor to Cambodia since my first time in Phnom Penh in June 1970.
I still puzzle over Cambodia's contradictions.
This little country - with its rich 9th to 14th century Angkorian legacy; its remarkable blend of the religions of Animism, Hinduism and Buddhism; its tortured modern history and four year period of human holocaust – has fascinated me, enchanted me, and horrified me for 47 years.
As I bid farewell to the graceful Saroeung family, I noted they sought to leave when once again their nation is gripped by political uncertainty. Nothing like the madness of the past but uncertainty nonetheless.
This month, the leader of Cambodia – through a legal system his political party largely controls - abolished the only substantial opposition party and silenced much of the media that had become too critical.
Among the contradictions I puzzle over is that of the leader himself. Western media use terms like "strong man," "authoritarian," "dictator" to describe him. The reality may be more complex.
I met the current Prime Minister when he was embarking on his political career.
Hun Sen was born of a simple farm family in the central province of Kompong Cham along the Mekong River. Just before his 20th birthday he joined the resistance against the newly installed, American backed government. That government had overthrown in March 1970 the founder of modern Cambodia – Prince, later King, Norodom Sihanouk. Hun Sen lost an eye in the war. The resistance became known as the "Khmer Rouge." Its leader, known as Pol Pot along with his ultra-radical comrades, took the nation down the path of disaster and extermination from 1975 to 1979.
In 1977, Hun Sen abandoned the Khmer Rouge and fled to Vietnam.
Two years later the Vietnamese overthrew the Khmer Rouge. Seemingly out of nowhere, Hanoi's leaders chose Hun Sen as foreign minister of what was called the "People's Republic of Kampuchea."
My hour or so with Hun Sen in January 1980 was pleasant, engaging, and rewarding. Rewarding because I was there to ask the Foreign Minister's help in a personal matter: to obtain a "Laissez-passer;" travel documents for a close friend who sought an exit permit so she could travel to America. With that mission accomplished, Hun Sen and I turned to other issues.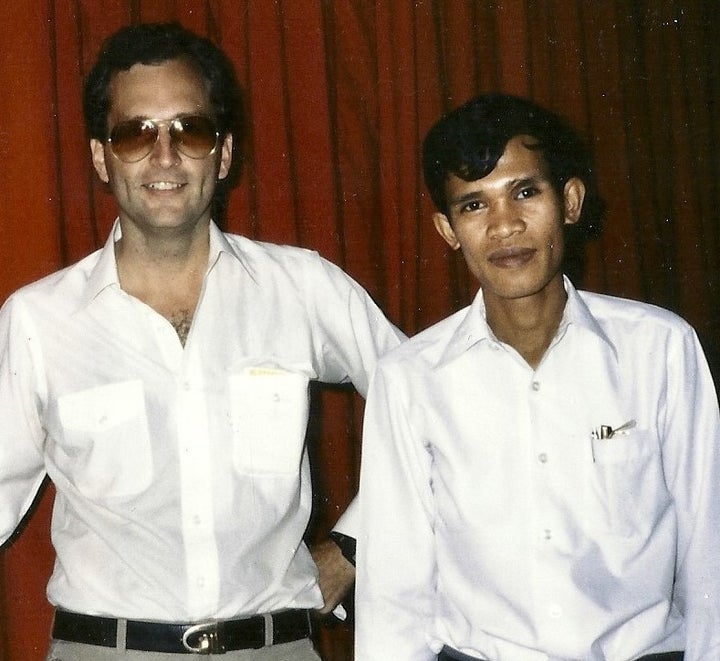 He was not yet 28 when I met him. He seemed shy at first. He spoke quietly. He talked of extreme difficulties recovering from the genocidal era of the "Pol Pot-Ieng Sary Clique." He condemned America for making the process of recovery in Cambodia more difficult. His voice rose slightly as he spoke passionately of the need to combat the devastating famine that engulfed the country. Then somewhat to my surprise, he launched into a lecture on "morality" and the need to restore true Khmer decency and moral behavior which had been lost.
There was certainly something remarkable in the man. But count me among those who thought Hun Sen would not be around very long. I saw him as a creation of the Vietnamese. I underestimated his native intelligence, his ambition, his cunning, and his willingness to learn.
Well - a lot happened between January 1980 and November 2017.
The Foreign Minister became Prime Minister in 1985.
Today pro-government newspapers call him the "glorious, supreme prime minister, powerful commander, Samdech Hun Sen."
Through a tangle of elections and less than democratic maneuvers, he became the seventh longest serving ruler in the world. (When Robert Mugabe goes, Hun Sen moves up the list.)
As Sebastian Strangio points out in his excellent Hun Sen's Cambodia, Hun Sen deserves credit for bringing Cambodia out of chaos and into the modern world. He owes his longevity in part to traditional methods of "hierarchy, patronage and dictates of absolute power." He also learned well the lessons of leadership from a variety of teachers. He was mentored by the Vietnamese. No less than Lê Đức Thọ, the man who went head-to-head with Henry Kissinger in Vietnam's Paris Peace process tutored Hun Sen. He also learned from the master of Cambodian authoritarian politics: Norodom Sihanouk. Disappointed in his own children's political ineptitude, Sihanouk who ruled Cambodia from 1953 to 1970, late in life revealed a begrudging respect for Hun Sen: a clever man and effective, much like himself.
Neither Sihanouk nor Lê Đức Thọ taught Hun Sen anything about power sharing.
Elections in 2013 shook the Prime Minister. To his surprise the opposition Cambodia National Rescue Party won 55 seats in the National Assembly. Hun Sen's Cambodian People's Party won 68 seats. A majority – but not the decisive kind Hun Sen had always sought and usually had. He determined there would be no repeat of such "close elections" in 2018.
So it is that Cambodia has become what it was in the 1960's, 70's, 80's and now again: essentially a one party state. It is certainly more benevolent than regimes of the past; but authoritarian nonetheless.
I was never granted another meeting with Hun Sen. Requests during a half dozen visits went unanswered. I have lots of questions about Cambodia's contradictions: its history, economic development, corruption, politics, about the man himself.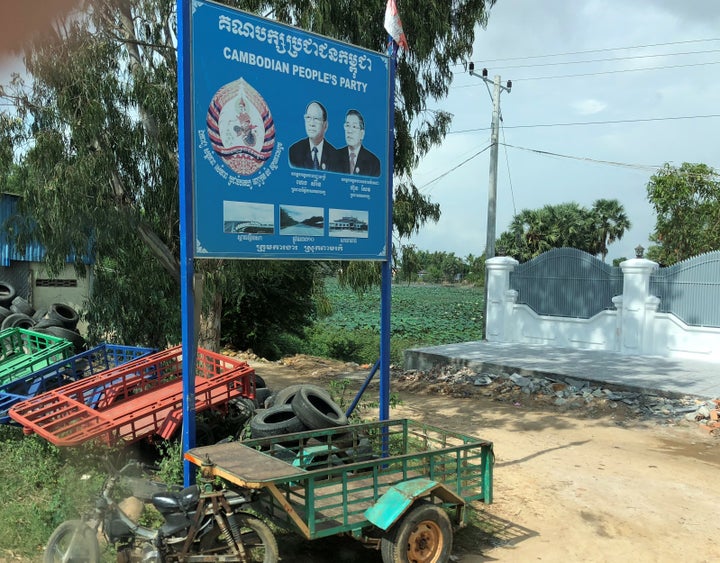 On the bus from Phnom Penh to Saigon yesterday, I noted the billboards every half mile or so along Highway One. They advertise the 'Cambodian People's Party.' The face of Hun Sen gazes out in a very serious pose.
Along the same route across Cambodia November 13th, stood the occasional billboards of the 'Cambodia National Rescue Party.' They were now gone.
Perhaps on my next visit to Cambodia, I can sit down with Samdech Hun Sen and chat with him about the contradictions between the man I met in 1980 and his place in Cambodia today. Or perhaps not.
Oh, and back to Mr. Saroeung.
Over breakfast, I asked him what he thought of Hun Sen. He smiled. "He has tried very hard," he replied enigmatically.
I don't know how the interview went with the American Embassy consular section. I hope, well. I hope he and his family will fulfill their dreams in Texas. Most of all, I hope that Texans and Americans treat them well. Cambodians certainly deserve to be treated well - both at home and overseas.
Follow Jim Laurie on Twitter @focusasia
Related
Popular in the Community